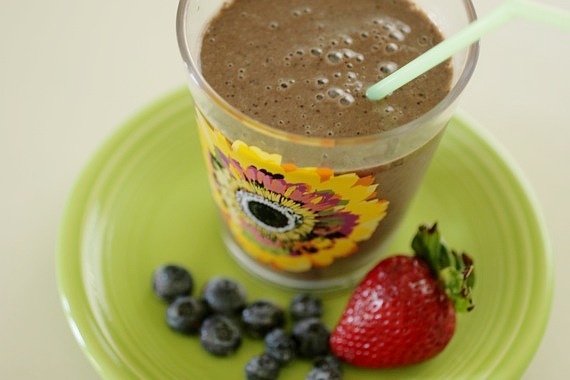 Please don't go running off! I KNOW this smoothie looks anything but appetizing, but trust me- it is! It really is! It's smooth, refreshing and chock FULL of vitamins and good-for-you fruits and veggies! The reason mine is brown instead of green (like the traditional green monster smoothie) is because I added strawberries and blueberries- those colors together give you….brown. Not pretty but darn tasty!
What is a green monster smoothie, you ask? It's basically just a fruit smoothie with the addition of fresh spinach (an addition you can't taste, but your body will thank you for!). Spinach is high in calcium, vitamin A and iron, to name a small few. This smoothie is a great solution for people wanting to get their daily fill of fresh fruits and vegetables; it's SO good for you. I made these a lot when I was first pregnant…unfortunately, little Peach (as my mother has fondly starting referring to the baby) doesn't care for them much anymore so I haven't had one in awhile. Hopefully she (or he!) will come around soon, though!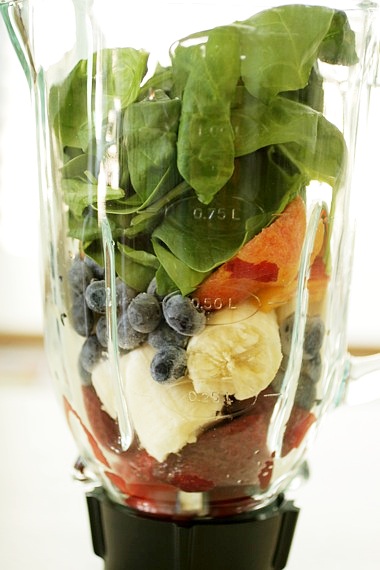 The beauty in these smoothies is that you can use any fruit you like- bananas, strawberries, peaches, plums…whatever! They make a great breakfast or quick power lunch and keep you full and satisfied! Try one! You'll love it!
Green Monster Smoothie
1 banana, roughly chopped
4 or 5 strawberries
1/2 cup fresh blueberries
1 small peach, peeled and roughly chopped
1 heaping cup (or more) fresh spinach leaves, thoroughly rinsed
splash vanilla soy milk
1 tablespoon Greek yogurt
2 teaspoons honey
1/2 cup crushed ice
Place all ingredients in a blender and blend until smooth. Serve immediately.
*this recipe makes a very large smoothie- two could easily share.
Recipe source: Sing For Your Supper original
Here are some other great recipes for green monster smoothies:
Annie's Eats
Oh She Glows
Naturally Ella