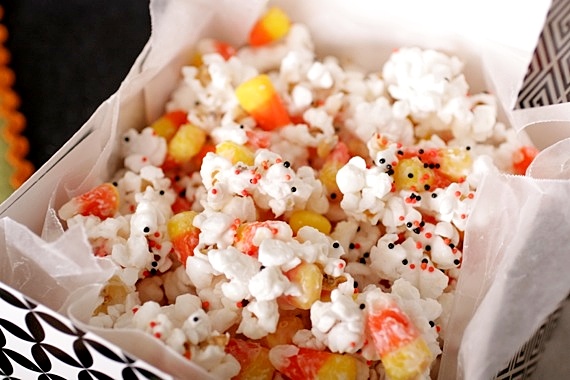 During the Halloween season, there's nothing better than being snuggled up on the couch, watching Halloween movies and eating fun snacks (well, unless you're a kid, in which case trick-or-treating is pretty hard to beat!). We make it a tradition every year to watch our favorite Halloween movies- Disney's Icabod Crane (the cute animated version with Bing Crosby narrating), Hocus Pocus, Young Frankenstein, It's the Great Pumpkin, Charlie Brown and of course, my all-time favorite- The Nightmare Before Christmas (ok, so I watch that one pretty much year 'round…). And watching those great movies just wouldn't be the same without some kind of yummy snack; like this popcorn. It's just a simple mixture of popcorn and candy corn coated in white chocolate bark and Halloween sprinkles. Nothing hard or complicated, just fun and downright yummy! Perfect for parties, trick-or-treaters or movie-watching! Whatever you make to snack on this Halloween, I hope you have a wonderful, FUN, safe time with your friends and family! Happy Halloween!!!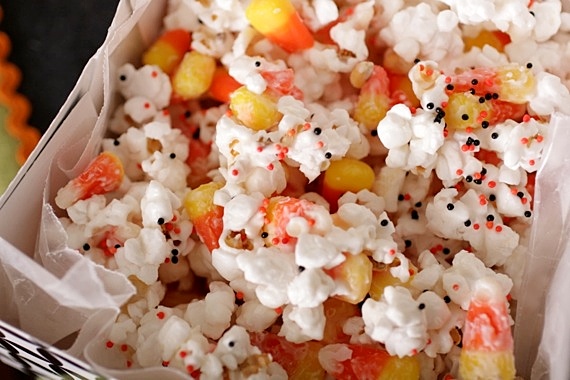 Halloween Popcorn
2 bags microwave popcorn, popped
1 bag candy corn
1 16-ounce package white chocolate bark*
Halloween sprinkles
wax paper
Place the popped popcorn and candy corn in a very large bowl (you need plenty of room to stir the popcorn). Melt the white chocolate bark in the microwave in 30 second increments, stirring after each time, until melted. Drizzle over the popcorn and candy corn and stir to coat each piece of popcorn. Pour the mixture over wax paper and spread into an even layer. Sprinkle with Halloween sprinkles and allow to cool for at least 15-30 minutes. Break into pieces. Serves 6-8.

*I know I'll get questions about this: white chocolate bark (or white chocolate candy coating) can be found in your regular grocery store on the baking aisle with the chocolate chips and nuts.
Recipe source: Sing For Your Supper original (however, this isn't exactly a new concept- I'm sure it's been done many times before me)