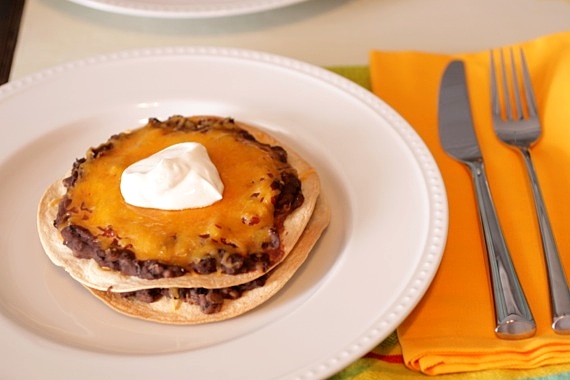 This is one of those last minute, throw together meals that just happened to turn out to be a huge success (even if it doesn't look all that appetizing). I had a can of black beans, a jar of salsa, some flour tortillas and cheese just sitting around waiting to be used, so I whipped up these super quick Mexican pizzas. They were excellent as is, but some shredded chicken or ground beef, cilantro, green onions and fresh tomatoes would have really made it awesome! I'm definitely going to play around with these again and see what yummy versions I can come up with!
Mexican Pizzas
1 can black beans, drained and rinsed
4 flour tortillas
approximately 1/2 cup shredded cheddar cheese (or as much as you'd like)
1 cup salsa
salt and pepper
sour cream
Preheat the oven to 350 degrees. Spray the tortillas with butter or olive oil spray and bake for about 3-5 minutes on each side until golden and crisp.
In a small saucepan, mash the black beans with the back of a fork or a potato masher (it doesn't have to be perfectly smooth- some lumps are just fine. In fact, I prefer it that way!). Spoon in approximately 1/4 cup of the salsa, salt and pepper and cook over medium heat until heated through.
To assemble: Spread some of the beans on a tortilla. Top with salsa and cheese. Top with a second tortilla and repeat (ending with the cheese). Repeat with the remaining two tortillas (so you'll end up with 2 pizzas). Bake for about 5 minutes, until cheese is melted. Top with sour cream. Serves 2.
Recipe source: Sing For Your Supper original