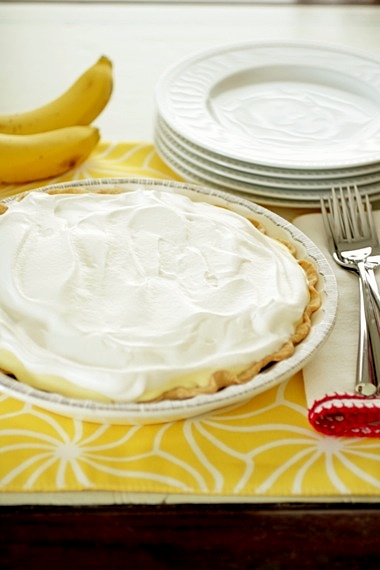 AKA: heaven in pie form. I absolutely adore, ADORE banana cream pie. Or coconut cream pie…or chocolate cream pie. Basically any pie, really, but this one truly is amazing. It's like a pie plate full of sunshine. Which brings me to another topic. Yesterday, I received a very sweet comment on my Chicken Tortilla Soup from a reader named Marisa:
Hey Amy,
I discovered your blog a few days ago by looking at foodgawker.com and saw the amazing sushi you made! I am currently going through chemotherapy as I was diagnosed with cancer in February. Since I am no longer able to work or go to school I have been cooking a lot, and I saw this [chicken tortilla] soup on your page. I made it tonight for my family and absolutely LOVE it! I added black beans to get more protein, and have to say the flavor just in the broth is amazing! All in all, keep up this blog, it is so fun to read and look at, and congrats on your new daughter, she is SO adorable with the red hair! 
I replied to the comment, but somehow it didn't seem like enough. The rest of the night, I couldn't get Marisa off of my mind. I was so touched that she had found comfort in the kitchen using my recipes. I wanted to do a little something to cheer her up and let her know how much I appreciate her as a reader. This pie seemed to be the perfect solution. I have no idea where Marisa is from, or what her favorite dessert is, or if she even likes banana cream pie, but I'm dedicating this recipe to her. Marisa, this delicious pie is for you; it's such a happy, sunshiny dessert, and while I know I can't send you a slice, I hope it will bring a smile to your face. Maybe you can make it for yourself and your family soon and enjoy a little slice of happiness.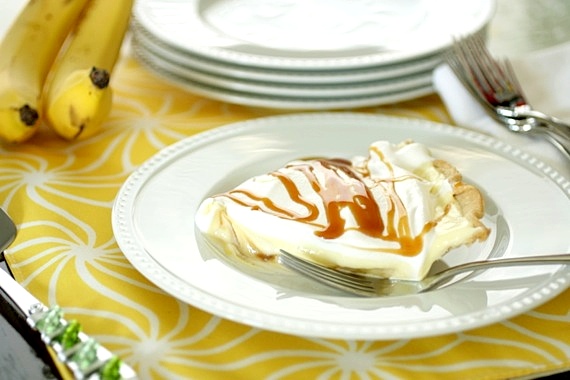 Salted Caramel Banana Cream Pie
1 9-inch pie crust, recipe follows (you can also use a store-bought crust)
For the filling:
1 small box instant vanilla pudding
1 3/4 cups milk (low fat is fine; I actually used lactose-free milk and it was perfect!)
1/2 cup salted caramel sauce, recipe follows (if you're in a hurry, feel free to use the jarred stuff)
3 bananas
Topping:
1 cup fresh whipped cream
1 tablespoon sugar
1/2 teaspoon pure vanilla extract
Crust:
1 1/2 cups all-purpose flour
3 tablespoons sugar
1/2 teaspoon salt
1/2 teaspoon pure vanilla extract
1 1/2 sticks unsalted butter, cut into small pieces, chilled or frozen
4 to 6 tablespoons ice cold water
Salted Caramel Sauce:
1 cup sugar
1/4 cup water
3/4 cup heavy cream
3 1/2 tablespoons unsalted butter
1/4 teaspoon sea salt or kosher salt
Make the filling: Whisk the milk and pudding mix together at high speed for 2-3 minutes, until thick. Stir in one banana, cut into small chunks. Cover with plastic wrap and chill for at least 1 hour.
Make the topping: In a medium bowl, whip the cream until soft peaks form. Add the sugar, and vanilla and whip until stiff peaks form.
Make the pie dough: Preheat the oven to 425 degrees.
In a mixing bowl, mix together the flour, sugar, salt and vanilla; cut or work the butter into the flour mixture with your fingers or a cold pastry cutter until you have large pea sized chunks scattered throughout. Alternatively, pulse the dough in a food processor, or mix in a stand mixer with the paddle attachment on low speed.
Add the ice water slowly while stirring with a fork, or in the food processor or mixer, until just combined. Be careful not to overwork the dough. Wrap the dough in plastic wrap, flatten and refrigerate for at least 15 minutes.
Roll out one chilled pie dough to fit a 9-inch pie plate. Reserve the second pie dough disc for another use. Transfer dough to pie plate, pressing the dough lightly into the plate; trim the edges. Dock the dough with the prongs of a fork evenly over the bottom of the pie plate. Line the docked dough with aluminum foil and fill with pie weights or dried beans.
Bake the pie crust until the edges are brown and golden, about 15 minutes. Remove from the oven and remove the weights. Return crust to the oven to finish baking for another 5 minutes.
Make the salted caramel sauce: In a heavy-bottomed saucepan, combine the sugar and water over medium-low heat until the sugar dissolves. Increase the heat and bring to a boil without stirring. If necessary, use a wet pastry brush to wash down any crystals on the side of the pan. Boil until the syrup is a deep amber color, about 5 to 6 minutes.
Remove from the heat and carefully whisk in the heavy cream. The mixture will bubble. Stir in the unsalted butter, and salt, to taste. Transfer the caramel to a dish and cool. Makes 1 1/2 cups sauce.
To assemble the pie: thinly slice the two remaining bananas and place in a single layer in the cooled crust. Drizzle with the 1/2 cup salted caramel sauce, then pour in the pie filling. Top with the whipped cream and drizzle with additional caramel sauce before serving. Makes 1 9-inch pie.
Recipe source: adapted from Kelsey Nixon (Kelsey's Essentials)