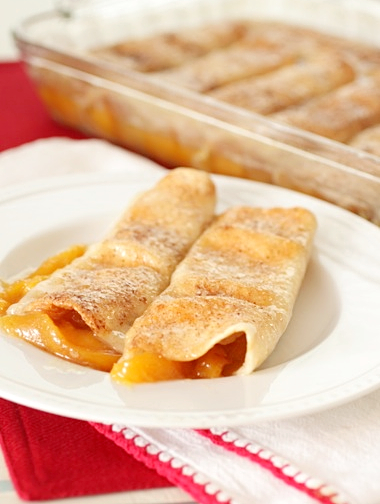 Insanely scrumptious.
Devilishly delicious.
Delightfully sinful.
(These are all perfect phrases to describe what I feel every time I take a bite of this aaaaaaaa-maaaaaa-ziiiing dessert).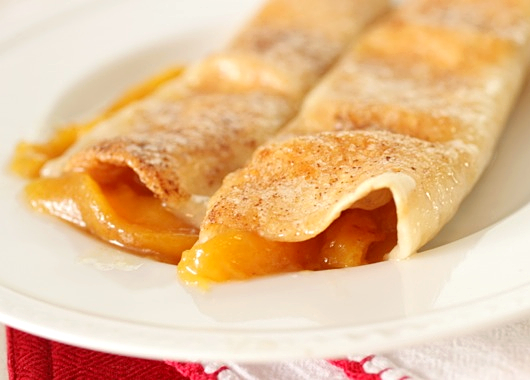 As my Peach Cobbler Week comes to a close, I thought something as wacky as peach cobbler enchiladas would be a great way to end with a bang. Don't be thrown off by the title – obviously, this IS a dessert (duh) and has nothing whatsoever to do with Mexican food or traditional enchiladas.
My dad received this recipe from a coworker years ago and it immediately took my family by storm. Something magical happens when fresh peaches, butter (and lots of it), and sugar meet flour tortillas. It's a bubbly, gooey, buttery, peachy miracle, is what it is!  So run, don't walk, to the grocery store and buy yourself the ingredients for these! You. Will. Thank. Me.
Peach Cobbler Enchiladas
4 cups peaches, peeled and sliced
1 cup sugar
squirt fresh lemon juice
2 sticks unsalted butter*
1 cup sugar
pinch salt
10-12 flour tortillas
cinnamon and sugar, for sprinkling
Preheat oven to 325.
Place the sliced peaches in a large pot and add just enough water to cover. Stir in the 1 cup sugar and lemon juice and bring to a boil. Reduce heat to low and simmer, uncovered, until peaches are soft and most of the water has cooked down; about 20 minutes. Remove peaches with a slotted spoon and reserve 1/2 cup juice.
Bring sugar, butter, and the reserved peach juice to a boil and cook, stirring occasionally, for about 2-3 minutes, just until the sugar is dissolved. Remove from heat.
Fill tortillas with the cooked peaches and arrange in a single layer in a greased 9×13 pan. Sprinkle with cinnamon and sugar. Pour the melted butter mixture over the top and sprinkle with additional cinnamon and sugar.
Cover with foil and let stand at room temperature for 30 minutes. Bake for 1 hour uncovered, until bubbly. Let stand 5-10 minutes before serving. Serves 8.
Recipe source: heavily adapted from a former coworker of my dad's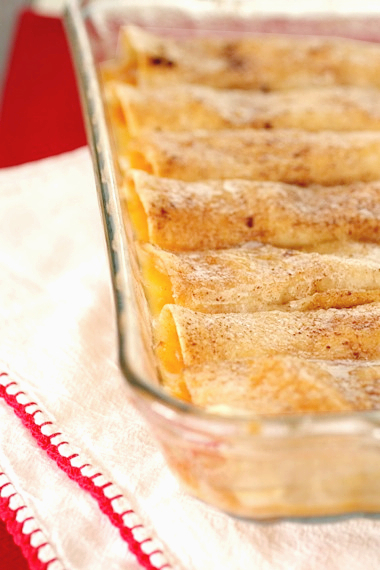 *Clearly, this recipe is NOT of the health food variety. I realize that. But with that in mind: YES, you can use margarine instead of real butter. And YES, you can cut back on the amounts of butter and sugar called for (even though I've already cut the recipe down from 3 sticks of butter and 2 cups of sugar). BUT, please do not blame me when it doesn't turn out. As they say, "all things in moderation". Just eat it and be happy. 🙂