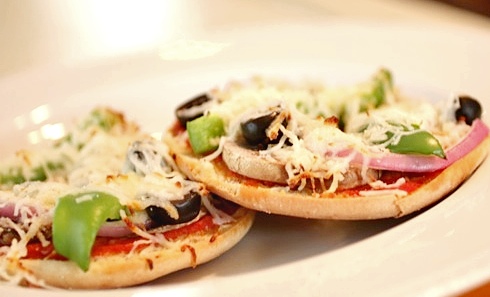 Packing sucks. I think pretty much every person in the entire worlds knows this. For me, it's not so much putting my things in boxes, but having a mess everywhere I turn and not being able to easily walk through my own house without tripping over a giant box. That's the part I hate. Izzy hates it all. She hates us moving, she hates the packing, the boxes everywhere, and the general stress that goes along with moving. Poor doggie. I keep telling her she's getting a huuuuge backyard upgrade, but I don't think she cares at the moment.
Cassidy, on the other hand, is still happy as a clam. She doesn't care that we have a ga-jillion more boxes to pack…when it's playtime, it's PLAYTIME, people! Hmm, maybe that's why I don't seem to have gotten anything done…. 😉
That's where these simple pizzas come in. There is ZERO time for cooking when there are boxes to be packed. I just don't have time to spare in the kitchen. Not to mention, all my pots and pans are packed. I used whole wheat bagel thins for these and they were really good- I like the bread-to-topping ratio. I can see a lot of these in our future once we move. There's nothing easier, and they're pretty darn tasty too!
Bagel Pizzas
2 whole wheat bagel thins (or regular bagels, if you prefer)
marinara sauce
shredded mozzarella cheese
1/2 a green bell pepper, chopped
1/2 a red onion, thinly sliced
black olives
thinly sliced button mushrooms
salt and pepper
Preheat the oven to 425 degrees. Lay the bagel halves in a single layer on a cookie sheet and toast for 5 minutes. Remove from oven.
Spread bagel thins with marinara and top with the vegetables, salt and pepper, then the cheese, using as much of each ingredient as you like. Place back in the oven for an additional 8-10 minutes, until cheese is melted and bubbly. Serves 2.
Recipe source: Sing For Your Supper original