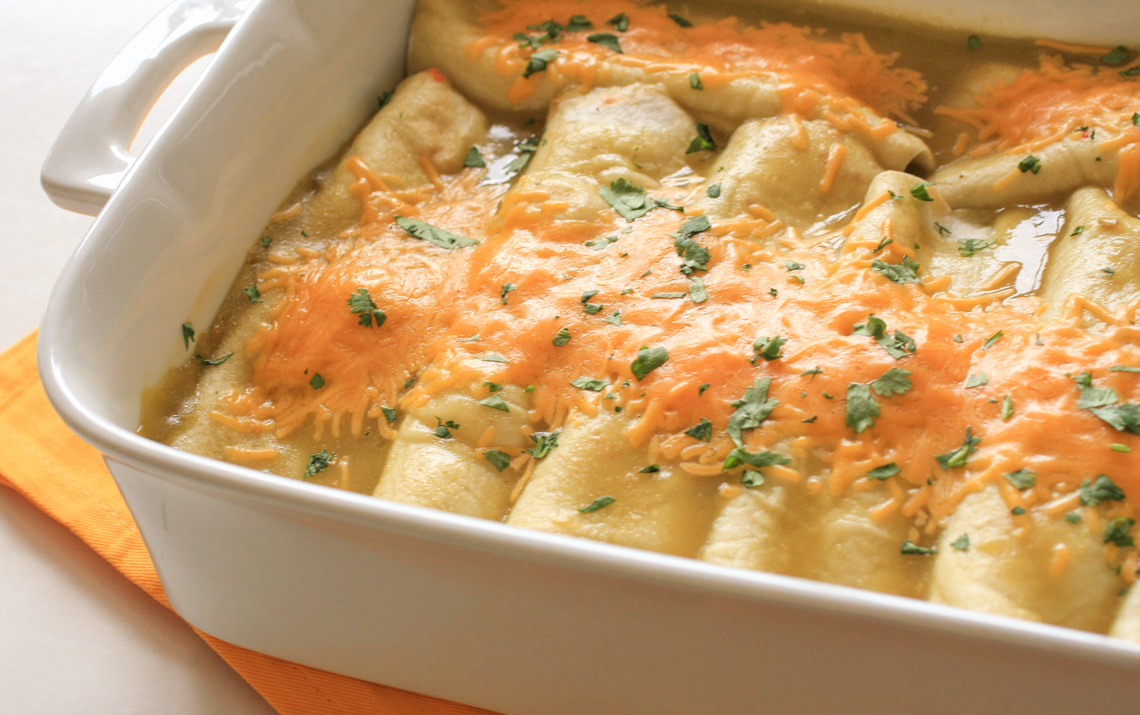 Get ready for the easiest enchiladas on the planet! All thanks to my sister's friend, Megan (thanks, Megan!). These are a family favorite and I make them ALL the time. 5 ingredients, that's it! Chicken, cheese, Ro-tel tomatoes, tortillas, and enchilada sauce. Boom, done! You can easily customize these based on what you've got in the pantry/fridge -black beans, corn, peppers…whatever. Thumbs way, way up.
5 Ingredient Salsa Verde Chicken Enchiladas
1 1/2 – 2 cups cooked, shredded chicken*
8-10 flour tortillas
1 10-oz can Ro-tel tomatoes, drained
1 14.5-oz can salsa verde (green) enchilada sauce (I like Old El Paso brand)
shredded cheddar cheese
Preheat the oven to 350 degrees. In a large bowl, combine the chicken and Ro-tel tomatoes.
Spoon the chicken/tomato filling into each tortilla, roll, and place in a greased 9×13 baking dish. Pour the sauce over the enchiladas and top with cheese. Cover and bake for about 25-30 minutes, until bubbly. Serves 4.
*You can use a rotisserie chicken, or cook and shred your own. My grocery store sells pre-cooked, seasoned, shredded chicken that makes these even easier!