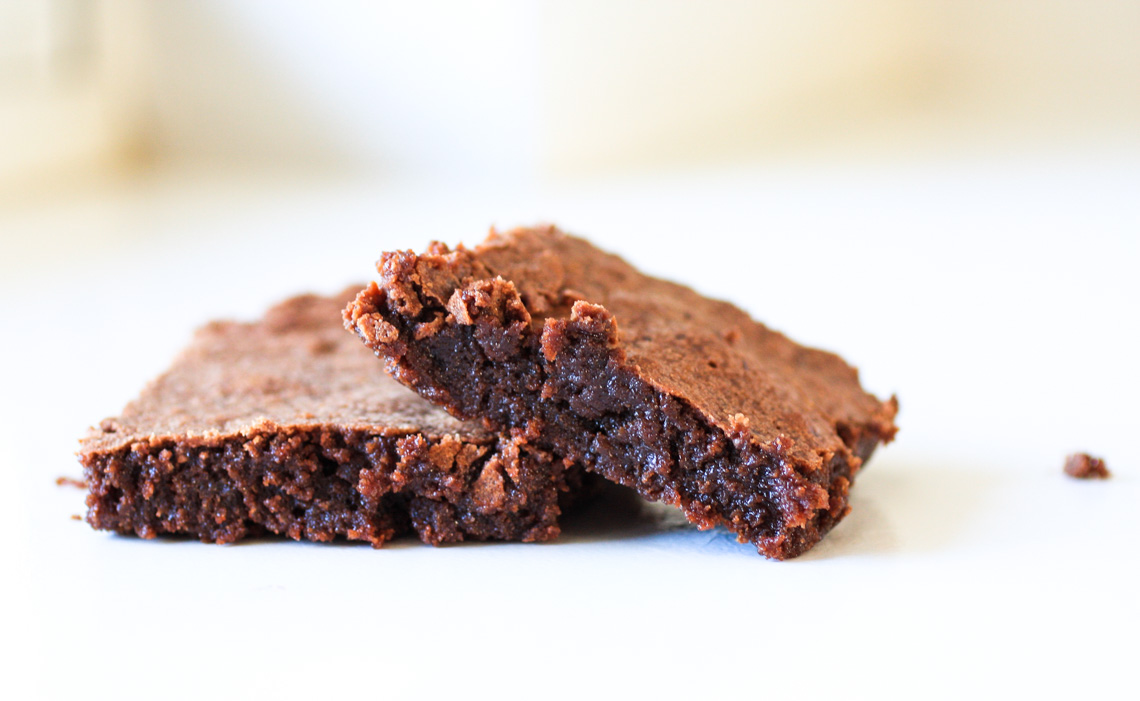 Ta-DAAAA!!! Here it is, my favorite brownie. The winner of the Great Brownie Comparison. This is HUGE! I never thought I'd find a homemade brownie recipe that excites me! If you're just tuning in, over the last week, I've tried 2 other brownie recipes, one from another blogger and one from King Arthur Flour. While they were both really, really good, I couldn't say they were THE brownies. The only recipe I'd ever need. The Big Enchilada.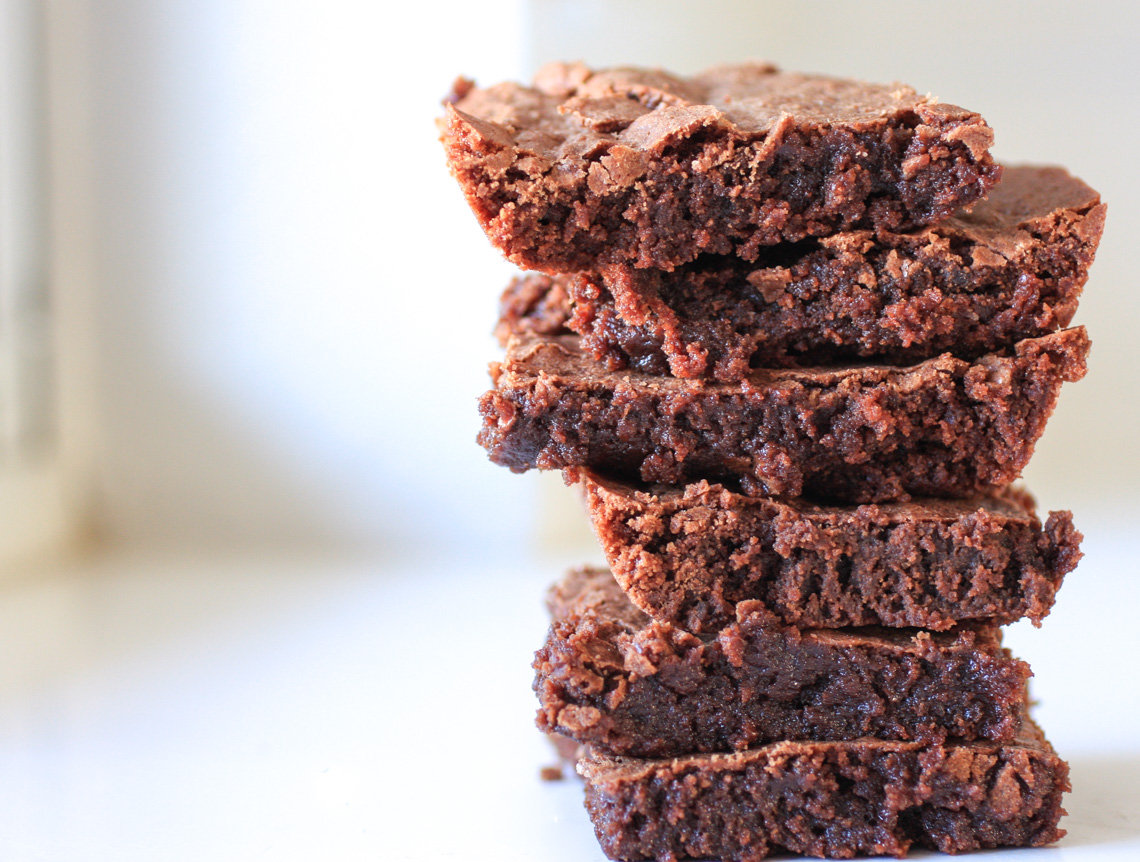 Well here it is. The perfect brownie, suited to my personal brownie needs. Apparently, I have a lot of them. I NEED them to be fudgy. But not too fudgy. Maybe just a *touch* on the cakey side? But not really CAKEY, cakey. You know? And I really, really like them chewy. Chewy and fudgy. Can the two coexist? Yes they can, my friends, and here they do, in THIS brownie.
When I first started looking at recipes to compare, this one kept coming up, which was odd, because just looking at the ingredients/method, it was the LEAST exciting. I thought "there's no way this brownie is going to be anywhere near the others". For some reason, I decided to give it a try. It happened to be the ugliest brownie out of all 3 recipes, and was the most difficult to cut and photograph. They ugly. Let's face it.
But one bite and Joel and I both decided this was our favorite. I guess I prefer them because they're not too sweet. I know that sounds weird, but I don't like a brownie that makes my teeth hurt. Nor was it too fudgy. It's made with oil instead of butter, which adds to the moistness, as well as keeps it from being too rich. The method is totally straight-forward and lightening quick. There's really no need to reach for a boxed mix anymore. This recipe comes together in minutes. It's a real winner in my book and I'm so happy I decided to tackle this challenge!
So, to recap: CHEWY, FUDGY, NOT TOO SWEET. PERFECT.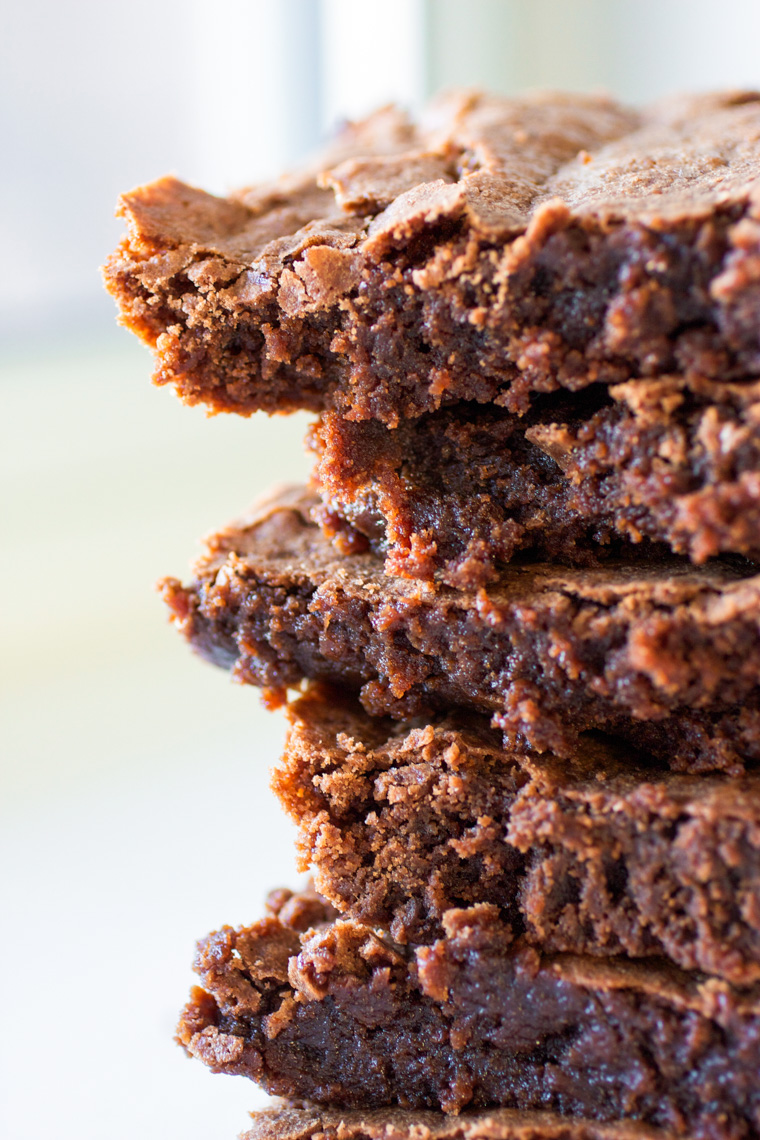 My Favorite Brownies
1/2 cup vegetable oil
1 cup sugar
1 teaspoon vanilla extract
2 eggs
1/2 cup all-purpose flour
1/3 cup cocoa powder
1/4 teaspoon baking powder
1/4 teaspoon salt
Preheat oven to 350 degrees and grease a 9×9-inch baking pan.
In a medium bowl, mix together the oil, sugar, and vanilla. Beat in eggs one at a time. In a separate bowl, combine the flour, cocoa, baking powder, and salt and gradually stir into the egg mixture until well combined.
Spread the batter evenly into the prepared pan.
Bake for 20 to 25 minutes, or until the brownie begins to pull away from edges of the pan and a toothpick inserted into the center comes out with only a few moist crumbs (not raw batter). Let cool before cutting into squares. Serves 9.
Recipe source: 'Mmm-Mmm Better Brownies', from allrecipes.com