I'm an opera singer and voice teacher living in Dallas, TX with my amazingly smart, talented, slightly nerdy, incredibly handsome husband, Joel and sassy-pants Terrier/Schnauzer mix, Izzy. I started cooking and baking when I got married in 2006 and it immediately became a passion. I absolutely love being in my kitchen (even when I drop entire pans of cookies on the floor, cook the world's worst brisket, or try to pit cherries with a chopstick and end up covering everything in red juice…) and I'm lucky enough to have a husband who will eat anything I put in front of him, which makes cooking very fun! Nothing on this blog is perfect or by any means professional; I'm just a girl who loves food- sometimes I have huge successes and sometimes I end up throwing tantrums and crying in the floor because of a gigantic cooking disaster. But (mostly) it's all documented here…for your reading pleasure.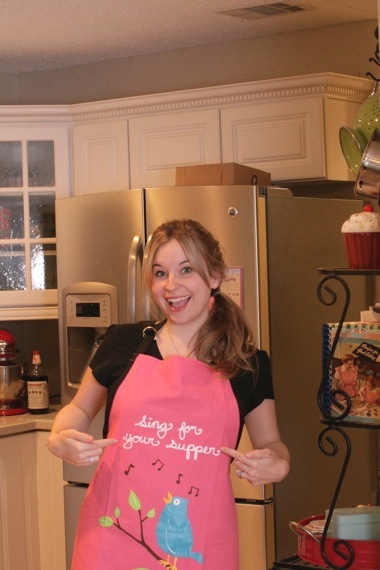 I chose the name "Sing For Your Supper" based on a Broadway musical number. Besides being a huge fan of opera and classical music, I also happen to be a Broadway junkie! There's a song from the musical, The Boys from Syracuse called "Sing for Your Supper" that I've always loved; I thought it would be a perfect title for an opera singer's food blog! Give it a listen- it'll be stuck in your head all day (in a good way!), I promise! (This is Dawn Upshaw, my favorite opera singer).
As far as photography goes- I use a Canon EOS 30D camera with a Canon 50mm macro lens. I know practically nothing about photography and mostly just rely on luck to get a fairly decent shot every now and then.  My blog design/layout was custom designed by a good friend and my sweet hubby implemented it for me (being married to a computer nerd has its benefits). Please enjoy, and feel free to contact me! I always love reading your comments, so don't be shy!