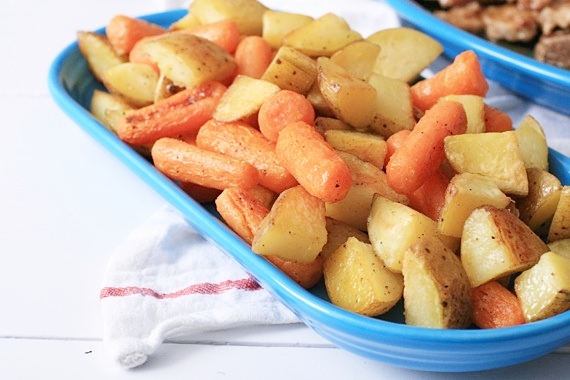 My all-time favorite, easy go-to side dish is roasted vegetables. Roasting just brings out all kinds of delicious flavor, and it's just SO EASY! Toss your favorite veggie with some olive oil, salt, and pepper and pop in the oven. Done. My favorite vegetable to roast has got to be broccoli– something magical happens to broccoli when its roasted. Magical, I tell you.
However, when it comes to firmer vegetables like carrots and potatoes, I have a method for roasting that comes out perfect every single time. All it takes is one extra step- no biggie. Just boil them for about 5 minutes first, THEN pop them in the oven. It makes the vegetables almost creamy on the inside, with a nice brown crust on the outside. So perfect. I do it this way every time I roast potatoes or carrots, and every time Joel and I are like, "MAN. These potatoes (or carrots) are SO good!" Every time.
Perfect Roasted Vegetables
5-6 medium sized yukon gold potatoes, scrubbed and cut into chunks
1 small bag baby carrots (or 5-6 large carrots, peeled and cut into chunks)
olive oil
salt and pepper
Preheat oven to 400 degrees. Put the potatoes and carrots in a large pot and cover with water. Bring to a boil and cook for about 5-7 minutes, until they're just beginning to soften. You don't want to be able to poke a fork all the way through them; the centers should still be hard.
Drain and toss with olive oil (about 2 or 3 tablespoons). Spread on a baking sheet in an even layer and sprinkle with salt and pepper. Roast for 15-20 minutes, until fork tender and a nice crust has formed. Serves 4 as a side dish.
You could also use this method for rutabagas/turnips, butternut squash, sweet potatoes, and any other really firm vegetable.
Recipe source: Sing For Your Supper original