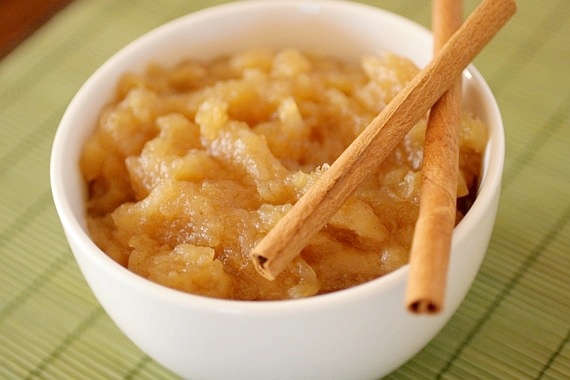 One of my very favorite things about fall is the smell of apples and spices cooking. It really puts me in the perfect "fall" state of mind…even if it is still 90+ degrees outside (we'll get there, Dallas, we'll get there!). The other night we had a nice "cold front" (86 degrees instead of the usual 97 or more), so I decided to whip up a quick pot of homemade applesauce. Joel and I both love applesauce, but when it comes to homemade, there's no contest. The beauty of this recipe is, you can just throw it all in a big pot and leave it. And of course in the meantime, your house will smell amazing!
Homemade Applesauce
4 apples, peeled and cored (I used Red Delicious, but Honeycrisp or Pink Lady would be ideal)
1/2 cup brown sugar, packed
pinch salt
juice of one lemon
1/2 teaspoon cinnamon
1/4 cup water
Cut the apples into large chunks and put them in a heavy pot over medium heat; add the brown sugar, salt, lemon juice, cinnamon and water. Bring to a simmer and reduce heat to low. Cook, stirring occasionally, for about 45 minutes to 1 hour, until the apples are extremely soft and mushy. Using a potato masher or fork, mash the apples together until you have an applesauce-like consistency. Serves 4.
Recipe source: Sing For Your Supper