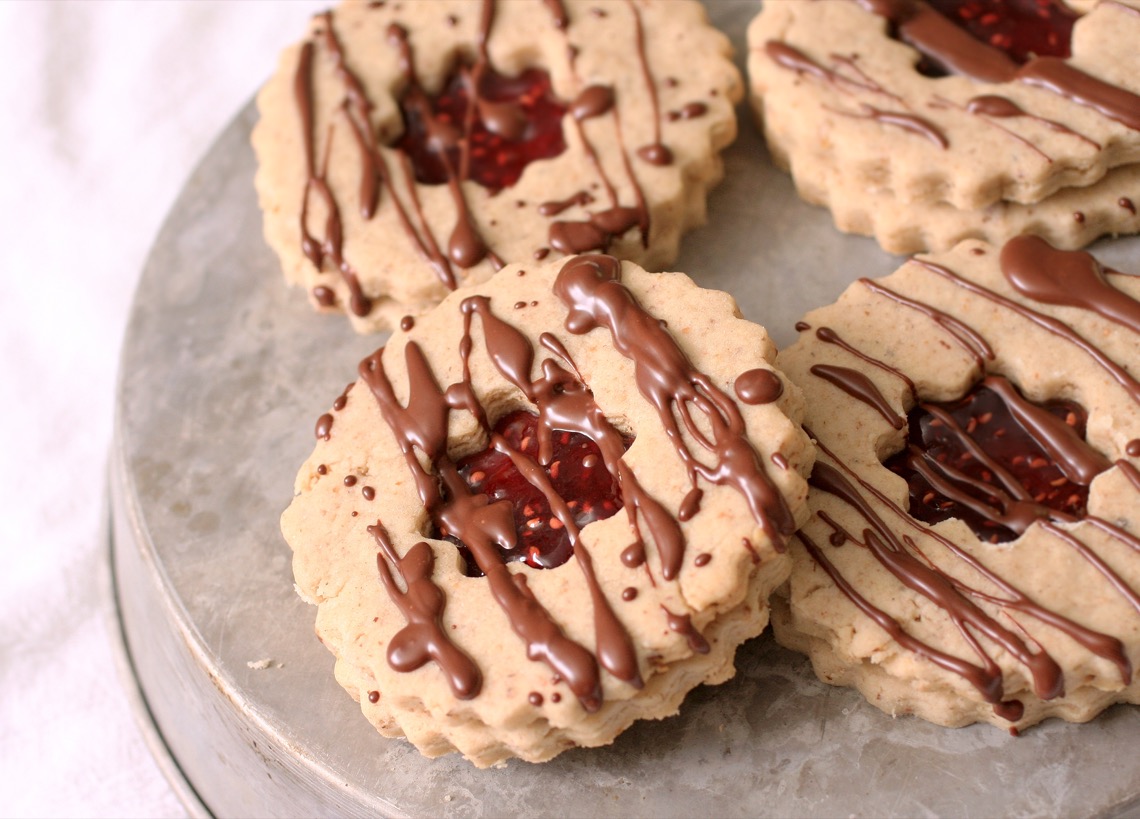 Golly, what a great time to get back into food blogging- nothing but Christmas cookies as far as the eye can see! I'm loving all this festive baking I've been doing. We can all thank Elliott for that, by the way, since he's finally gotten to a point where he actually enjoys life outside of my arms. Tonight it's just me, my laptop, and my thoughts (…and One Direction uh, I mean, um, Mozart…).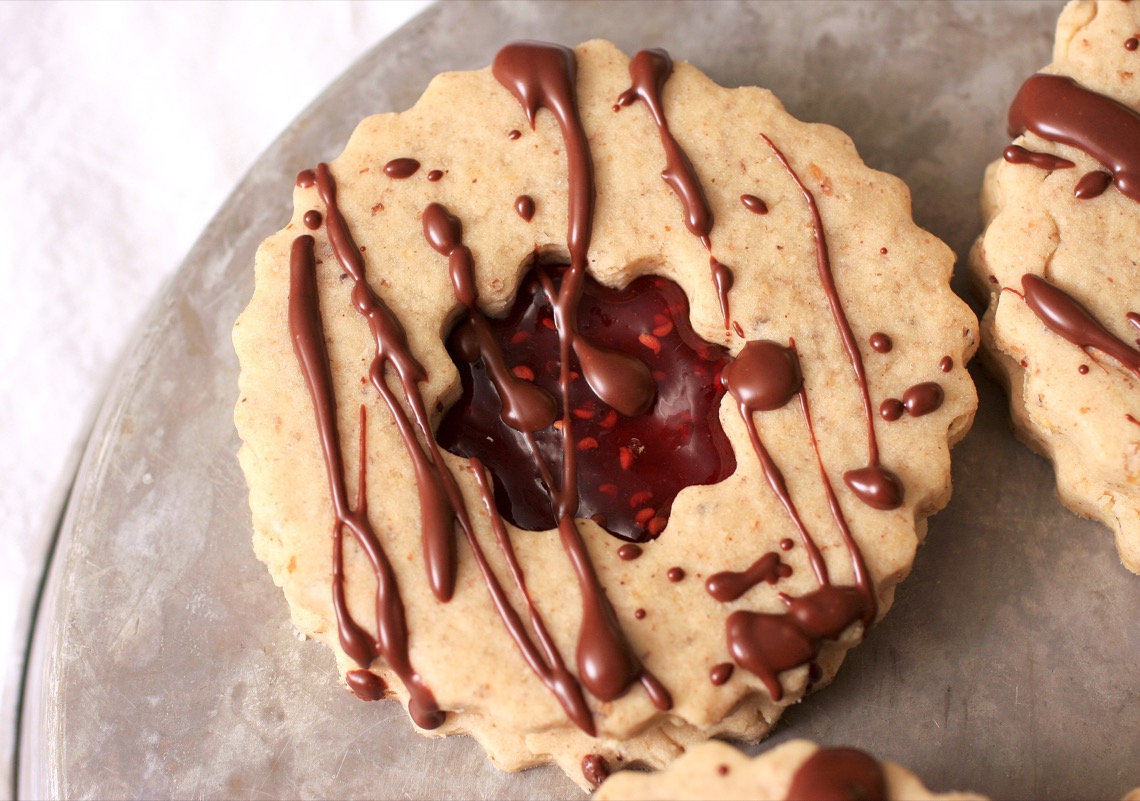 The last time I made Linzer cookies (like, 5 years ago), I wasn't just super over-the-moon about them. Probably because I filled them with Nutella and I really feel this particular cookie needs a nice, tart jam filling to offset the richness of the cookie. So this time I chose my favorite jam- raspberry. I added a splash of Chambord (raspberry liqueur) to intensify its raspberriness. The chocolate drizzle was just icing on the cake, so to speak. I LOVE the raspberry/dark chocolate combo, so I knew this would be good. It was.  Believe me. I've had way too many of these today.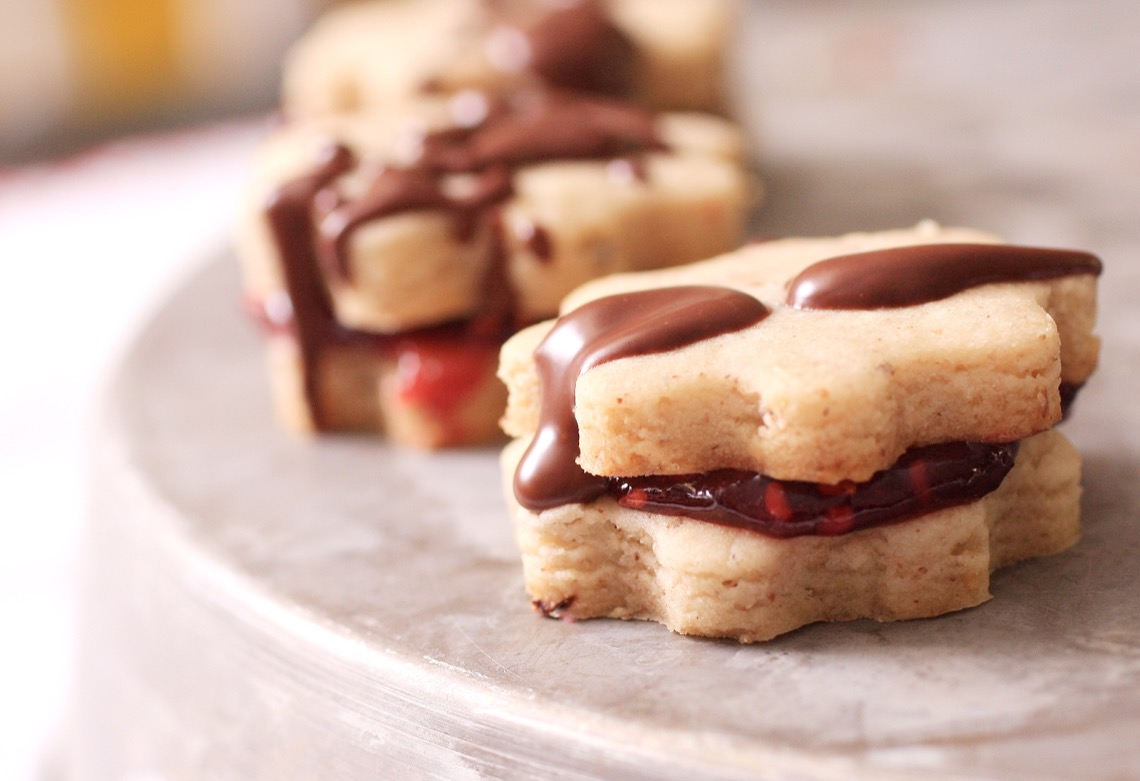 These are soft, but not chewy; crumbly, sandy, and nicely nutty. Such a fantastic cookie. I could literally eat these all day. And I did. I feel bad that my first encounter with Linzer cookies wasn't as amazing as this go-round. I can't wait to make these again (and I'll still be jamming out to One Direction MOZART).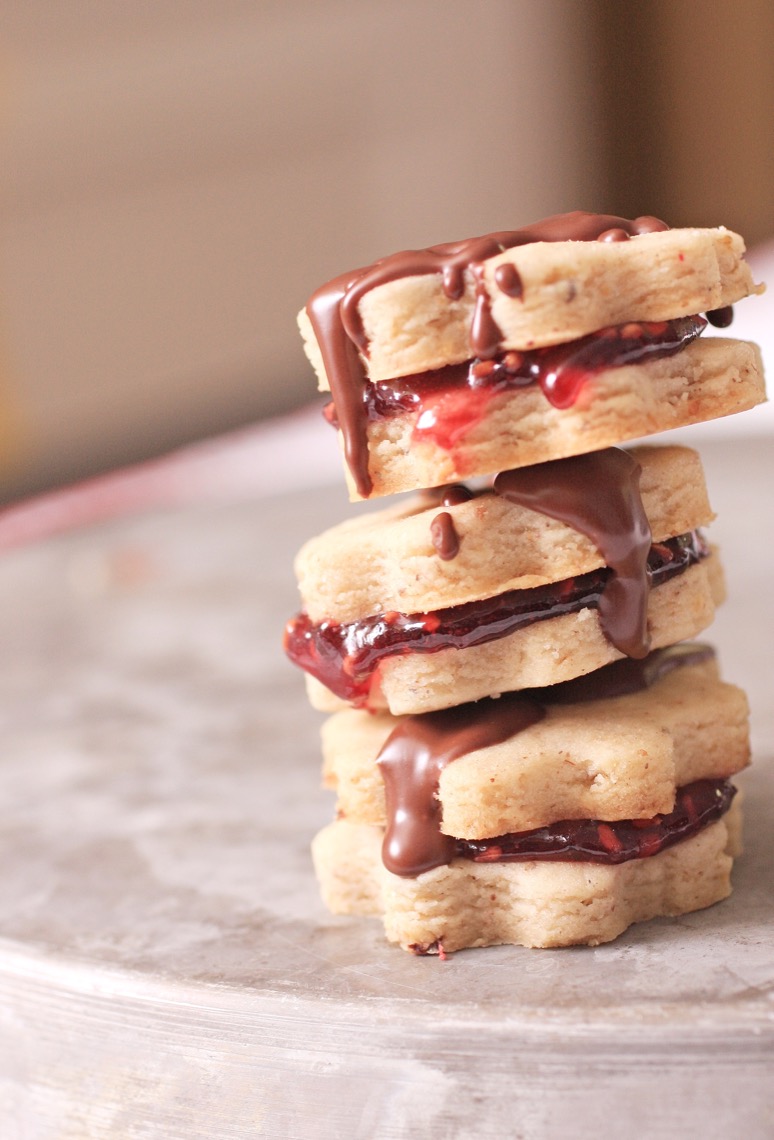 Chocolate-Raspberry Pecan Linzer Cookies
2 cups all-purpose flour, plus more for dusting
1/2 teaspoon baking powder
3/4 cup pecan halves, toasted
2 tablespoons confectioners' sugar
1/4 teaspoon salt
1/8 teaspoon ground cinnamon
1/2 cup (1 stick) cold unsalted butter, cut into small pieces
1/4 cup granulated sugar
1 teaspoon pure vanilla extract
1 large egg
1/2 cup raspberry jam
splash raspberry liqueur, such as Chambord
1 ounce dark chocolate, chopped
Sift flour and baking powder into a bowl; set aside. Pulse pecans, confectioners' sugar, salt, and cinnamon in a food processor until finely ground (but not wet); transfer to the bowl of an electric mixer fitted with the paddle attachment.
Add butter and granulated sugar; mix on medium speed until fluffy. Mix in vanilla and egg. Reduce speed to low. Gradually add flour mixture until combined.
Halve dough; shape into disks. Wrap in plastic and refrigerate until firm, at least 2 hours.
Preheat oven to 375 degrees. Working with 1 disk at a time, roll out dough on a lightly floured surface to 1/8 inch thick. Cut out squares (or circles, or flowers) with a 2-inch fluted cutter. Cut out centers of half the squares with a 1/2-inch flower cutter;
reroll scraps. Space 2 inches apart on ungreased baking sheets. Bake until pale golden, 8 to 10 minutes. Transfer to racks to cool.
Meanwhile, heat jam in a small saucepan over medium heat until reduced and thickened, about 7 minutes; stir in raspberry liqueur; let cool.
Heat the chocolate over a double boiler or in the microwave (just be sure to stir it every 30 seconds or so).
Spread jam onto uncut squares; top with cutout ones. Drizzle with chocolate. Makes approx. 10 sandwich cookies (since my cookie cutters were so huge, I only got 10 cookies, but if you use a smaller cutter, you'll probably get closer to 12-14).
Recipe source: adapted from Martha Stewart 'Cookies'