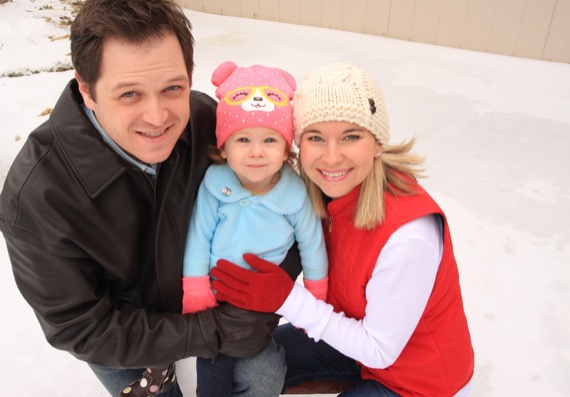 Hello there! I apologize (sort of…not really) for the super long hiatus I've been on! The months of November and December have been action-packed, to say the least. And it isn't to say I haven't wanted to post over the last few weeks, because believe me, I really, really have! But since I no longer have a reason to keep quiet….here goes! We are experiencing our own little Christmas miracle this year–
that's right: Baby #2 is on the way!!! Cassidy is going to be a big sister and we are THRILLED. I'm 12 weeks along and due late June/early July. And of course, feeling rotten. 😉 Actually, the rotten part is (hopefully) almost done. I was pretty sick for awhile (i.e. the first 2 months) and had NO desire to eat food, think about food, or blog about food. It's still not great, especially at night, but I really feel like I'm on the downhill slide.
We've talked to Cassidy about her new brother or sister, but I don't think she quite getting it. We've got 6 months to get her used to the idea, though, and I'm sure she'll start getting curious as soon as I start showing a lot more.
So now you know the reason for my disappearance. Thanks to those of you who missed me and sent me messages to check on me- that was greatly appreciated! After the holidays I hope to get back into blogging and back to a more normal version of myself (who knows, maybe I'll even find the energy to change out of my pajama pants every now and then!). Until then, I want to wish you all a VERY merry Christmas and a happy New Year! Have a wonderful time with your friends and families and don't forget the real reason we celebrate each year!