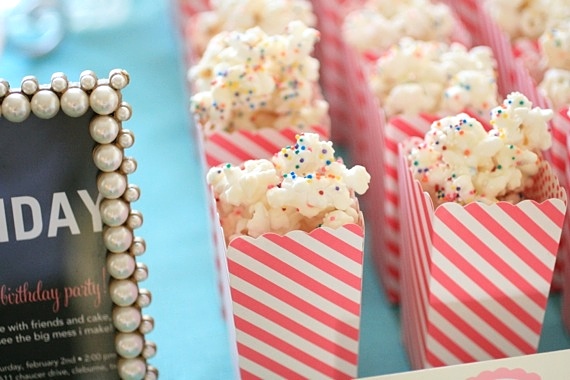 When I posted Cassidy's 1st birthday party last week, I promised to share the recipe for the birthday popcorn, so here it is!
I think every kid should have lots of bright and colorful treats at their birthday party, and while this popcorn is ridiculously easy, it's equally as popular! Every time I have ever made this (and trust me, I've made it for almost every occasion!), people seem to go nuts over it. I love it because I can customize it for ANY occasion- Christmas, Halloween, baby showers, Easter…you name it. All you need is different kinds of sprinkles and you've got endless possibilities. 🙂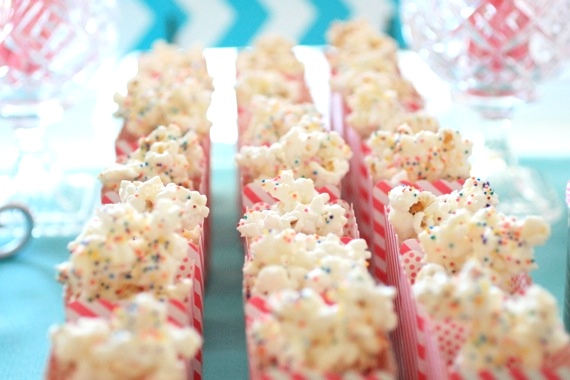 Birthday Popcorn
2 bags unbuttered microwave popcorn, popped (I prefer the 'tender white' variety made by Orville Redenbacher)
12 ounces white candy coating or almond bark*
colored rainbow sprinkles
wax paper
Place the candy coating in a microwave safe bowl and heat in 30 second intervals, stirring each time, until melted and smooth.
Lay out two long sheets of wax paper on a wide surface. Place the popped popcorn in a very large bowl and slowly drizzle the melted candy coating over it. Stir with a large spoon until all the popcorn is coated. Spread in an even layer over the sheets of wax paper and immediately sprinkle liberally with the sprinkles. Let dry for at least 2-3 hours. Break into pieces and serve. Makes enough for 24-36 people.
Recipe source: Sing For Your Supper original
*white chocolate chips can also be used