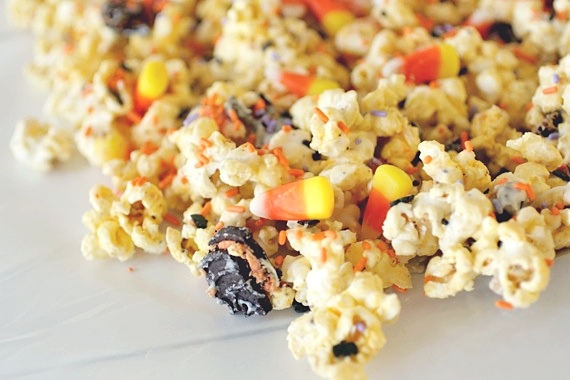 One bright, sunny, fall day, Cookies and Cream Popcorn met Halloween Popcorn.
Cookies and Cream Popcorn loved Halloween Popcorn's bright, colorful sprinkles and Halloween Popcorn couldn't resist Cookies and Cream Popcorn's bits of crunchy, creamy Oreos. They instantly fell in love and that's how Halloween Oreo Popcorn came to be. And they lived happily ever after….in my tummy. 😉
Since Halloween is only 5 days away (wahoo!!!), I knew I just had to post something to get us all in the spirit (right, like I need any help…). This Halloween Oreo Popcorn is the perfect treat for snacking on the couch while watching The Nightmare Before Christmas with your little pumpkins! 🙂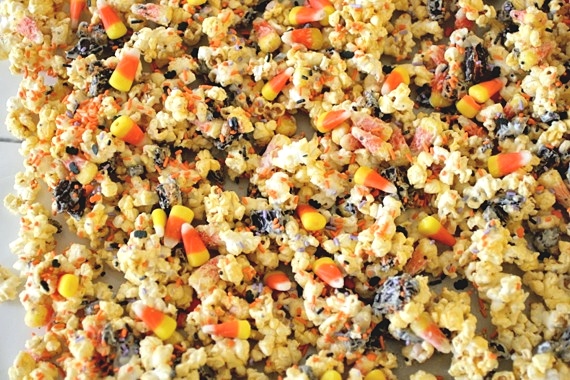 Halloween Oreo Popcorn
2 bags microwave popcorn, popped (this time, I used buttered popcorn and it turned out great!)
10-15 Oreos, chopped
1 bag candy corn
1 16-ounce package white chocolate bark or candy coating**
Halloween sprinkles
wax paper
Place the popped popcorn, Oreos, and candy corn in a very large bowl (you need plenty of room to stir the popcorn). Melt the white chocolate bark in the microwave in 30 second increments, stirring after each time, until melted. Drizzle over the popcorn mixture and stir to coat each piece of popcorn.
Pour the mixture over wax paper and spread into an even layer. Sprinkle with Halloween sprinkles and allow to cool for at least 15-30 minutes. Break into pieces. Serves 6-8.
Recipe source: Sing For Your Supper
**Almond bark or candy coating can be found on the baking aisle next to the chocolate chips. You can substitute white chocolate chips if preferred.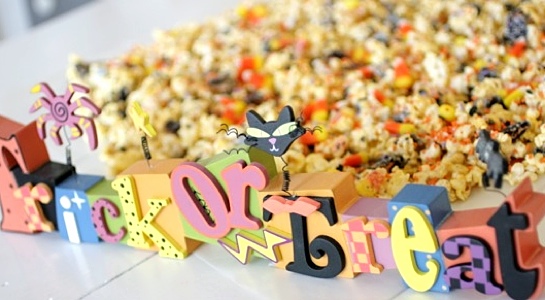 …….HAPPY HALLOWEEEEEEEEEN!! 🙂