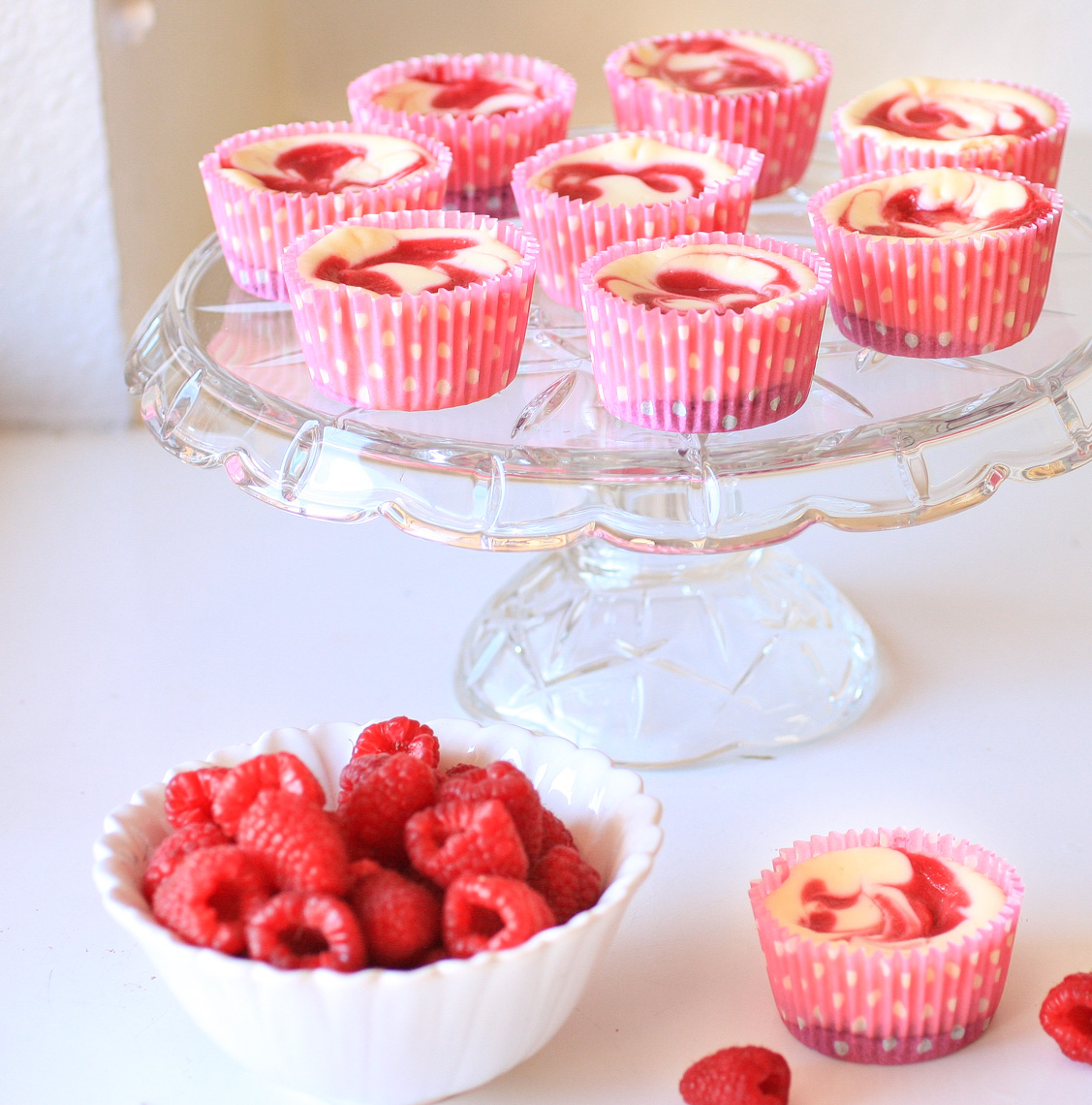 OK. I've got my cuppa tea (Yorkshire, with milk and honey!), got my fuzzy blanket, got my Taylor Swift going, and it's QUIET and peaceful in this little corner of my bedroom- I'm happy. So let's talk about CHEESECAKE. Raspberry cheesecake, to be more specific. Raspberry cheesecake with an Oreo as the crust. YES.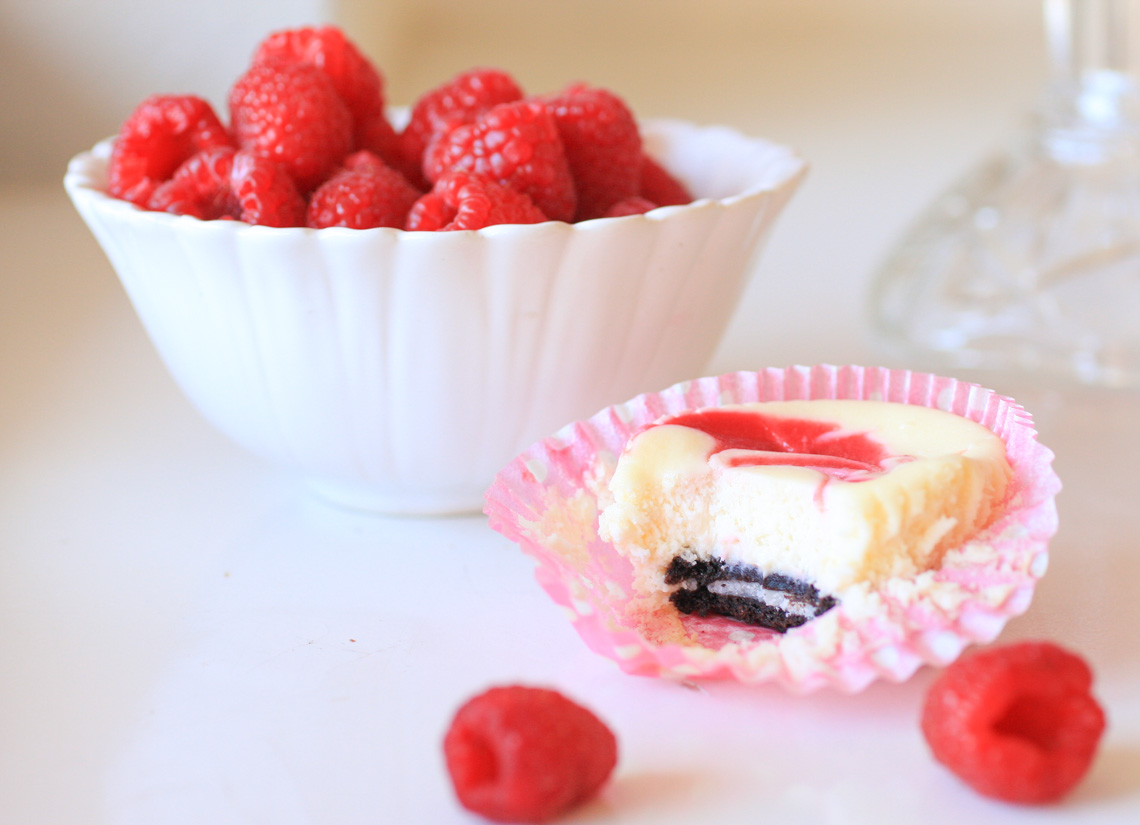 As much as I love plain ol' cheesecake, I adore raspberry cheesecake. I guess because the tartness of the raspberry really cuts through that creamy richness of the cheesecake. And since Oreos are God's food, why not add them in for good measure? You know, just in case this recipe wasn't already awesome enough.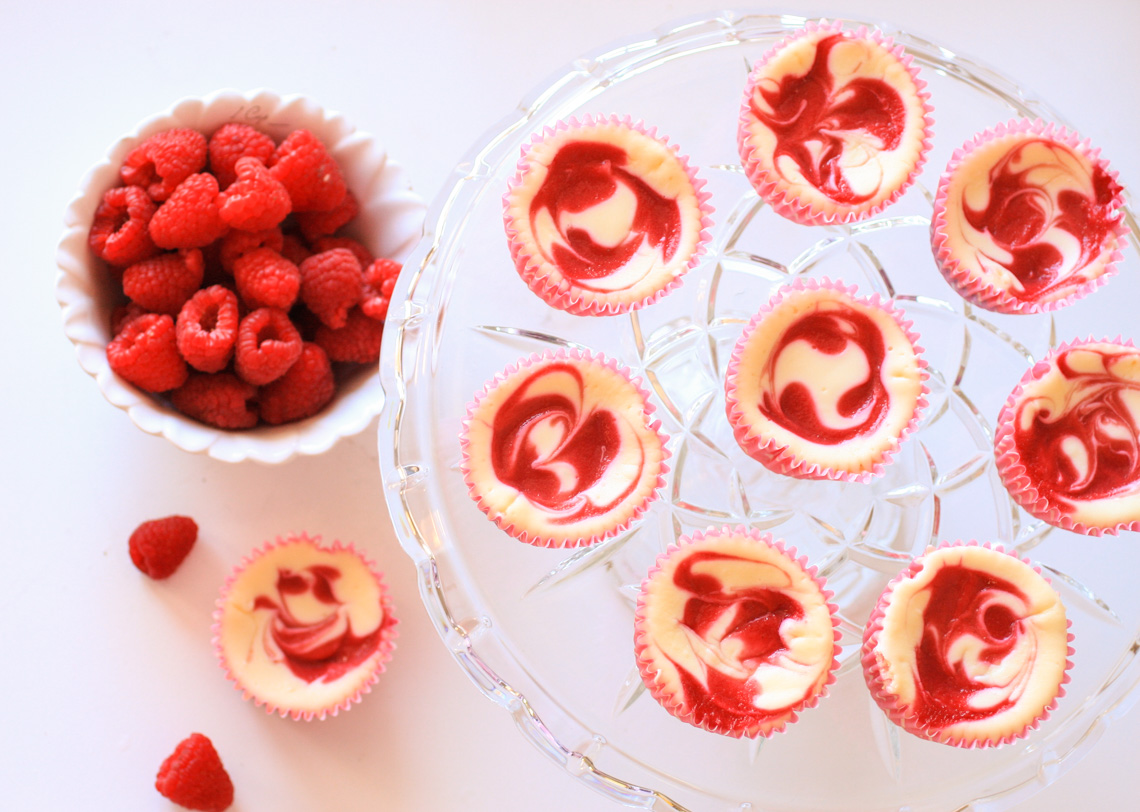 I made these cheesecakes for our Valentine's Day dessert (Joel and I always stay in and cook dinner together. It's tradition.). I usually make chocolate fondue or one of my all-time favorites, Gooey Chocolate Cakes, but due to the billions of brownie recipes I've made lately, I decided to go non-chocolate this year. It was a very good call. We inhaled these; even as full as we were, having just had steaks, baked potatoes, and wine. Another good call. We're great decision makers, really.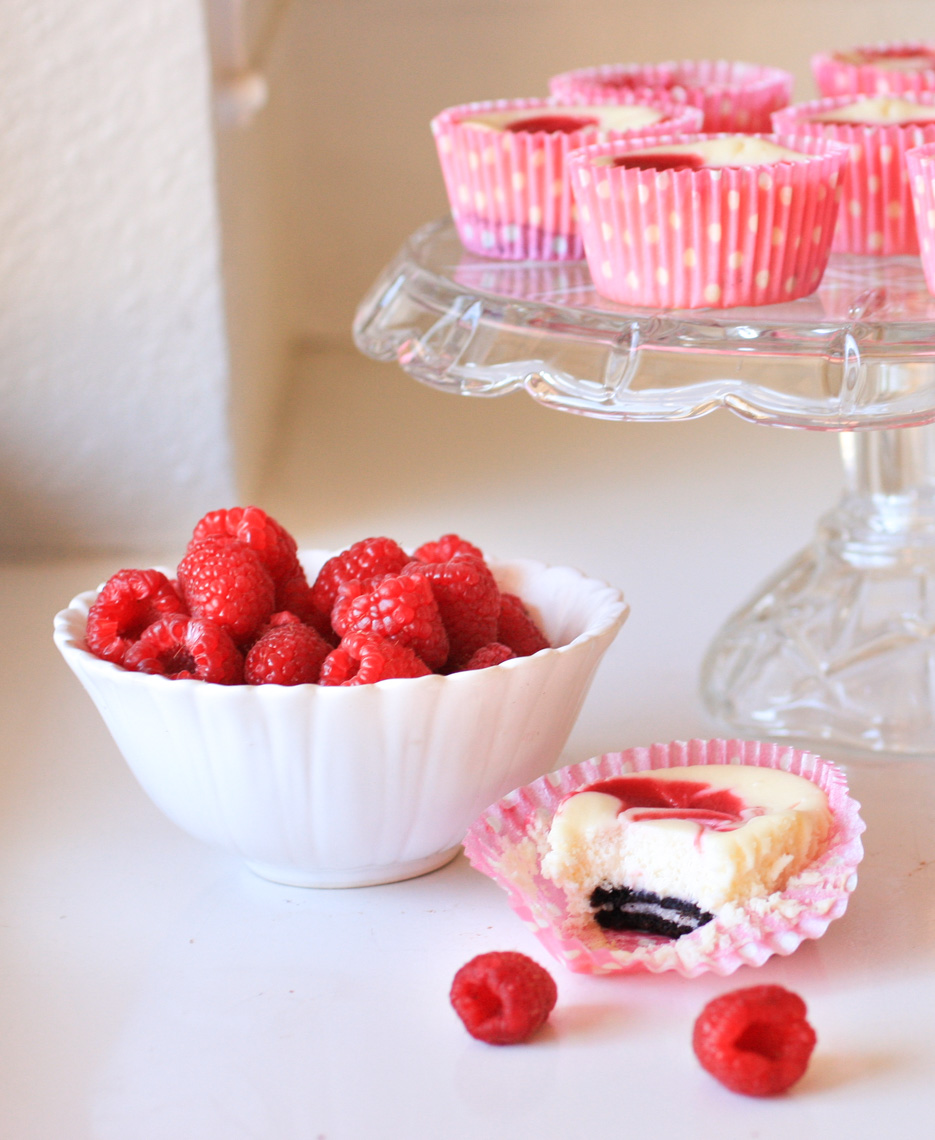 Mini Oreo-Bottom Raspberry Cheesecakes
2 pounds (four 8-ounce boxes) cream cheese, at room temperature
1 1/3 cups sugar
1/2 teaspoon salt
2 teaspoons pure vanilla extract
4 large eggs, at room temperature
1 1/3 cups sour cream
6 ounces fresh raspberries
1 tablespoon raspberry jam
1 tablespoon sugar
36 Oreo cookies
Preheat the oven to 325 degrees. Line muffin pans with cupcake liners (you'll need 36) and put an Oreo in the bottom of each.
Working in a stand mixer, preferably fitted with a paddle attachment, or with a hand mixer in a large bowl, beat the cream cheese at medium speed until it is soft and fluffy, about 4 minutes. With the mixer running, add the sugar and salt and continue to beat another 4 minutes or so, until the cream cheese is light. Beat in the vanilla. Add the eggs one at a time, beating for a full minute after each addition. Reduce the mixer speed to low and stir in the sour cream.
To make the raspberry swirl, pulse raspberries, jam, and sugar in a blender until smooth and pureed. Push through a fine mesh sieve to remove seeds.
Give the cheesecake batter a few stirs with a rubber spatula and spoon into the cupcake liners. Drop 3 small spoonfuls (about half a teaspoon) of raspberry puree on the top of each and swirl with a toothpick.
Bake for about 20-23 minutes, rotating the pans halfway through baking. They'll puff up during baking, but as they cool they'll level out again.
Let cool completely and refrigerate for at least 4 hours or overnight. Makes 36 cupcakes.
Recipe source: cheesecake from Dorie Greenspan's Baking From My Home to Yours; raspberry swirl adapted from Annie's Eats