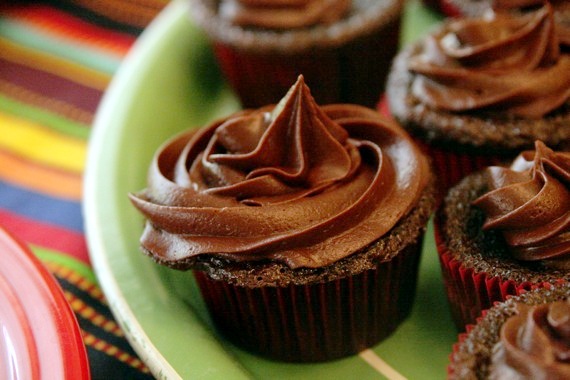 Here we are at Part 3, the final cupcake, of my Cupcake Week. I sort of like this whole "nothing but cupcakes" thing…kinda fun! I'm especially excited to post these because they happen to be my favorite of the 3. This is Hershey's Perfectly Chocolate Cake and Chocolate Buttercream – the very best chocolate cake recipe out there, in my opinion (and it translates beautifully to cupcakes!)! It's so amazingly moist and tender and the frosting?? Oh MAN, don't even get me started on that frosting! It's the BEST chocolate frosting you will ever put in your mouth! Silky smooth, rich, thick, buttery and oh-so chocolaty. I ate an embarrassing amount of these cupcakes at the party. Then I took some home with me and ate another embarrassing amount. For breakfast. I'm in love with this recipe. I'll never, never stray from it. I don't want any other smelly old chocolate cake recipe- I'll always be a Hershey's girl. Now and forever. Wow, those sound like wedding vows! I'm pretty good at pledging my love to a cupcake, huh?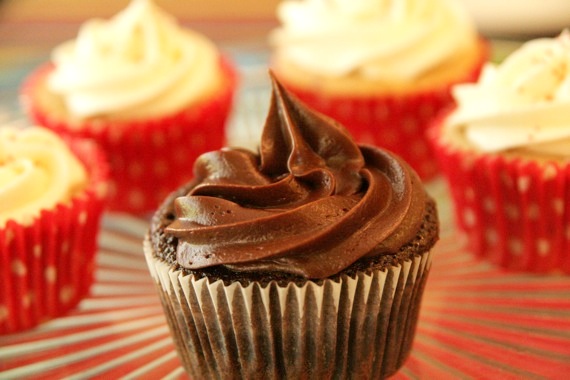 Hershey's Perfectly Chocolate Cake
2 cups sugar
1-3/4 cups all-purpose flour
3/4 cup HERSHEY'S Cocoa
1-1/2 teaspoons baking powder
1-1/2 teaspoons baking soda
1 teaspoon salt
2 eggs
1 cup milk
1/2 cup vegetable oil
2 teaspoons vanilla extract
1 cup boiling water
1/2 cup (1 stick) butter, melted
2/3 cup HERSHEY'S Cocoa
3 cups powdered sugar
1/3 cup milk
1 teaspoon vanilla extract
Preheat oven to 350 degrees and line cupcake pans with liners.
Stir together sugar, flour, cocoa, baking powder, baking soda and salt in large bowl.
Add eggs, milk, oil and vanilla; beat on medium speed of mixer 2 minutes.
Stir in boiling water (batter will be very thin).
Pour batter into cupcake liners.
Bake 20 to 25 minutes or until wooden pick inserted in center comes out clean.
Cool 10 minutes; remove from pans to wire racks. Cool completely.
Meanwhile, make frosting: stir melted butter into cocoa.
Alternately add powdered sugar and milk, beating to spreading consistency.
Add small amount additional milk, if needed.
Stir in vanilla. (Makes approx. 2 cups frosting)
Frost cupcakes when completely cooled, as desired. Makes approx. 24 cupcakes.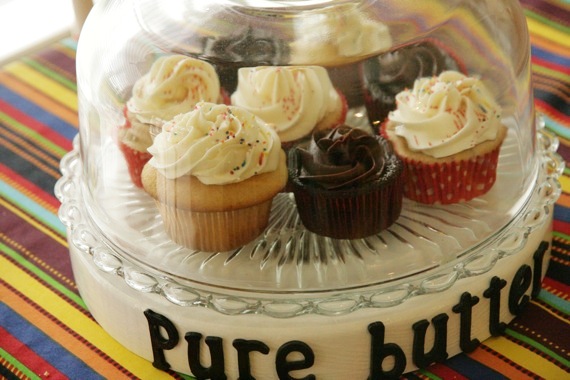 I really hope you've enjoyed my special "Birthday-Extravaganza-Week-of-Cupcakes" – I certainly have! I enjoyed making them, sharing them, blogging them and especially eating them (I'm starting to really understand the whole obsession with cupcakes now….albeit a little late…). Bottom line: everyone, from little kids having a birthday to 75 year-olds having a birthday to twenty-somethings having breakfast (tee hee) LOVES a good cupcake. They're cheerful. They're easy. And most importantly, they're YUMMY!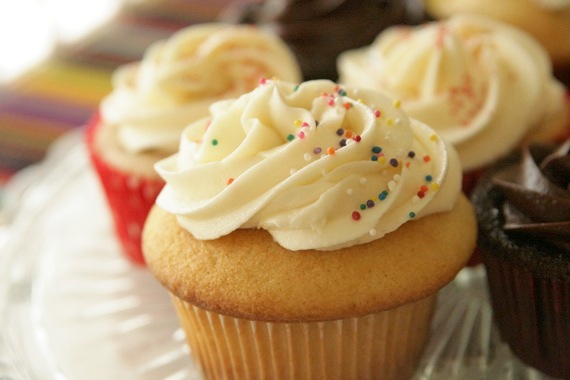 Maybe I'll do another Cupcake Week again sometime and see what other delicious flavors I can come up with- for now, I'm happy with the Holy Trinity – Vanilla, Strawberry and Chocolate. Who was and is; and is to come. Amen.