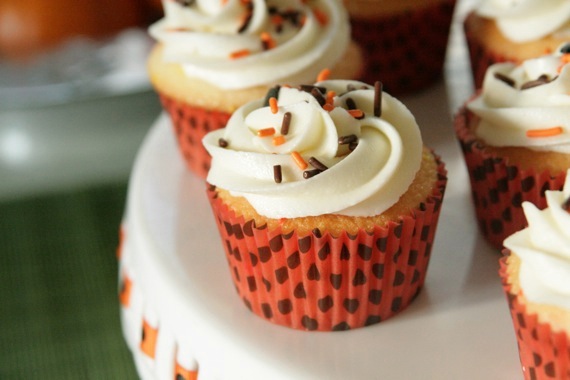 Every year around this time I start to get reeeeally excited. Not just because it's Fall and it's the best season of the year, but because I can start getting out my Halloween decorations!! Yay!! Those of you who have followed my blog since the beginning know I have a (big) thing for Tim Burton's The Nightmare Before Christmas (big as in, it's my all-time favorite movie second only to The Little Mermaid). I collect anything Nightmare Before Christmas related- Christmas ornaments, snow globes, tiny little figurines – I have it all, and I leave it out from Halloween through Christmas. That's the beauty of it- my two favorite holidays, all in one totally awesome movie!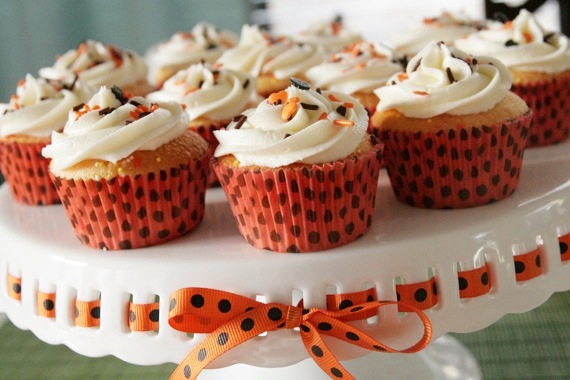 Besides my freaking sweet collection of Nightmare Before Christmas stuff, I also have lots of other Halloween decorations (not the scary kind- the cute, homey kind), and I look forward to pulling it all downstairs every single year. I got it all out this week. And now my house is decorated with pumpkins, candy corn, cute jack-o-lanterns and (duh) my freaking sweet collection of Nightmare Before Christmas stuff. So, I had to celebrate the occasion. This sort of thing definitely calls for cupcakes. Delicious orange-scented cupcakes. Yum. The batter tastes like creamsicles! They're slightly grown up due to the Grand Marnier in both the batter and the frosting and the orange flavor isn't totally overpowering, so they're just right, in my opinion!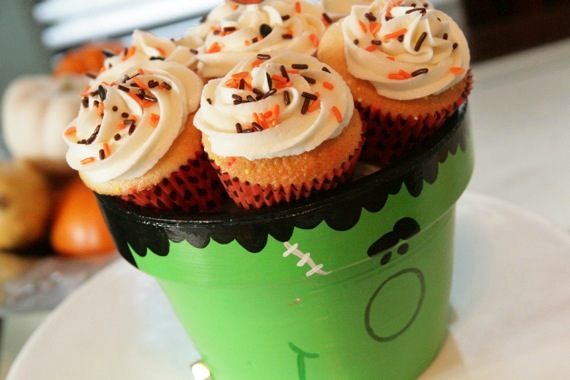 Orange-Scented Cupcakes
-adapted from Dorie Greenspan's Baking From My Home to Yours
*Makes 24 cupcakes
2 1/4 cups cake flour
1 tablespoon baking powder
1/2 teaspoon salt
3/4 cups whole milk
1/2 cup orange juice
1 tablespoon Grand Marnier, or any orange liqueur you like
4 large egg whites
1 1/2 cups sugar
1 stick (8 tablespoons) unsalted butter, at room temperature
1 1/4 teaspoons pure vanilla extract
Center a rack in the oven to 350 degrees. Fill cupcake pans with cupcake liners.
Sift together the flour, baking powder and salt.
Whisk together the milk, orange juice, liqueur and egg whites in a medium bowl.
Put the sugar and butter in the bowl of a mixer and, working with the paddle or whisk attachment, or with a hand mixer, beat at medium speed for a full 3 minutes, until the butter and sugar are very light. Beat in the extract, then add one third of the flour mixture, still beating on medium speed. Beat in half of the milk-egg mixture, then beat in half of the remaining dry ingredients until incorporated. Add the rest of the milk and eggs, beating until the batter is homogeneous, then add the last of the dry ingredients. Finally, give the batter a good 2-minute beating to ensure that it is thoroughly mixed and well aerated. Using a small spoon, fill each cupcake liner 1/2 full with the batter.
Bake for 15 to 20 minutes, or until the cupcakes are well risen and springy to the tough – a toothpick inserted into the centers should come out clean. Transfer the cupcakes to cooling racks and cool completely before frosting them.

Vanilla-Orange Buttercream
1 stick butter, at room temperature
3-4 cups powdered sugar
2 tablespoons orange juice
splash Grand Marnier
1 teaspoon vanilla
pinch salt
Place the butter in a large mixing bowl. Add 1 cup of the sugar and then the orange juice, Grand Marnier and vanilla. On medium speed of an electric mixer, beat until smooth and creamy, about 3-5 minutes. Gradually add the remaining sugar, 1 cup at a time, beating well after each addition (about 2 minutes), until the icing is thick enough to be of good spreading or piping consistency. You may not need to add all of the sugar. Refrigerate until needed.