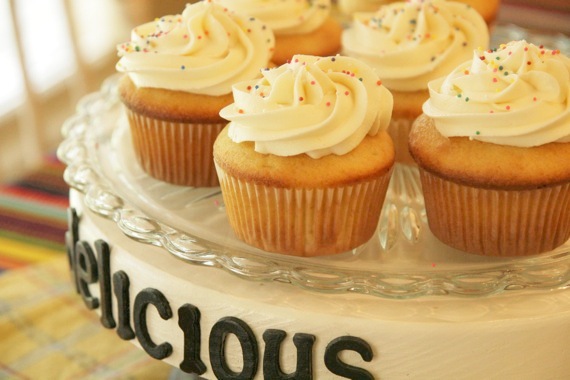 Yesterday was a fun day. We had a ginormous party for my sister, Nana and Uncle Steve who are all having a birthday this week (within two days of each other) and I made a boat-load of cupcakes (as well as a big batch of pulled pork tacos). It was a really great time- we had homemade guacamole and salsa, chicken enchiladas and pork tacos….and cupcakes. Lots and lots of cupcakes. I made chocolate with chocolate buttercream, strawberry with vanilla buttercream and buttermilk (yellow) with vanilla buttercream. Boy, you just can't beat a good 'ol yellow cupcake with good 'ol vanilla buttercream. That's the best there is! Normally, when I make cupcakes, I always use Dorie's perfect party cake recipe (it's perfect every single time!), but this time I wanted to try a yellow cake, so I chose Martha Stewart's version. Good call- these were delicious! And as always, I used my stand-by Magnolia Bakery buttercream recipe- it's everyone's favorite. I'll be posting the other cupcakes throughout the week (there's no way I could possibly leave out those chocolate cupcakes…Lordy, were they good!).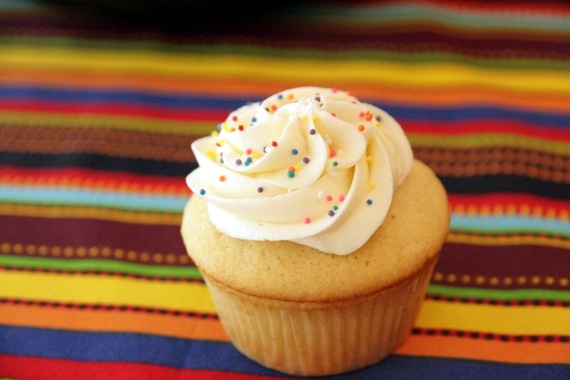 Yellow Buttermilk Cupcakes
-Martha Stewart 'Cupcakes'
Makes 36
3 cups cake flour (not self-rising)
1 1/2 cups all-purpose flour
3/4 teaspoon baking soda
2 1/4 teaspoons baking powder
1 1/2 teaspoons coarse salt
1 cup plus 2 tablespoons (2 1/4 sticks) unsalted butter, room temperature
2 1/4 cups sugar
5 large whole eggs plus 3 egg yolks, room temperature
2 cups buttermilk, room temperature
2 teaspoons pure vanilla extract
Preheat oven to 350 degrees. Line standard muffin tins with paper liners. Sift together both flours, baking soda, baking powder, and salt.
With an electric mixer on medium-high speed, cream butter and sugar until pale and fluffy. Reduce speed to medium. Add whole eggs, one at a time, beating until each is incorporated, scraping down sides of bowl as needed. Add yolks, and beat until thoroughly combined. Reduce speed to low. Add flour mixture in three batches, alternating with two additions of buttermilk, and beating until combined after each. Beat in vanilla.
Divide batter evenly among lined cups, filling each three-quarters full. Bake, rotating tins halfway through, until cupcakes spring back when lightly touched and a cake tester inserted in centers comes out clean, about 20 minutes. Transfer tins to wire racks to cool 10 minutes; turn out cupcakes onto racks and let cool completely. Cupcakes can be stored overnight at room temperature, or frozen up to 2 months, in airtight containers.
Vanilla Buttercream
-Magnolia Bakery
2 sticks butter, at room temperature
1/2 cup milk
2 teaspoons vanilla extract
4-6 cups powdered sugar
Cream butter and gradually add powdered sugar, milk and vanilla until you reach piping or spreading consistency.  *I doubled the recipe- it's always a good idea to have extra frosting, just in case! Plus, the birthday girl was entitled to a little extra frosting! 🙂