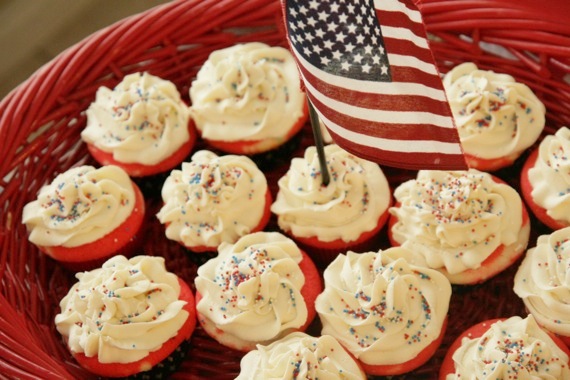 The 4th of July is such a great holiday, I think. I mean, aside from the whole "winning our independence" thing, which is obviously the most important, this is such a fun-loving, happy holiday.  Who doesn't love grilling/eating hot dogs, watching baseball, setting off fireworks and being with friends and family? That's what it's all about, to me. When I was a kid, we had a lake house where we would spend every single 4th of July- we'd sit out on the boat dock eating watermelon and shooting off fireworks. I always loved the sparklers. Some of my very happiest memories come from those 4th of July celebrations out at the lake house. Such good times. This year (like last year), we're going to a baseball game – baseball, hot dogs and fireworks- is there anything more American? We just love it! In honor of the good 'ol 4th – I decided to get a little patriotic in the kitchen and bake up some red, white and blue cupcakes. Nothing fancy, just simple white cake with a kick-butt buttercream. As always, I chose Dorie Greenspan's recipe for her perfect party cake- it never fails. I also went with the standby Magnolia Bakery buttercream and topped it off with some patriotic sprinkles. Happy 4th of July, everybody- ENJOY!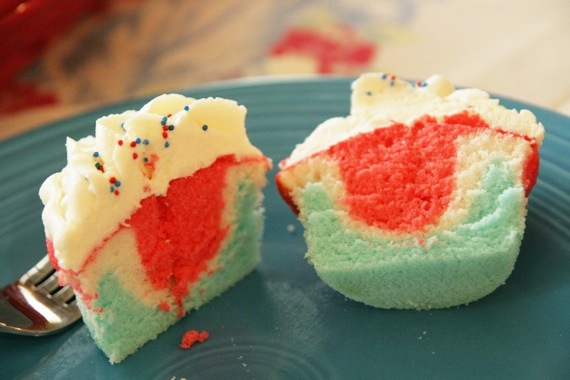 Red, White and Blue Cupcakes
-Dorie Greenspan's Baking From My Home to Yours
2 1/4 cups cake flour
1 tablespoon baking powder
1/2 teaspoon salt
1 1/4 cups buttermilk
4 large egg whites
1 1/2 cups sugar
3 teaspoons grated lemon zest
1 stick (8 tablespoons) unsalted butter, at room temperature
1 teaspoon pure vanilla extract
Center a rack in the oven to 350 degrees. Fill cupcake pans with cupcake liners.
Sift together the flour, baking powder and salt.
Whisk together the buttermilk and egg whites in a medium bowl.
Put the sugar and lemon zest in a mixer bowl or another large bowl and rub them together with your fingers until the sugar is moist and fragrant. Add the butter and, working with the paddle or whisk attachment, or with a hand mixer, beat at medium speed for a full 3 minutes, until the butter and sugar are very light. Beat in the extract, then add one third of the flour mixture, still beating on medium speed. Beat in half of the buttermilk-egg mixture, then beat in half of the remaining dry ingredients until incorporated. Add the rest of the buttermilk and eggs, beating until the batter is homogeneous, then add the last of the dry ingredients. Finally, give the batter a good 2-minute beating to ensure that it is thoroughly mixed and well aerated. Using a small spoon, fill each cupcake liner 1/2 full with the batter.
Bake for 15 to 20 minutes, or until the cupcakes are well risen and springy to the tough – a toothpick inserted into the centers should come out clean. Transfer the cupcakes to cooling racks and cool completely before frosting them.
Vanilla Buttercream
-Magnolia Bakery
1 cup (2 sticks) unsalted butter, softened
6 to 8 cups confectioners' sugar
1/4 cup milk
1 1/2 teaspoons vanilla extract (I used a good Mexican vanilla and it was fantastic!)
Place the butter in a large mixing bowl. Add 4 cups of the sugar and then the milk and vanilla. On the medium speed of an electric mixer, beat until smooth and creamy, about 3-5 minutes. Gradually add the remaining sugar, 1 cup at a time, beating well after each addition (about 2 minutes), until the icing is thick enough to be of good spreading or piping consistency. You may not need to add all of the sugar. Use and store the icing at room temperature because icing will set if chilled.
**For red, white and blue cupcakes- separate the cake batter into 3 different bowls. Add blue food coloring (I use gel) to one bowl, the red to another, and leave the third bowl as is. Fill each cupcake liner with a small, even layer of blue, then white, then red on top. Mine didn't exactly come out perfectly straight- I ended up with more of a "wobbly" effect, but it really doesn't matter as long as you get the three colors! I thought it looked kind of fun, actually! 🙂