I've been holding onto a little piece of news for a couple of weeks now – about a month ago, I entered a cookie contest for a newspaper in the DFW area. A week went by and I got an email saying my cookies (Toasted Oatmeal with Golden Raisins, Pecans and Coconut) made it onto the Semi-Finals! Woo-Hoo! Honestly, I never expected them to even get that far. The next step was for me to take a plate of my cookies to the newspaper office for more judging. Shortly thereafter, I got another email – onto the Final round! Oh YEAH! This time, professional pastry chefs and bakery owners would make my cookies following the recipe I provided (um, talk about nerve-wracking!). Then, I got a call from super-sweet Stephanie saying I WON! Holy cow, this was a total and utter shock! What an awesome surprise…my humble little oatmeal cookie won a contest; now that will brighten anyone's day!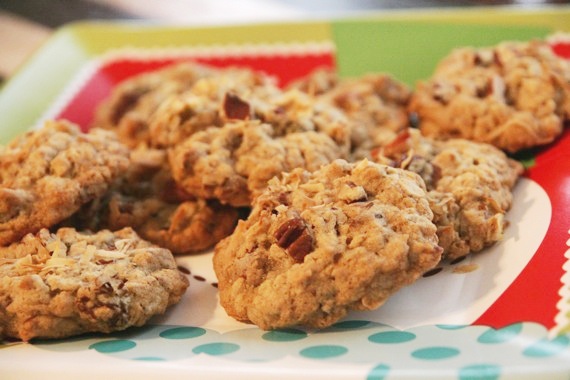 This is an awesome opportunity because my cookies are going to be sold at a bakery in Fort Worth for 2 weeks this month! How cool is that?! They can even be shipped nation-wide; and all the proceeds go to charity – really cool! I got to have my picture in the paper and everything (that's a big deal for 'lil 'ol me!) – the photo shoot was so much fun…the photographer had me make all kinds of fun poses/faces! I'm just glad they chose a semi-normal looking picture for the article!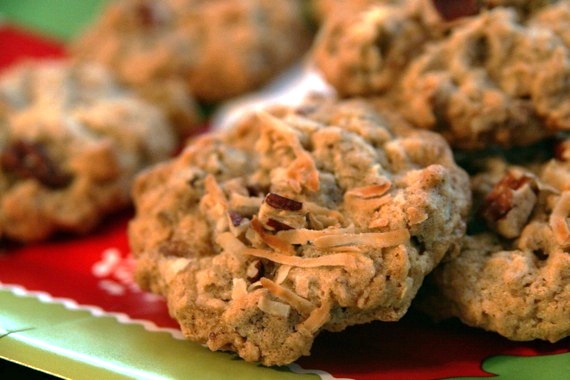 Just for fun, here is the article, which includes the recipe (sorry, it's no longer online!). Thanks again, Stephanie, all the other Fort Worth Star Telegram employees and pastry chefs who chose my cookie and gave me a really fun treat this holiday season!!
Toasted Oatmeal Cookies with Golden Raisins, Coconut and Pecans
1 1/2 cups old-fashioned oats
1 cup all-purpose flour
1/2 teaspoon baking soda
1/2 teaspoon baking powder
1/2 teaspoon salt
1/2 cup (one stick) plus 3 tablespoons unsalted butter, at room temp.
1/2 cup packed brown sugar
1/2 cup granulated sugar
1 large egg
1 tablespoon half and half
1 teaspoon vanilla extract
1 teaspoon pumpkin pie spice
1 cup coarsely chopped pecans
1/2 – 1 cup (however much you want, really) shredded sweetened coconut
1 cup golden raisins
Preheat oven to 350 degrees. Combine oats, coconut and pecans and spread on a baking sheet. Toast in the oven for 5-7 minutes, or until the coconut becomes fragrant, stirring frequently. Let cool. Combine flour, baking soda, baking powder, salt and pumpkin pie spice in a bowl. Set aside. In a separate bowl, cream both sugars and butter until light, fluffy and smooth. Add egg, half and half and vanilla and blend until smooth. Stir in the flour mixture, the toasted oat mixture, then the raisins. Drop dough onto a cookie sheet lined with parchment paper in rounded spoonfuls (or you can use a cookie scoop) about 2 inches apart. Bake for about 12 -15 minutes or until edges of cookies are golden brown. Transfer to a wire rack for cooling.