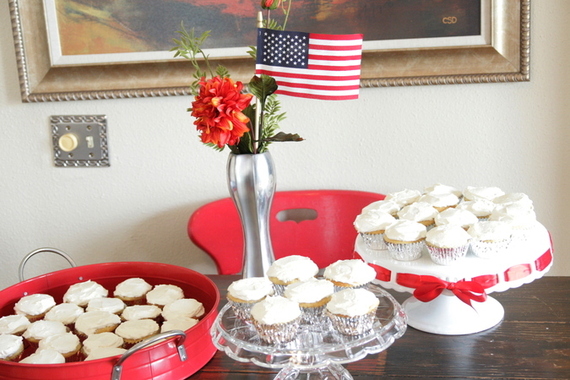 Yesterday we had a big family post-4th of July get-together at our house. My grandmother (Granna), my Aunt Josie and her family, my Uncle Alan and his family, my mom, dad, sister and nephew were all there. 16 people total. This was the first time for most of them to see our new house, so we were excited for them to come! I was especially excited for everyone to meet Izzy! Of course, she was (as always) the life of the party! Here's Granna outside in our backyard getting acquainted little miss Izzy Bell…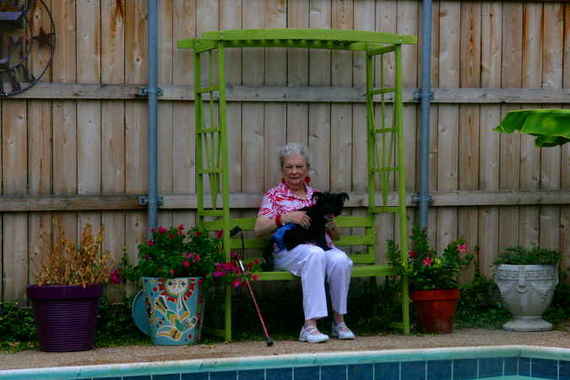 (And yes, that is a dead hibiscus plant over there….I killed it a few weeks ago and now I'm trying to bring it back to life. We'll see…)
I thought this would be a perfect chance for me to try out my new Martha Stewart Cupcakes book – I picked the Yellow Buttermilk Cupcakes with Fluffy Vanilla Frosting and they were SO good! I think this might just be my new favorite cupcake. The cupcakes are light and moist and the frosting is to die for! Everyone really enjoyed them.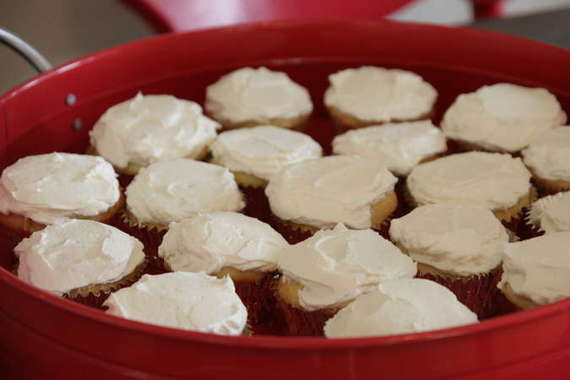 They were supposed to have cute little stars and stripes piped onto them, but we had a minor catastrophe just before everyone arrived (my pot wrack fell off of the wall, shattering my brand new ceramic measuring cups and making a HUGE mess that took forever to clean up!), so I didn't exactly get a chance to do it. Oh well. They still tasted great. And who doesn't love a plain 'ol vanilla cupcake anyway, eh? Ok, so maybe it would've been cuter with the decorations….OH WELL!!
Yellow Buttermilk Cupcakes
-Martha Stewart Cupcakes
3 cups cake flour (not self-rising)
1 1/2 cups all-purpose flour
3/4 teaspoon baking soda
2 1/4 teaspoons baking powder
1 1/2 teaspoons coarse salt
1 cup plus 2 tablespoons (2 1/4 sticks) unsalted butter, room temperature
2 1/4 cups sugar
5 large whole eggs plus 3 egg yolks, room temperature
2 cups buttermilk, room temperature
2 teaspoons pure vanilla extract
Preheat oven to 350 degrees. Line standard muffin tins with paper liners. Sift together both flours, baking soda, baking powder, and salt.
With an electric mixer on medium-high speed, cream butter and sugar until pale and fluffy. Reduce speed to medium. Add whole eggs, one at a time, beating until each is incorporated, scraping down sides of bowl as needed. Add yolks, and beat until thoroughly combined. Reduce speed to low. Add flour mixture in three batches, alternating with two additions of buttermilk, and beating until combined after each. Beat in vanilla.
Divide batter evenly among lined cups, filling each three-quarters full. Bake, rotating tins halfway through, until cupcakes spring back when lightly touched and a cake tester inserted in centers comes out clean, about 20 minutes. Transfer tins to wire racks to cool 10 minutes; turn out cupcakes onto racks and let cool completely. Cupcakes can be stored overnight at room temperature, or frozen up to 2 months, in airtight containers.
Fluffy Vanilla Frosting
-Martha Stewart Cupcakes
1 1/2 cups (3 sticks) unsalted butter, room temperature
1 pound (4 cups) confectioners' sugar, sifted
1/2 teaspoon pure vanilla extract
With an electric mixer, beat butter on medium-high speed until pale and creamy, about 2 minutes.
Reduce speed to medium. Add the confectioners' sugar, 1/2 cup at a time, beating well after each addition and scraping down sides of bowl as needed; after every two additions, raise speed to high and beat 10 seconds to aerate frosting, then return to medium-high. This process should take about 5 minutes. Frosting will be very pale and fluffy.
Add vanilla, and beat until frosting is smooth. If not using immediately, frosting can be refrigerated up to 10 days in an airtight container. Before using, bring to room temperature, and beat on low speed until smooth again, about 5 minutes.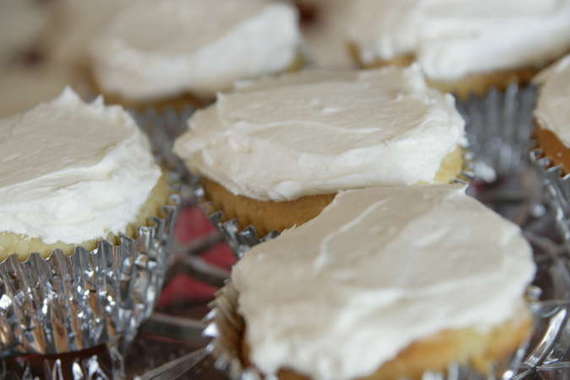 I think everyone had a great time (especially the kids who spent almost the entire time out in the pool!), and I loved making these great cupcakes and having everyone over for a great 4th of July get-together! I hope everybody had a great holiday weekend with friends and family!