This is going to be a fun post, I can tell…….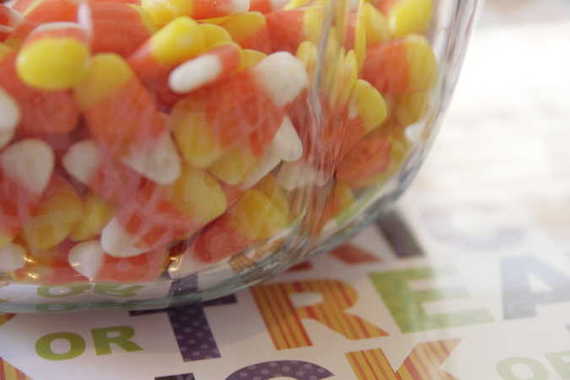 YIPPEE!! Its the week of Halloween!!! I love this holiday, people! Not just me, though – my family too. My mom, my sister and I always decorate our houses with cute Halloween decor – not creepy stuff, though – I don't dig on having fake spider webs and black lights on my front porch. Cute stuff, like pumpkins, candy corn and cute, friendly little ghosts! Although I will admit that I have an embarassingly large collection of The Nightmare Before Christmas stuff on display every year (its my second favorite movie ever!), which is about as morbid as I get on Halloween (however, I guess the fact that I leave it all out on display until Christmas adds to the morbid factor a bit).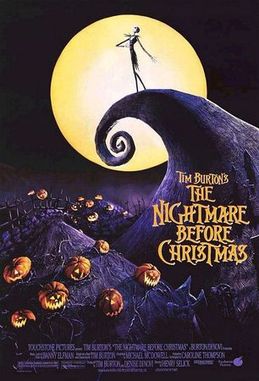 Sorry, just couldn't resist!!
Anyway, back to my post….every year we all get together and watch fun stuff like It's the Great Pumpkin, Charlie Brown!, Hocus Pocus (boy, do I love Bette Midler!) and the Disney version of Ichabod Crane (you know, the cute animated version with Bing Crosby narrating? Golly I love that movie!) So obviously, Halloween is big in my family. Which is why I was SO excited when Clara of I Heart Food 4 Thought chose Chocolate-Chocolate Cupcakes for this week's TWD recipe with the idea in mind that we could decorate them for Halloween!! How fun!! How clever you are, Clara!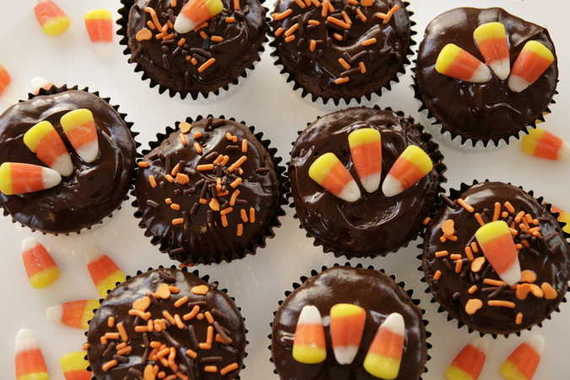 Now, you'd think that a cupcake wouldn't take much trouble…wouldn't cause any confusion….no worries, right? W-R-O-N-G. We've had all kinds of nerdy food discussions all week about these cupcakes! Just look! Apparently these cupcakes came out rather dry for many of the bakers, and dry cupcakes just won't do. So, the TWD geniuses started thinking of ways to make them more moist – sour cream, pudding, oil instead of butter, applesauce, less flour, etc – really good stuff! So I took their ideas and ran with it; I'll give you the low-down:
Instead of using a softened stick of butter, I used half butter (melted) and half oil
Instead of 1/2 cup buttermilk, I used 1/2 cup low-fat sour cream
I used half brown sugar, half white sugar instead of all white
I used semi-sweet chocolate instead of bittersweet (for the cake and the glaze)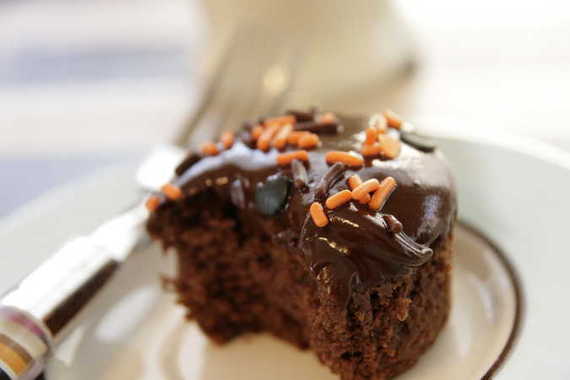 And there you have it. Its not much of a change but I'll tell you, these were THE MOST AWESOME CUPCAKES I'VE EVER TASTED. Oh my heavens, that chocolate glaze….to die for!!! These were seriously amazing. Seriously. And oh-my-goodness, did I have a good time decorating them all Halloweeny-like!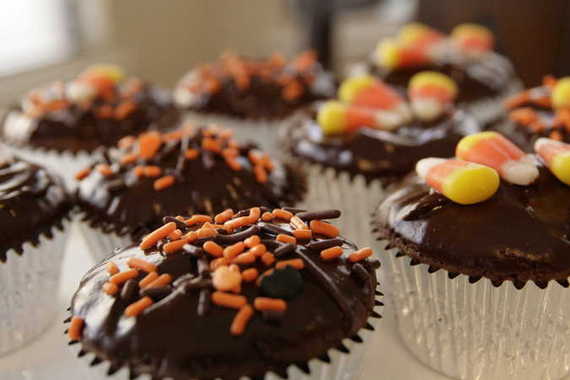 I was planning on sending these to work with hubby tomorrow, but after tasting, I think these babies will stay right here with mama! Oh yeah!
You know, honestly, I'd love to know what these cupcakes taste like when using the recipe as written. I'm sure they're still fabulous – but I just couldn't risk a dry cupcake…nope, sorry.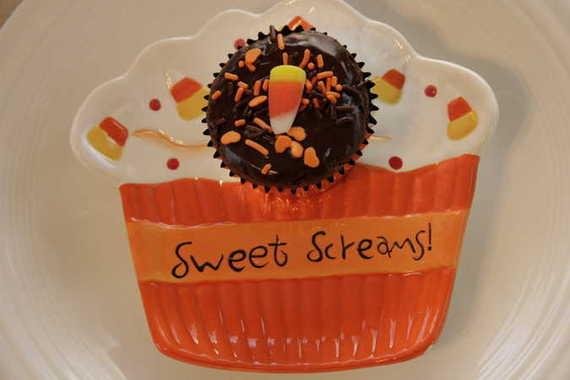 Isn't that little plate cute?! I got that at Hobby Lobby and I'm oh-so-proud of it!!
Ok, I suggest rushing over to Clara's blog and getting the recipe for these babies…..they're good. What a great party treat!