Some of you may remember my post "For Mommy" from last year – well, this is part 2. Mother's Day brunch a year later. This year for Mother's Day, I had the whole family over for brunch at my house. It was such a treat to have everyone over – I spent the whole day before baking all kinds of goodies and had my house fixed up just like I wanted it. This house is perfect for entertaining, and I do it as often as I can. There was tons of great food on the menu – my mother brought her breakfast casserole (eggs, sausage, croutons and lots of other good stuff), Nana brought a big fruit salad with a marshmallow cream/sour cream topping (we call it fruit gravy), my sister brought her Bruschetta cups (phyllo shells filled with tomato, basil, onion, mozzarella and mayo- really good!), and I fixed mango muffins, a lemon tart as part of my mom's gift, mimosas, coffee, and from-scratch cinnamon rolls. Yes, that's right- I, Amy-Scaredy-Pants, put on my Texas A&M apron, rolled up my sleeves and overcame my well-known fear of yeast. This is big, people.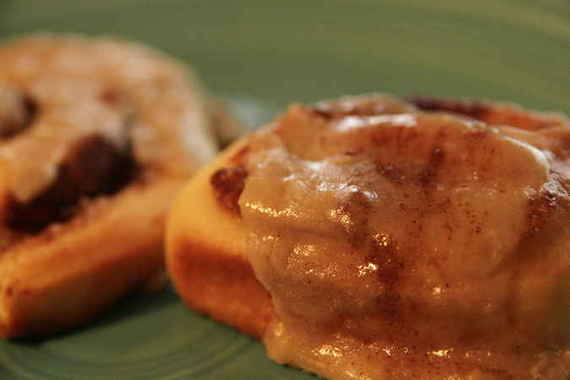 (And sorry – the pictures are nothing short of disastrous. I forgot to take pictures until I realized too late that there was no natural light left….)
For too long now, the Pioneer Woman's Cinnamon Rolls have taunted me, made me drool all over myself, and made me ashamed that I was scared to attempt something so beautiful. I decided enough was enough – it was time to put my fears aside and attempt the unthinkable – yeast. What better dish to serve at brunch? Warm, gooey, chewy cinnamon rolls. I imagined my whole family taking a bite and instantly getting down on their knees, proclaiming me the greatest cook (greatest person, really) of all time. Joel would want to marry me all over again; my Daddy, brother-in-law and Grandaddy would declare I was the best wife a young man could ever hope for; and my mother, sister and Nana would all secretly wish they were as gifted as I in the arts of home-making. Yes, it could happen. It would happen. And all because of these cinnamon rolls.
Ok, so that stuff probably wouldn't happen. But these were excellent cinnamon rolls. And honestly, they weren't hard at all. I just followed the directions as closely as possible, and poof – yummy cinnamon rolls! The icing is really what makes these so darned tasty. That was by far my favorite part. I will most definitely be making these again…and again….and again. So thank you, Pioneer Woman, for helping me overcome my fear of yeast. Who knows what else I'll try now? Do I dare attempt Brioche again?……………….um, maybe next year.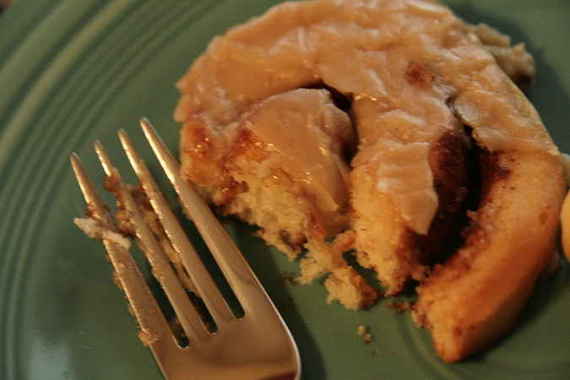 (Sorry for the blurry picture)
The Pioneer Woman's Cinnamon Rolls
-I used half of this recipe and got about 4 pans of rolls
For the Dough:
4 cups whole milk
1 cup vegetable oil
1 cup sugar
2 packets active dry yeast
8 cups all-purpose flour
1 cup flour
1 teaspoon baking powder
1 teaspoon baking soda
1 tablespoon salt
1 1/2-2 cups melted butter
1 cup sugar
generous sprinkling cinnamon
For the Icing:
7 tablespoons melted butter
2 lbs powdered sugar
2 teaspoons maple flavoring
1/2 cup milk
1/4 cup melted butter
1/4 cup brewed coffee
1/8 teaspoon salt
Mix milk, vegetable oil, and sugar in a pan (large soup-pot type). "Scald" the mixture (heat until just before the boiling point.) Turn off heat and leave to cool 45 minutes to 1 hour.
When the mixture is lukewarm to warm, but NOT hot, sprinkle in yeast. Let this sit for a minute so the yeast gets all warm and moist and happy. Then add 8 cups of all-purpose flour. Stir mixture together. Cover and let sit for at least an hour.
Now add 1 more cup of flour, baking powder, baking soda, and salt. Stir mixture together. At this point, you could cover the dough and put it in the fridge until you need it—overnight or even a day or two, if necessary. Just keep your eye on it and if it starts to splurge out of the pan, just punch it down. Or, of course, you can just go ahead and make the rolls.
Sprinkle surface generously with flour. Take half the dough and form a rough rectangle. Then roll the dough thin, maintaining a general rectangular shape. Rectangle should increase in both width and length as you roll it out.
Now drizzle melted butter over the dough. Don't be shy; lay it on thick, baby. Sprinkle sugar over the butter, followed by a generous sprinkling of cinnamon.
Starting at the opposite end, begin rolling the dough in a neat line toward you. Keep the roll relatively tight as you go. Some of the butter/sugar/cinnamon mixture may ooze out toward the end, but that's no big deal. Next, pinch the seam to the roll to seal it.
Spread 1 tablespoon of melted butter in seven round, foil cake or pie pans. Then begin cutting rolls approximately 3/4 to 1 inch thick and laying them in the buttered pans. Repeat this process with the other half of the dough. This recipe makes approximately seven pans of rolls (56 rolls)
Let the rolls sit for 20 to 30 minutes to rise, then bake at 400 degrees until light golden brown, about 15 to 18 minutes.
While the rolls are in the oven, make the deliciously sinful maple frosting. To a mixing bowl, add powdered sugar, maple flavoring, 1/2 cup milk, 1/4 cup melted butter, brewed coffee, and salt. Stir until mixture is thick but pourable. Taste and adjust as needed.
Generously drizzle frosting over warm rolls after you pull them out of the oven. And take a walk on the wild side. Don't be afraid to drown them puppies. Be sure to get frosting around the perimeter of the pan, too, so the icing will coat the outside of the rolls.
Make these for your mom sometime, trust me, she'll thank you!