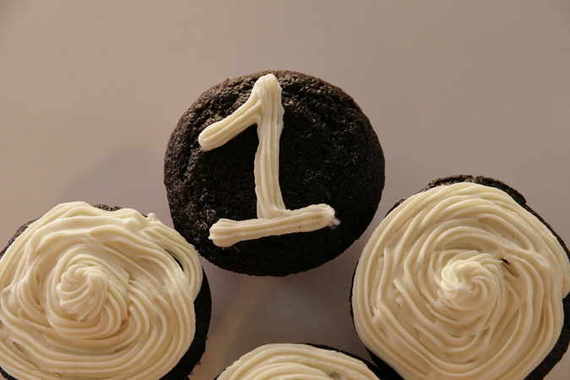 It has officially been ONE YEAR since my sweetheart of a husband created this blog for me and I entered the world of food blogging! I feel like singing..
Happy Blogoversary to me, happy Blogoversary to meeee, happy Blogoversary dear Sing For Your Suppeeeerrrrrr…HAPPY BLOGOVERSARY TO MEEEE!! Yaayyy!
Alrighty, thanks for letting me get that out of my system! It just feels good to sing, ya know?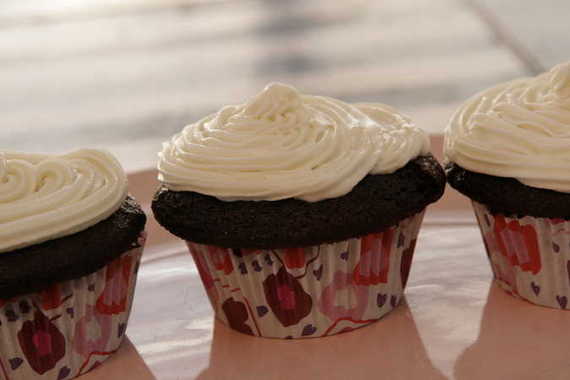 A heck of a lot has happened in the past year – some good, some very, very bad, but no matter what we've been through, this blog has remained through it all. A way for me to escape from the busyness around me and just concentrate on something I have grown to love almost as much as I love to sing (almost)– food.
So to celebrate one year of this cute little food blog, I decided to make cupcakes! What better way to celebrate a 1st birthday than with cupcakes?! I chose the richest-sounding, most indulgent recipe for chocolate cake and buttercream frosting I could find, and in about an hour or so, I had sinfully delicious, indulgent blogoversary cupcakes! YUM! They were absolutely deeee-licious!! (and it worked out nicely because I sent the majority of the batch to work with hubby to celebrate the last work day of his closest co-worker – two birds with one stone! Yay!)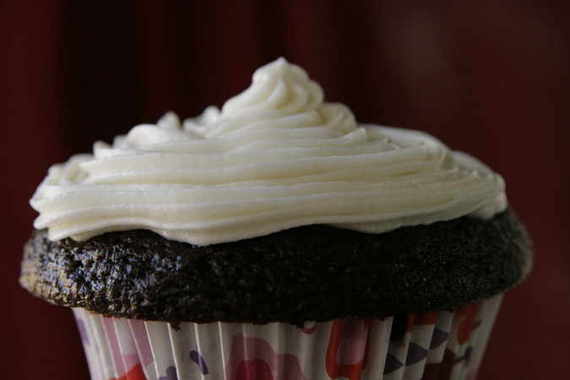 Black Magic Cake
-found on My Baking Addiction
2 cups sugar
1-3/4 cups all-purpose flour
3/4 cup HERSHEY'S Cocoa
2 teaspoons baking soda
1 teaspoon baking powder
1 teaspoon salt
2 eggs
1 cup buttermilk or sour milk*
1 cup strong black coffee OR 2 teaspoons powdered instant coffee plus 1 cup boiling water
1/2 cup vegetable oil
1 teaspoon vanilla extract
Heat oven to 350°F. Grease and flour two 9-inch round baking pans or one 13x9x2-inch baking pan. Stir together sugar, flour, cocoa, baking soda, baking powder and salt in large bowl. Add eggs, buttermilk, coffee, oil and vanilla; beat on medium speed of mixer 2 minutes (batter will be thin). Pour batter evenly into prepared pans. Bake 30 to 35 minutes for round pans, 35 to 40 minutes for rectangular pan or until wooden pick inserted in center comes out clean. Cool 10 minutes; remove from pans to wire racks. Cool completely. Frost as desired.
Yields 10 to 12 servings. *I got about 18 cupcakes out of it
* To sour milk: Use 1 tablespoon white vinegar plus milk to equal 1 cup.
Buttercream Dream Icing
-found on The Repressed Pastry Chef
1 stick salted butter – room temperature
1 stick unsalted butter – room temperature
1 cup shortening
1 tablespoon Clear Vanilla extract
2 pounds confectioner's sugar (powdered sugar, 10x)
4-6 tablespoons very cold milk
Cream the butter and shortening in the bowl of an electric or stand mixer. Add the clear vanilla extract and combine well. Begin adding in the sugar a little at a time and mixing thoroughly after each addition. After all of the sugar has been added and mixed thoroughly, begin adding the very cold milk… one tablespoon at a time, combining very well after each addition (mixer on medium-high to high speed) until you reach the desired consistency. It should be light and fluffy.
The important thing is to work slowly when adding the milk. You can always add more… but you can't take it away if you add too much and the icing is too thin. You want it to be thick enough to set up well… but you don't want it so thick that you can't pipe it out of a pastry bag or spread it with a spatula.
(*I made half of the batch and had plenty for all of my cupcakes)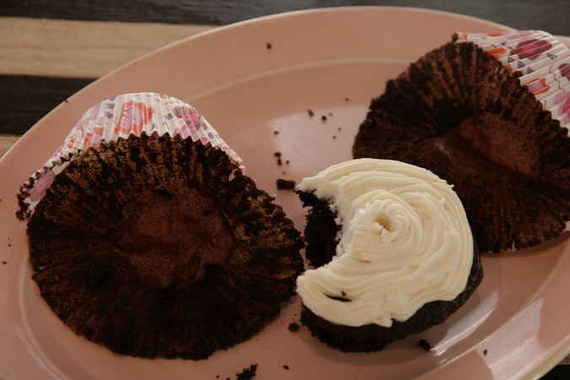 Thanks to everyone who takes the time to stop by and read my blog – it almost wouldn't be worth it without you! It's so nice to know that people actually do read my posts, look at my pictures and try my recipes! THANK YOU!! And thanks for stopping by today and helping me to celebrate my one year blogoversary!!
Love,
Amy
I even wore my special cupcake pajama pants this morning for the occasion. (Izzy is helping me celebrate…) 🙂