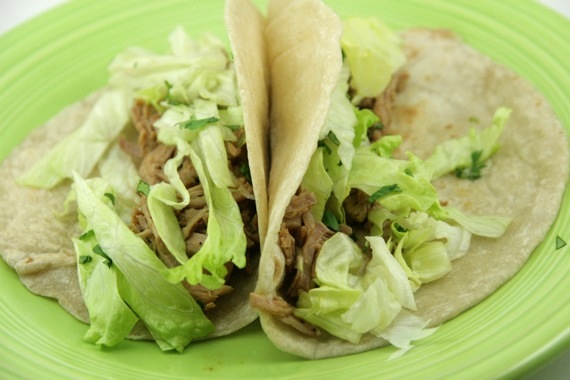 Oh man. Oh man, OH MAN! If you love tacos, or Tex-Mex, or…food; then you're going to love these pulled pork tacos! Look no further, because here is the best darn taco I ever put in my pie-hole. Seriously! I've never been much on pork…it doesn't do a whole lot for me, honestly. So naturally, I was a little unsure about these…but I'm so glad I didn't wimp out and skip them – BOY, would I have missed out! Ok, ok, I'll stop being dramatic – onto the facts. These seriously, couldn't be easier to make – just throw everything in a dutch oven, let it cook for an hour and 45 minutes and you're done! I made these Saturday night for our "Mexican Night" (which you can read about in the post below. Don't miss out on the homemade salsa and guacamole, my friends!), and hubby and I had ourselves a GRAND time! I mean come on – pulled pork tacos, homemade salsa, guacamole and margaritas (Big Gulp, please!)? It just doesn't get any better than that! Try these. Try them today. Then send me your hearty thanks for introducing you to the new love of your life. You're welcome.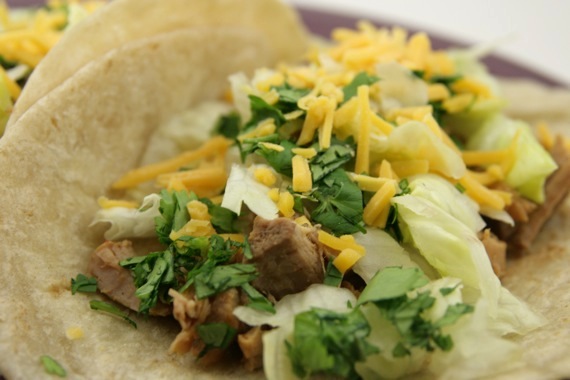 Pulled Pork Tacos
-adapted from The Neelys
1 teaspoon dried oregano
1 teaspoon chili powder
1 teaspoon cumin
2 teaspoons salt
1/2 teaspoon freshly ground black pepper
1 pork loin (about 1 1/2 pounds), cut into big chunks
1 small onion, peeled and quartered
2 cloves garlic, smashed
1 cup chicken stock
1 tablespoon tomato paste
1 tablespoon honey
dash liquid smoke
1 orange, halved and juiced
1 lime, halved and juiced
1 package corn tortillas, warmed
Preheat the oven to 325 degrees.
Mix the oregano, chili powder, cumin, salt and pepper together in a small bowl.
Season the cubed pork chunks with the spice mixture and put into a large Dutch oven. Add the onion, garlic, chicken stock, the tomato paste, honey, liquid smoke, orange and lime juice, and the juiced orange and lime halves. Stir together with a wooden spoon. Put the pot on medium heat and bring the mixture to a simmer. Transfer to the oven and cook, covered, until the pork is tender and easily shreds, about 1 hour and 45 minutes.
Remove the meat from the Dutch oven to a cutting board. Set the Dutch oven over medium heat and reduce the liquid until it becomes slightly syrupy, about 10 minutes. Meanwhile, shred the meat and add to a bowl. Drizzle the reduced cooking liquid into the pork and toss. Serve with tortillas.
*Garnish with shredded cheese, sour cream, lettuce, and cilantro
Don't even think about serving these without some homemade salsa and guacamole! Scroll down a ways to get some great recipes! 🙂