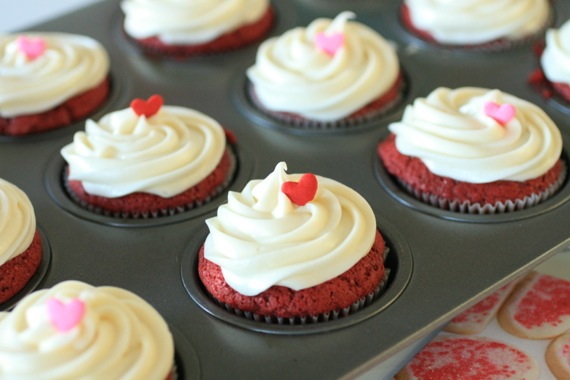 With Valentine's Day fast-approaching, I thought it only fitting to post something festive and "Valentine-y". Joel and I never make big plans for this holiday; instead, we stay in, cook steaks, sip wine (sadly, I'll be skipping that part this year…), and enjoy some sort of delicious dessert like fudgy fondue or these moist red velvet cupcakes.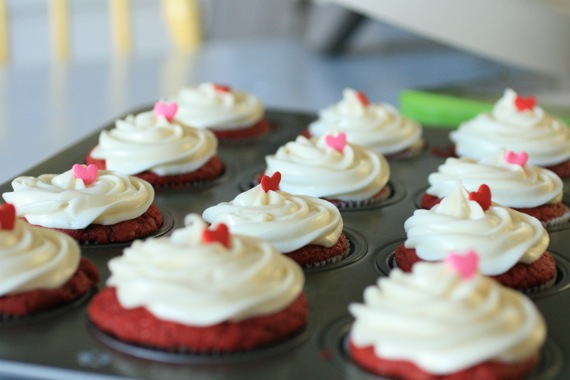 I only want red velvet once a year. It just seems weird to enjoy it any time but Valentine's Day. So it had better be one fantastic recipe, otherwise, I've just let "red velvet season" slip through my fingers without fully enjoying it. This one doesn't disappoint. The cake is super moist and rich and the cream cheese frosting is oh-so-smooth and slightly tangy. I just love a good red velvet cupcake.
Red Velvet Cupcakes with Cream Cheese Frosting
For the Cupcakes:
1/2 cup (one stick) butter
1/4 cup vegetable oil
1 1/2 cups sugar
2 eggs
1 teaspoon vanilla extract
1 oz. red food coloring (I prefer Wilton 'no taste red')
2 tablespoons cocoa powder
2 1/2 cups all-purpose flour
1 teaspoon salt
1 teaspoon baking soda
1 cup buttermilk
1 teaspoon vinegar
Preheat oven to 350 degrees and grease 3 9-inch cake pans or line cupcake pans with cupcake liners.
Cream the butter, oil, and sugar until light and fluffy; about a minute. Add eggs one at a time, beating after each. Add vanilla. Make a paste with the food coloring and cocoa powder and add it into the batter.
In a small bowl, combine the buttermilk and vinegar. In a separate bowl, mix flour, salt, and baking soda. Add the dry ingredients to the batter alternately with the buttermilk mixture, beating after each addition.
Spoon the batter evenly into each cupcake liner (about 3/4 of the way up) and bake for approximately 20 minutes. Depending on your oven, you may need more or less baking time, so keep an eye on them. Let cool completely.
For the Frosting:
2 packages (8 oz) cream cheese, at room temperature
1/2 cup (one stick) butter, at room temperature
1 package (2 lbs.) powdered sugar
2 teaspoons vanilla extract
1 teaspoon fresh lemon juice
Beat the cream cheese and butter at medium speed until fluffy. Reduce speed to low and slowly add the powdered sugar. Add the vanilla and lemon juice. Spread onto cooled cupcakes.
Makes approximately 24-30 cupcakes.
Recipe source: adapted from my great-grandmother's recipe