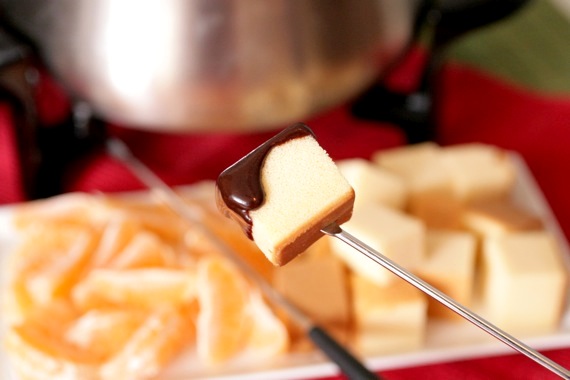 Let me apologize for my strange disappearance these past few days. I've been having so much fun spending time off with my hubby that I sort of put blogging on the back burner for a little bit. However, I don't guess I really have to apologize if I don't want to…this is MY blog after all, and should I choose to spend all my time cavorting with my man instead of blogging, I suppose that's quite alright. 😉
This decadent chocolate fondue is a recipe I've been dying to share with you for simply years now. For whatever reason, I never seemed to get a decent picture of it until now, so I'm thrilled to FINALLY share it with you! I make this probably every single Valentine's Day and sometimes New Year's Eve or special anniversaries. I just love fondue (especially this recipe because it literally tastes like a liquid version of my Nana's fudge!). It's just so much fun to eat and Joel and I always have a great time when I make it. It's my mom's recipe (big shocker) and the whole family loves it. And it's so amazingly quick to make- all you need is about 5 minutes!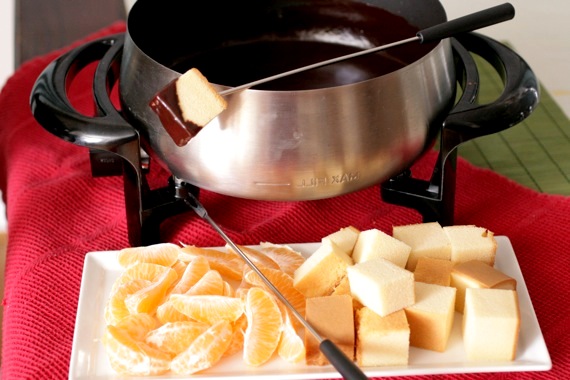 Fudgy Chocolate Fondue
-my mother's recipe
1/2 cup (1 stick) butter
1/2 cup cocoa powder
3/4 cup sugar
1/2 cup evaporated milk
1 teaspoon vanilla
Melt butter in a small saucepan over medium heat; add cocoa powder, sugar and milk, stirring constantly until the sugar dissolves. Remove from heat and stir in vanilla. Transfer to a fondue pot.
Serve with cubes of pound cake (I personally love it with cheesecake bites!), strawberries, bananas, oranges and anything else you want! Enjoy!
**If you don't have a fondue pot, I highly recommend an electric non-stick version- it makes it so much easier for clean up, and I like being able to control the temperature.