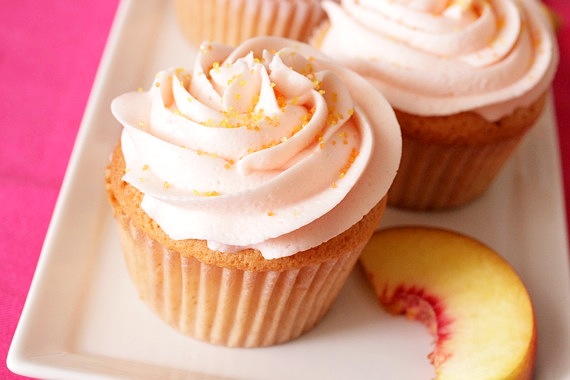 Today I have a very special post for you. I've been thinking about it and planning it for months and I'm tickled pink to finally get to post it! Today I'm hosting a virtual wedding shower for my dear friend, Kelsey. Though we've never actually met in person, she's been one of my closest blogging friends for almost 3 years now and I just know someday we'll get the long-awaited chance to meet. She's a wonderful, encouraging, sweet girl, so naturally, when she first announced months ago that she and Michael were getting married, I decided I just HAD to throw her a virtual shower!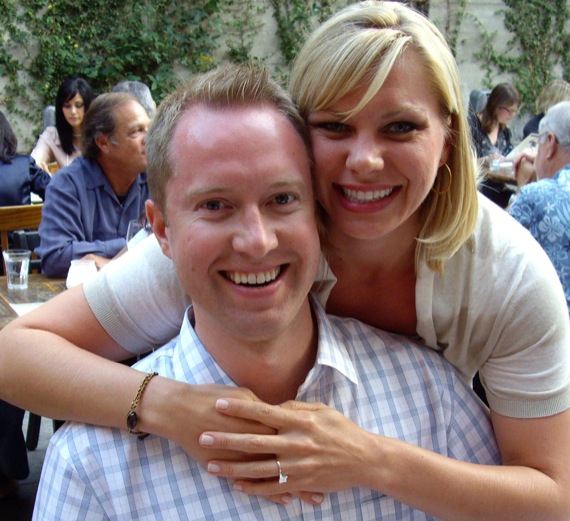 (What a cute couple! I love this picture- they look so perfectly happy and in love!) This is going to be so much fun- we've got some wonderful girls with awesome blogs participating and I'm just thrilled! The wedding is March 11th (only 9 days away- eeeek!!) and knowing Kelsey like I do, I have NO doubt it's going to be the most gorgeous wedding! She and Michael are seriously one of the CUTEST couples ever and though I've never actually met either of them in person, I just know they're going to have a beautiful and happy marriage! Cheers, Kelsey and Michael!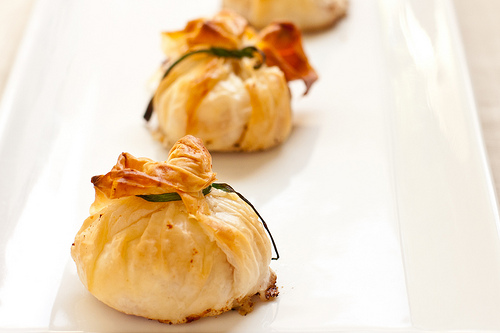 First up, Shawnda of Confections of A Foodie Bride made these adorable Phyllo Purses with Goat Cheese. Oozy goat cheese and crispy pancetta filling wrapped in phyllo "purses." These look seriously amazing…too bad this is just a "virtual" shower, because I'd sure love to get my hands on two or three of these!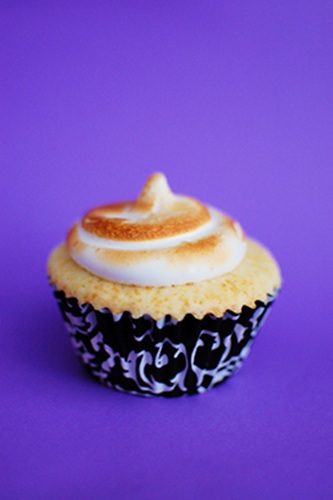 Jen of Beantown Baker baked these sweet Lemon Meringue Cupcakes. Tender yellow cupcakes filled with creamy lemon curd and topped with toasted marshmallow meringue frosting – YUM! I'm definitely going to have to try these myself one day!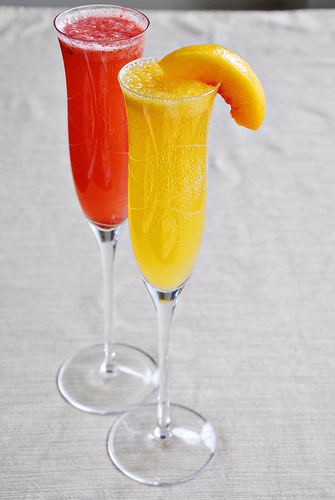 These bright and festive Peach and Strawberry Bellinis come from Courtney of Cook Like A Champion. What's a shower without a festive drink to enjoy? These fun and feminine drinks can be made with any kind of fruit, but strawberries and peaches really give them a great color! I'm especially excited about these, because they coordinate with my own dish!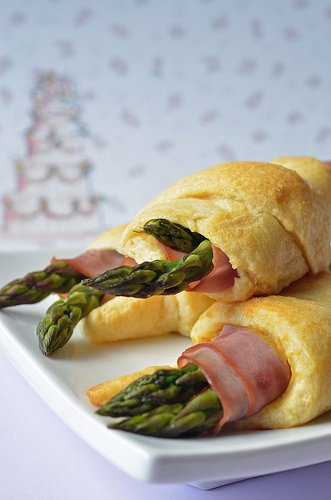 Nikki of Pennies On A Platter contributed these yummy looking Dijon Ham and Asparagus Roll-Ups. These flavorful roll-ups combine the best of both worlds with your sandwich and vegetable options! Just a few easy steps and you've got an elegant appetizer perfect for a bridal shower! These look beautiful on a platter and they're perfect finger food to boot!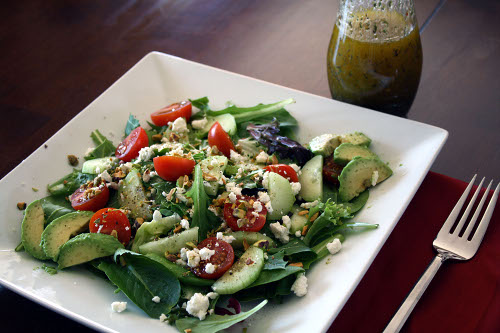 Lindsay of Peace, Love and French Fries put together what she calls her "Indulge Salad" – a copy cat recipe from one of her favorite restaurants, this super simple salad has it all – a little creaminess from the goat cheese and avocado, a nice crunch from the pistachios, and topped with an easy homemade Italian dressing. Feels like an indulgence, but we get to save all of our calories for dessert! This is my kind of salad!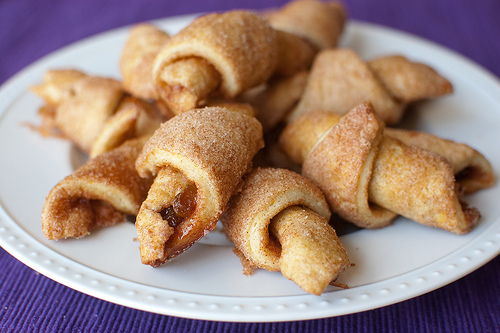 Josie of Pink Parsley Catering made Cinnamon Crescents as her contribution. With cinnamon-y sweet flavor reminiscent of a churro, these crescents are made from a yeasted dough, coated in cinnamon and sugar and filled with plump golden raisins. These look absolutely delicious, Josie!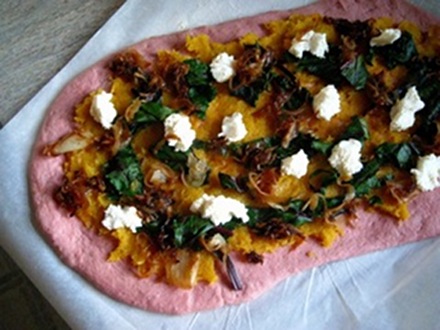 Brady of Branny Boils Over made Pink Pizza with Acorn Squash, Caramelized Onions and Beet Greens. Crisp whole wheat pizza dough topped with sweetened acorn squash, caramelized onions, steamed beet greens, and ricotta cheese. Pink pizza crust? How cool is that?! Kelsey LOVES pink, so I know she's sure to love this pizza!
Cara of Cara's Cravings put together this gorgeous Spiced Beet Soup– a beautiful, deep red color with a taste of warm Asian spices. I don't know about you, but this is definitely the most beautiful looking soup I've ever seen! I love the dollop of creme fraiche on the tops; so colorful and vibrant!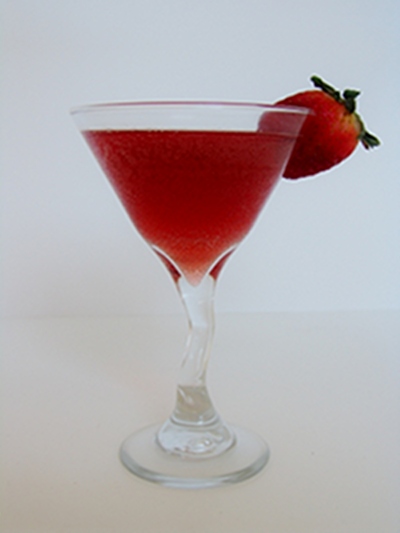 Here's another fun and fruity drink contributed by Karen of Loves To Eat. Karen made this fizzy Champagne Cocktail using cranberry juice, orange liqueur, fresh lime juice and bubbly champagne – sounds fabulous! A delicious way to toast Kelsey and Michael!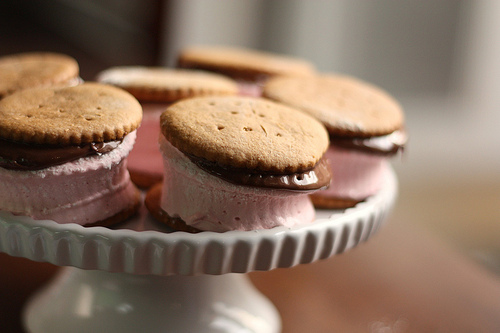 Amy of The Nifty Foodie put together these adorable Homemade S'mores. She sandwiched homemade mixed berry marshmallows and sweet, gooey nutella between crisp, homemade graham crackers- a fantastic treat for Kelsey's shower! I personally love that the marshmallows are pink – so girly and feminine!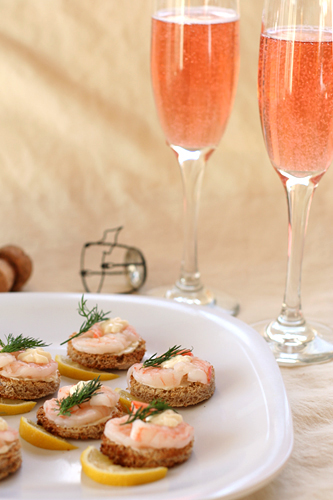 These gorgeous looking Shrimp Canapes come from Bridget of The Way the Cookie Crumbles. These little toasts topped with salted butter, shrimp, fresh dill and mayonnaise are simple but delicious and absolutely perfect for a bridal shower!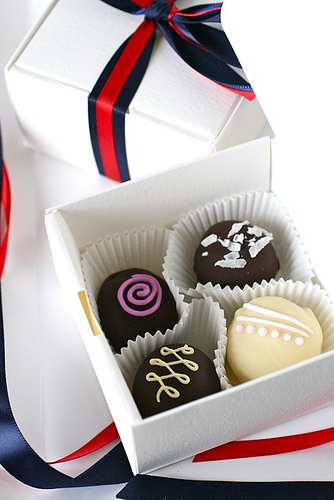 Annie of Annie's Eats made these adorable Assorted Truffles as party favors. Coconut, lemon chiffon, blackberry, and strawberry cheesecake truffles in sweet little boxes tied up with ribbons coordinating with Kelsey and Michael's wedding colors. How cute is that?! Annie, I'll send you my address so you can ship me a box of these! 😉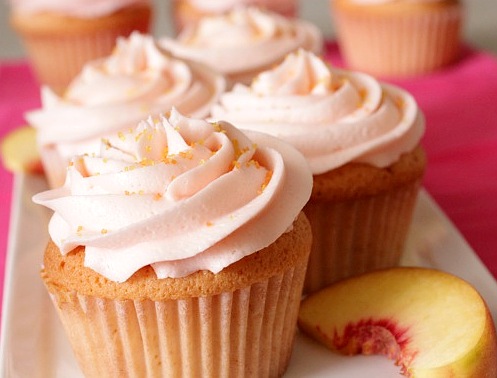 For my own contribution, I made these Peach Bellini Cupcakes. Moist champagne cake with peach schnapps and bits of diced peaches baked in and topped with a peachy champagne buttercream frosting. Kelsey told me she loves peach bellinis and that she and her sister shared many a bellini over the years (Kelsey, she's here with us today, sharing in your happiness – I know it.). I've always been a big fan of champagne cake and wanted to jazz it up a bit – the addition of peaches and peach schnapps really adds a nice flavor! Kelsey, it's too bad this was only a virtual shower and that you don't get to actually taste any of these beautiful dishes, but feel free to come visit me and I'll make you all the peach bellini cupcakes you can eat! 🙂
I'd like to thank each and every blogger who took the time to submit such gorgeous, scrumptious looking recipes for Kelsey's shower- I know she definitely appreciates and I do too! I am so blessed to have such a wonderful group of food blogging friends- hugs to each of you!
To see Kelsey's take on the shower, visit her blog!
Peach Bellini Cupcakes
1 cup (2 sticks) unsalted butter, at room temperature
2 cups sugar
1 teaspoon vanilla
6 egg whites
3 cups all purpose flour
3 teaspoons baking powder
1/2 teaspoon salt
3/4 cup champagne
1/4 cup peach schnapps
1 small peach, peeled and diced
Peachy Champagne Frosting
3/4 cup (1 1/2 sticks) unsalted butter, at room temperature
4 cups powdered sugar
1/4 cup champagne
1 tablespoon milk
1 teaspoon peach schnapps
1 teaspoon vanilla
2-3 drops red food coloring, if desired
Preheat oven to 350 degrees. In a medium sized bowl combine flour, baking powder and salt. In a mixing bowl beat together butter and sugar for 3-5 minutes until light and fluffy. Add vanilla, then beat in egg whites one at a time.
Add in flour mixture and champagne/schnapps mixture (I mixed the peach schnapps in with the champagne) in three alternating additions, beginning and ending with the flour mixture. Gently stir in the diced peaches. Pour batter into cupcake liners, filling 2/3 full. Bake for 25-30 minutes, or until toothpick inserted into center comes out clean.
To make the frosting beat together the butter and vanilla. Add powdered sugar in one cup increments, then add champagne, milk, peach schnapps and food coloring. Frost cupcakes once they have completely cooled. I also sprinkled with a little orange and yellow sugar, for decoration.
Makes 2 dozen cupcakes.
Recipe source: champagne cupcake recipe from Baking Junkie, originally from Booze Cakes. The addition of peaches and peach schnapps was my idea.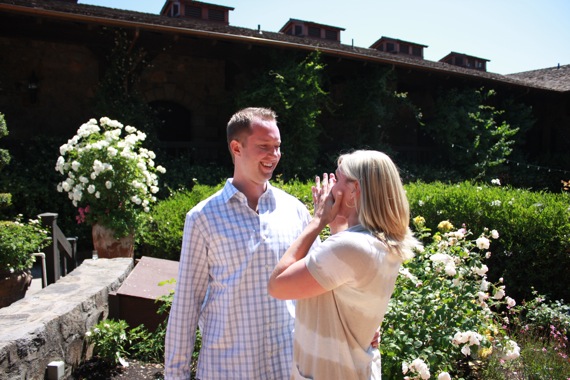 CONGRATULATIONS, KELSEY AND MICHAEL!!!!!