Um….YUM. That's pretty much all there is to say about these little cakes. Molten, gooey, chocolaty goodness oozing from the center of a dense, warm chocolate cake. (Ok, now do me a favor and wipe the drool off of your mouth.) These Gooey Chocolate Cakes have quickly become my favorite "I'm-craving-something-warm-and-chocolatey-and-I-need-it-NOW" desserts (They surpassed brownies and chocolate chip cookies long ago). When you cut into them, the warm gooey filling oozes out all over your plate. Its almost like sitting down and eating a bowl of raw cake batter (don't deny it – you know you've always wanted to do it)….except so much better!  And the fact that they only take about 13 minutes total to make…well, that would make any chocolate-craving-woman-on-the-edge jump for joy!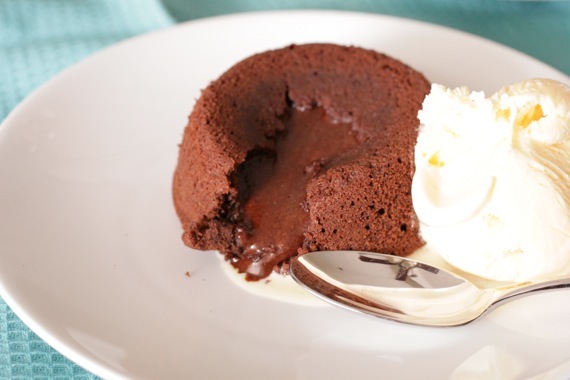 So, we've covered the fact that these cakes will satisfy even the most severe chocolate cravings, but they can also serve as a fancy "show off-y" dessert when you're having company. I served these when I recently had some friends over for a nice sit-down meal and they were a HUGE hit. I'm pretty sure my guests were on the verge of licking their plates clean.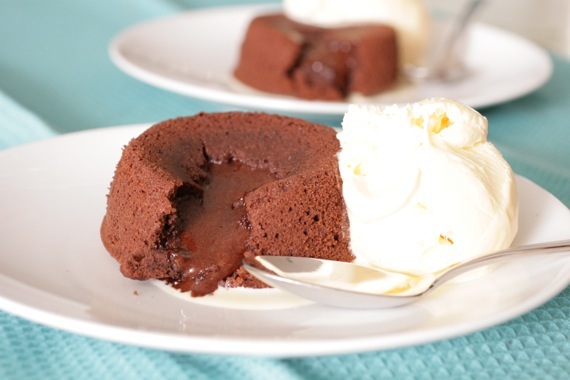 Gooey Chocolate Cakes
1/3 cup all-purpose flour
3 tablespoons unsweetened cocoa powder
¼ teaspoon salt
4 ounces coarsely chopped milk chocolate,
1 stick (8 tablespoons) unsalted butter, cut into 8 pieces
2 large eggs, at room temperature
1 large egg yolk, at room temperature
6 tablespoons of sugar
Getting ready: Center a rack in the oven and preheat the oven to 400 degrees F. butter (or spray – it's easier) 6 cups of a regular-size muffin pan, preferably a disposable aluminum foil pan, dust the insides with flour and tap out the excess. Put the muffin pan on a baking sheet. (I discovered that there is just enough batter to perfectly fill 4 ramekins)
Sift the flour, cocoa and salt together.
Set a heatproof bowl over a saucepan of gently simmering water, put the coarsely chopped chocolate and the butter in the bowl and stir occasionally over the simmering water just until they are melted – you don't want them to get so hot that the butter separates.  Remove the bowl from the pan of water.
In a large bowl, whisk the eggs and yolk until homogeneous.  Add the sugar and whisk until well blended, about 2 minutes.  Add the dry ingredients and, still using the whisk, stir (don't beat) them into the eggs.  Little by little, and using a light hand, stir in the melted chocolate and butter.  Divide the batter evenly among the muffin cups.
Bake the cakes for 13 minutes. (the first time I made these, 13 minutes was too long – they came out totally firm in the center. Now I bake them at 11 minutes and they're perfectly runny and gooey every time.) Transfer them, still on the baking sheet, to a rack to cool for 3 minutes. (There is no way to test that these cakes are properly baked, because the inside remains liquid.)
Line a cutting board with a silicone baking mat or parchment or wax paper, and, after the 3-minute rest, unmold the cakes onto the board.  Use a wide metal spatula to lift the cakes onto dessert plates.
Recipe source: Dorie Greenspan, Baking From My Home to Yours