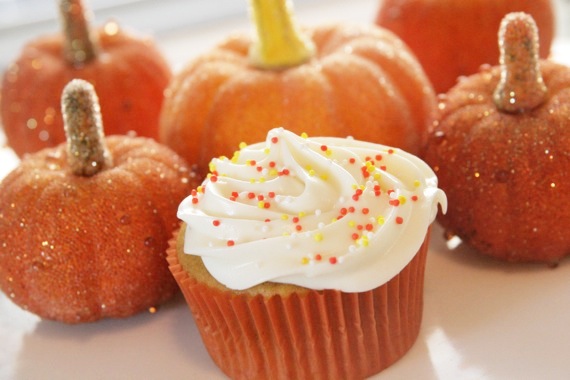 This has been a great couple of days – first off, I received my copy of Dorie Greenspan's new cookbook, Around my French Table a couple of days ago (Weeeeeee!!), yesterday was the first official day of Autumn, and today I celebrate 4 years of marriage to the man of my dreams (happy anniversary Sweetie! I love you!!!). What a great week!! Also, I was lucky enough to find four cans of pumpkin at the grocery store the other day! Hallelujah!!! So naturally, the only logical thing to do was make pumpkin spice cupcakes! Yippee!! My awesome new boss/coworker, Albert asked if I'd be willing to make cupcakes for the 4th and 5th period girls' choirs last week. And of COURSE I said yes, those girls are all totally sweet and fun! Albert pretty much let me pick what to make, but he did request these pumpkin cupcakes with cream cheese frosting as well. Done and DONE!
Let me just tell you: these are SO delicious! So moist and fluffy with just the right amount of spice; and the tangy cream cheese frosting really completes the whole cupcake. A winner, for sure! I LOVED these and so did the girls- I made these along with my Perfect Chocolate Cupcakes and the pumpkin ones were the first to disappear! I can't wait to make these again- they're the absolute perfect Fall cupcake, hands down!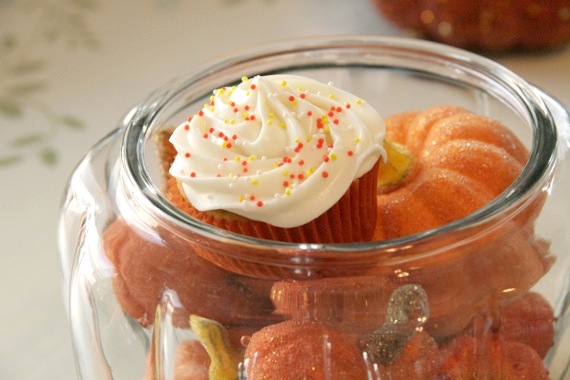 Spiced Pumpkin Cupcakes
-Martha Stewart's Cupcakes
*Makes 32 cupcakes
4 cups cake flour (not self-rising), sifted
1 teaspoon baking soda
1 Tablespoon + 1 teaspoon baking powder
1 teaspoon salt
2 teaspoons ground cinnamon
1 Tablespoon ground ginger
1 teaspoon freshly grated nutmeg
1/4 teaspoon ground cloves
1 cup (2 sticks) unsalted butter, room temperature
2 1/2 cups packed light-brown sugar
4 large eggs
1 cup buttermilk
1 1/2 cups canned pumpkin (not pie filling)
cream cheese frosting (recipe below)
Preheat oven to 350°F. Line standard muffin tins with paper liners. Sift together flour, baking soda, baking powder, salt and spices.
With an electric mixer on medium-high speed, cream butter and brown sugar until pale and fluffy. Add eggs, one at a time, beating until each is incorporated, scraping down sides of bowl as needed. Reduce speed to low. Add flour mixture in three batches, alternating with two additions of buttermilk, and beating until just combined. Add pumpkin; beat until just combined.
Divide batter evenly among lined cups, filling each three-quarters full.
Bake, rotating tins halfway through, until golden brown, 15 to 18 minutes. Transfer tins to wire racks to cool 10 minutes; turn out cupcakes onto racks and let cool completely. Cupcakes can be refrigerated up to 3 days in airtight containers.
Frost with cream cheese frosting and top with Fall-themed sprinkles, if desired.

Cream Cheese Frosting
-Dorie Greenspan's Baking from My Home to Yours
8 ounces cream cheese, room temperature
1 stick unsalted butter, at room temperature
3-4 cups confectioners' sugar, sifted
1 tablespoon fresh lemon juice
1/2 teaspoon vanilla extract
Working with a stand mixer, preferably fitted with a paddle attachment or with a hand mixer in a large bowl, beat the cream cheese and butter together until smooth and creamy. Gradually add the sugar (start with 2 cups, then gradually add more until you get the desired consistency. It needs to be thick enough to spread or pipe) and continue to beat until the frosting is velvety smooth. Beat in the lemon juice and extract. Refrigerate until needed.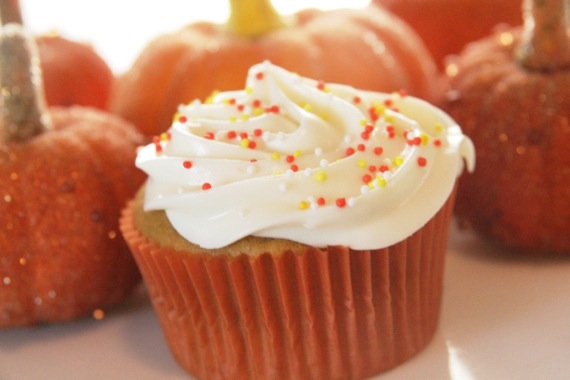 And lastly, I just wanted to thank you all for your sweet comments, votes and support throughout the Project Food Blog competition so far. It means so much to me to have your support and encouragement – really. Voting ends tonight (I think at 6:00…maybe), so if you haven't had a chance yet, I'd love your support! Thanks again, for being such wonderful readers! I love you all! 🙂 And now, I must rush off and get ready for my dinner date with a VERY handsome fella!