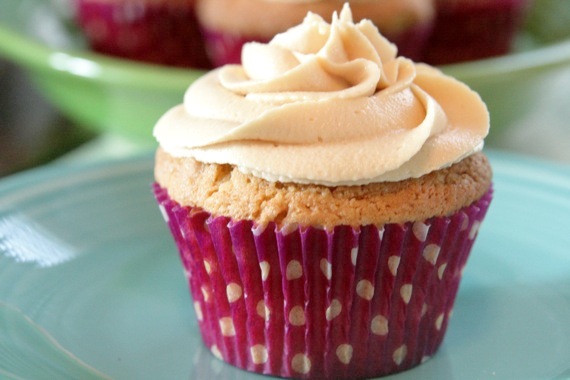 Ok, I know I said that these were my favorite cupcakes, and they ARE practically perfect and amazingly delicious……however, I can't keep my feelings a secret any longer. I'm sorry, Perfect Chocolate Cupcakes, I've met someone else. That's right, these peanut butter and jelly cupcakes are my new favorite. There, I said it! Phew! I feel so much better now!
I'm sort of a peanut butter and jelly fiend…I love it. I eat it all the time and never get tired of it. I ate it as a kid. I ate it practically every single day in college and I eat it now. Last night, hubby went to the baseball game with some guys, so I was all alone for dinner and thinking to myself how much I love peanut butter and jelly (that's right- I really do sit and think about things like that quite often), and decided right then and there to make these cupcakes. A star was born. I used Martha Stewart's recipe for the cupcakes and filled the centers with plum jam (my favorite!), then topped it all off with a creamy, dreamy peanut butter frosting. I. Am. In. Love. So are my coworkers. I took these to work and came home with an empty box- they were a huge hit with everybody! Something about the combination of the peanut butter frosting with the tart, fruity jam….a total match made in heaven. Do yourself a huge favor and try these ASAP!!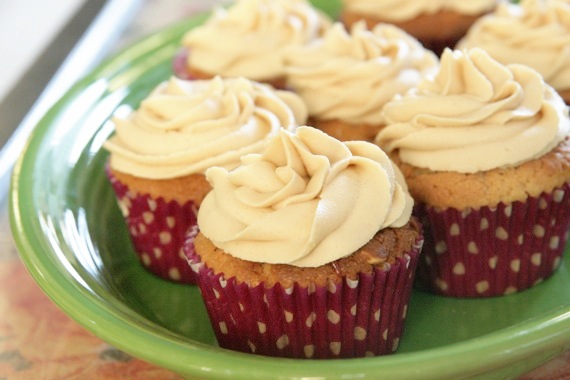 Peanut Butter and Jelly Cupcakes
-adapted from Martha Stewart's Cupcakes
1 3/4 cups all-purpose flour
3/4 tablespoon baking powder
1/2 teaspoon salt
1/4 teaspoon baking soda
1 1/2 sticks unsalted butter, softened
1 1/3 cups sugar
2/3 cup creamy peanut butter (believe it or not, I used reduced fat and you totally CAN'T tell a difference!)
3 large eggs
1/4 cup sour cream
1 cup chopped peanuts
2 tablespoons milk
1/2 teaspoon pure vanilla extract
1 cup jam (your favorite flavor- I use plum)
Peanut Butter Frosting (recipe below)
Preheat oven to 350 degrees. Line standard muffin tins with paper liners. Whisk dry ingredients in a large bowl. Cream butter, peanut butter and sugar with a mixer until light and fluffy. Add eggs, 1 at a time, beating after each addition.
Reduce speed to low. Mix in the sour cream, vanilla, milk and peanuts. Add dry ingredients slowly. Scrape sides of bowl. Divide batter among muffin cups, filling each 2/3 full.
Bake cupcakes until testers inserted into centers come out clean, about 20 minutes. Let cool in tins on wire racks. Cupcakes will keep, covered, for up to 3 days. Makes approx. 18 cupcakes.
Peanut Butter Frosting
-adapted from Martha Stewart Cupcakes
1 stick unsalted butter, at room temperature
1 cup creamy peanut butter
2 tablespoons cream cheese, softened
1/3 cup powdered sugar
1 teaspoon vanilla extract
Cream the butter, peanut butter and cream cheese together until smooth. Add in the powdered sugar. Stir in the vanilla. Use immediately or refrigerate until needed.
To assemble:
When cupcakes are cooled, using a small paring knife, cut out a small hole in the top of each cupcake; discard crumbs. Fill a piping bag fitted with a round tip (I used a Wilton #12) with the jam. Insert the tip into the center of the cupcake and squeeze the jam inside (you'll want to apply a decent amount of pressure) until the hole is filled. Repeat until all the cupcakes are filled. Pipe or spread the peanut butter frosting on each cupcake (I used a star tip). Refrigerate until ready to serve.