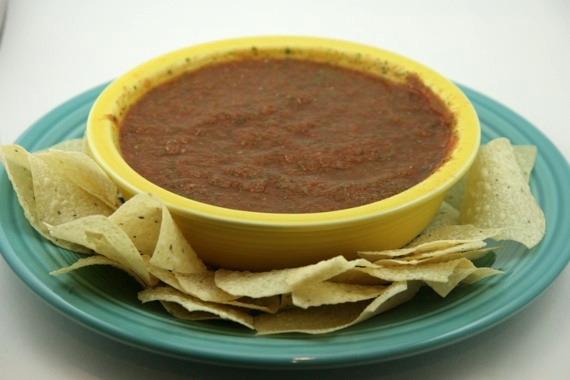 We have "Mexican Night" at our house quite frequently. Pretty much anytime I see a commercial for a Mexican restaurant, or if someone is making Mexican food on the Food Network, or maybe the wind blows a certain way…I announce we'll be having Mexican food for dinner. This happens A LOT. And my hubby loves it; simply because he gets a chance to make his (of course, I offer advice from time to time) homemade salsa. We've gotten to the point where we wouldn't dare eat salsa out of a jar because we're so spoiled to the homemade stuff. And with it being so darn simple to throw together, that's an ok thing! We like to change it up a lot, but for the most part, it pretty much stays the same. Addictive, not-too-spicy and it gets better the longer it sits….perfect salsa!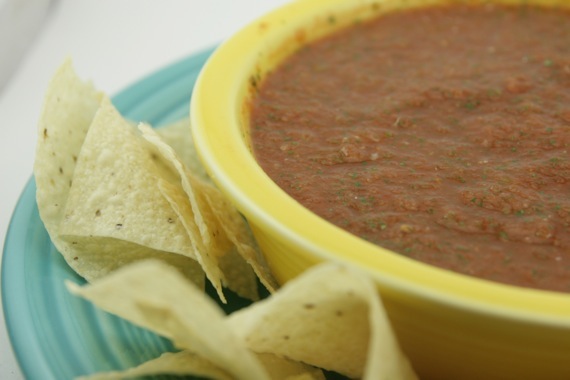 Joel's Salsa
1 can diced tomatoes
1 Jalapeno or Serrano chile, seeded and roughly chopped
1 handful chopped cilantro (however much you prefer- we like lots!)
juice of 1 or 2 limes, depending on how juicy they are
half an onion, roughly chopped
1 small garlic clove, roughly chopped
salt to taste (start with a teaspoon and go from there)
Tony Chacherie's Cajun Seasoning, to taste (just a little)
1/2 teaspoon Cumin
Put all ingredients in the bowl of a food processor and pulse until everything is well mixed. Taste for seasoning and add extra seasoning or lime juice as needed. Refrigerate for at least 2-3 hours; overnight is best.
*This tastes fantastic with a couple of Chipotle Chilis in Adobo thrown in instead of the fresh Jalapeno – it adds a great smokey flavor!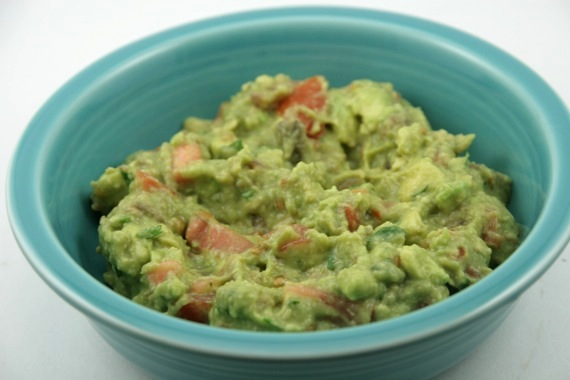 Now for my personal favorite – the Guacamole! I could seriously sit down and eat an entire bowl of this stuff all by myself…heck, sometimes I do! There's just something about the creamy, chunky, salty, tanginess that gets me super excited…this girl loves her guac, ok? To be perfectly honest, most of the time, I make my guacamole by throwing in a few spoonfuls of jarred Chipotle salsa, lime juice and garlic salt (don't judge me, you guacamole snobs!) and it's perfectly, wonderfully delicious. This time, however, hubby and I wanted to make the real deal. Fresh tomatoes, garlic, onion, lime juice…the whole works. There's a restaurant we go to with my parents a lot that makes excellent homemade guacamole and this really reminded me of it. It was gooooood.
Amy's Guacamole
2 ripe avocados, peeled and roughly chopped
1 tomato, diced
1 clove garlic, grated (I don't want to bite into a big chunk of garlic or onion…I grate it on my microplane!)
1/4 an onion, grated
juice of 1-2 limes, depending on how juicy they are
handful of cilantro, finely chopped
salt to taste
Mix all ingredients in a medium bowl; slightly mash the avocado to make it creamier. Taste for seasoning and add more salt as needed. Serve immediately.
*A drop or two of olive oil will make it extra-creamy!
With all this salsa and guacamole around, make sure you've got plenty of chips! The super-thin kind are our absolute favorites!