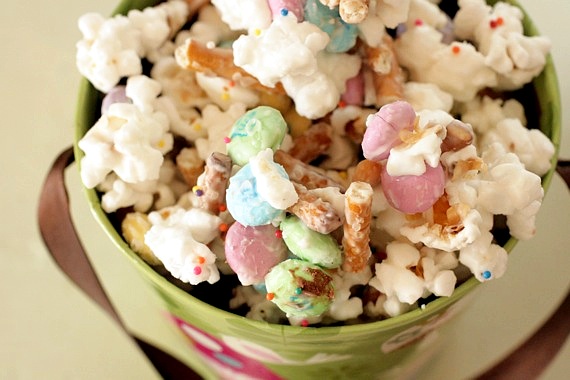 HAPPY EASTER!!! Those of you who celebrate are probably spending today getting those eggs ready to dye, making pies (or as my mom usually does- making a ginormous banana pudding), getting cute little Easter dresses ready for church tomorrow morning, and maybe even sitting down with your kids, explaining what this holiday really means and why we celebrate. Easter is such a wonderful holiday and Joel and I really love it! Every year we dye eggs (yes, apparently we're still 10 years old…) and watch The Ten Commandments with Charlton Heston. Tomorrow we're heading to my parents' house, so I'm spending today making fresh strawberry pies and….BUNNY BAIT! What's bunny bait, you ask? It's basically just popcorn tossed with vanilla candy coating, Easter M&Ms and pretzels, but I'd like to think the Easter Bunny is out there just counting the minutes until he can hop over to our house and snatch a paw full! 🙂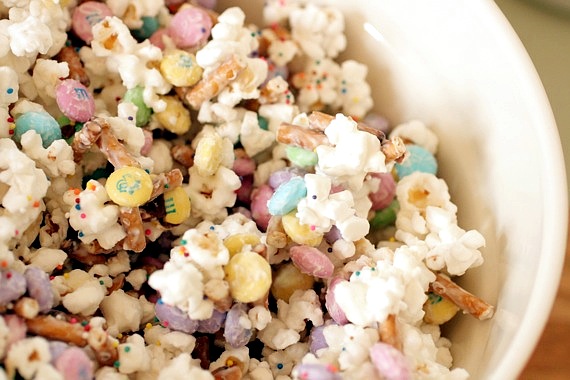 Parents, this is something the kids would absolutely love! It's super easy and quick to make (not to mention totally and completely addictive!!!), and the kids could help by breaking the pretzels into pieces and stirring the M&Ms in. I think someday when we have kids of our own, we'll definitely make this a tradition in our house.
I hope whatever your plans are, that you all have a wonderful and happy Easter with your friends and family!
Bunny Bait
1 bag popcorn, popped (I used Tender White)
6 oz. white chocolate candy coating
1 bag Easter M&Ms
pretzel sticks, broken into small pieces
colorful sprinkles, if desired
Place the popped popcorn in a large bowl with the broken up pretzels and M&Ms. Heat the candy coating in the microwave in 30 second intervals, stirring after each time, until melted and smooth.
Drizzle the candy coating over the popcorn mixture and stir to coat. The pretzels and M&Ms will sink to the bottom, so make sure to get those stirred in and coated with the rest of the popcorn.
Spread out on a large piece of wax paper, top with a few sprinkles (if desired) and let cool. Break into pieces and serve in a large bowl.
Recipe source: slightly adapted from Bake at 350, originally from This Blessed Nest