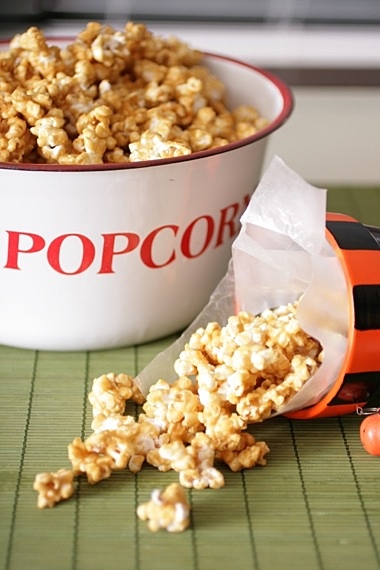 I guess this pregnancy has me really digging caramel, because I feel like I've been making lots of caramel-y treats lately even though I'm normally not a huge fan. Hey, there are worse things to crave! Last week I had a whole afternoon to myself and thought I'd try my hand at homemade caramel corn. I've made it once before, but with my mom's help (in fact, I believe it was during the Halloween season and we munched on our homemade caramel corn while watching Halloween movies!) and lucky for me, she wrote the recipe down for me! Yay! So I got in the kitchen and whipped up this delicious caramel corn- man, oh MAN! What a TREAT! This was rich, buttery and most importantly, good 'n crunchy! I took a big bag to work and none of us could stop munching on it! I will most definitely be making this again; probably on Halloween, in fact. A perfect snack to munch on while watching Hocus Pocus!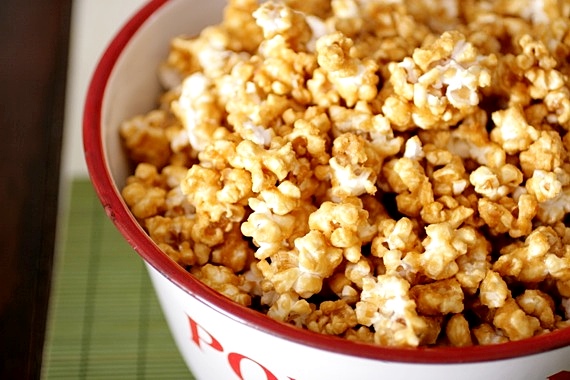 Caramel Corn
6 quarts popped corn (3 bags microwave popcorn- I used Tender White)
2 cups brown sugar
1 cup (2 sticks) butter
1/2 cup light corn syrup
1 teaspoon salt
1 teaspoon vanilla
1 teaspoon baking soda
Preheat oven to 250 degrees. Cook brown sugar, butter, corn syrup and salt in a large saucepan over medium-high heat. Bring to a boil and cook for 5 minutes, stirring constantly. Remove from heat and stir in baking soda and vanilla. Pour over popcorn and stir to coat. Place popcorn in a large roasting pan or spread out over two baking sheets lined with greased foil. Bake, stirring every 15 minutes for about 45 minutes. Caramel corn will be crunchy (with no sogginess) when done. Let cool and break into pieces. Makes enough to serve a large crowd- approximately 10-12 people.
Recipe source: my mom