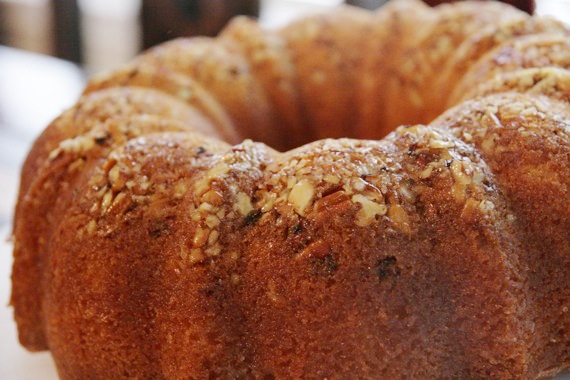 I hope everybody had a happy and safe New Year's celebration – we certainly did! We aren't exactly the kind of couple who like to go to the big, fancy New Year's Eve parties (although, I'm sure they're oh-so-fun!) – we're the kind of couple who like to stay in, make dinner, watch the Twilight Zone marathon on the Sci-Fi channel (don't make fun, it's awesome and you know it! No one can resist watching William Shatner freak out about the scary-fuzzy-monster-monkey-man on the wing of the airplane!), pop open a bottle of champagne and bring the in new year with just the two of us. I can't say in all honesty that I'm not completely relieved to have 2009 behind me, and hopefully (no, most definitely) 2010 will be much, much better; in fact, it's already off to a great start. And I can't think of a better way to bring my blog into 2010 than with this cake. Sure, from the picture above it may look like just an ordinary bundt cake…but trust me, it's so much more. It's called Yum-Yum Rum Cake, and it's absolutely to die for. The recipe has been in our family for years – it came from a dear friend of my great grandmother's and we all love it. It's extremely simple – it uses a boxed cake mix and vanilla pudding, but it's the topping that makes it special. It's moist, slightly crunchy from the pecans on top and just dripping with  sugary rum syrup (my heavens I'm practically drooling now!).
Yum Yum Rum Cake
1 box yellow cake mix
1/2 cup pecans, chopped
1 small package vanilla pudding mix
1/2 cup rum (not extract!)
1/2 cup vegetable oil
4 eggs
1/4 cup water
Preheat oven to 325 degrees. Grease bundt pan and sprinkle with pecans; set aside. Mix all ingredients except the eggs in a large bowl on medium speed; then add the eggs one at a time until incorporated. Pour batter into the bundt pan. Bake for one hour or until the cake is golden brown and a toothpick comes out clean.
Yum Yum Sauce:
1/4 cup rum (again, NOT extract!)
1 cup sugar
1 stick butter
1/4 cup water
In a small sauce pan, melt the butter and sugar over medium heat; add the water and stir until you have a smooth liquid. Remove from heat and add the rum. Spoon over cake while still hot in the pan.
*I like to take a toothpick and poke holes all over the top of the cake, that way the glaze soaks in better.
Invert the cake onto a serving platter, cover with plastic wrap and store at least 4 hours or overnight before serving.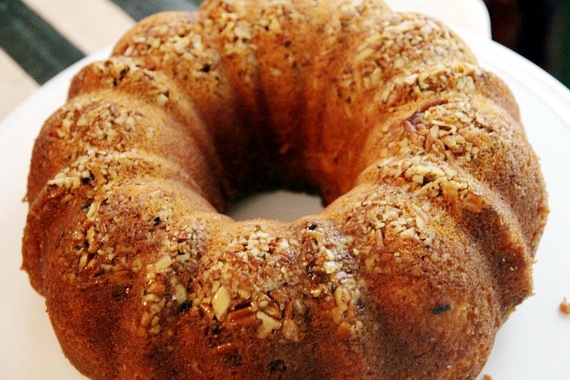 You're absolutely going to love this cake. In fact, I'm sitting here craving a piece right now…I wonder if I could just have rum cake for dinner?…mmm…