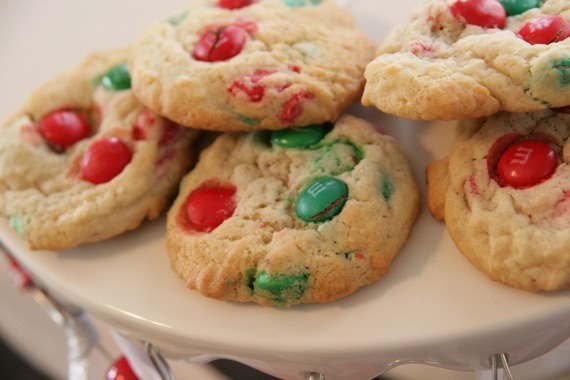 Here's something sort of weird about me (one of many): I love M&M's in my Christmas cookies, but I'm not a big fan of them by themselves. It always kind of baffles me when people say their favorite candy is M&M's. I mean, there are so many varieties of candies out there…why M&M's?? To each his own, I guess. Now, when it comes to cookies, however, I love to bake with M&M's (but only if they're red and green, of course!). Whether it's my Monster Cookies, chocolate chip cookies with M&M's, or these yummy, simple drop cookies, they're always delicious and they always make me feel a little "jollier" around Christmastime (it's very important to feel jolly at Christmas! :-)). When my sister and I were little, we always left Santa M&M cookies on Christmas Eve, so naturally, this kind of cookie just screams Christmas for me.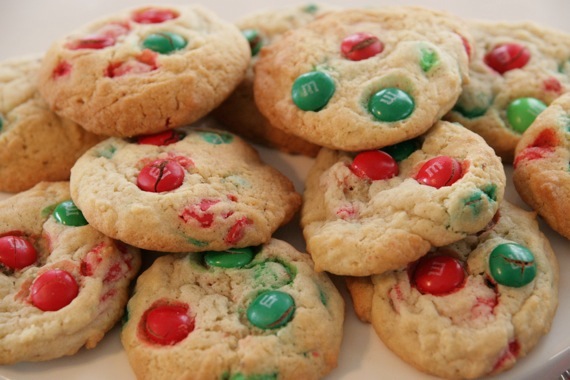 Speaking of Christmas-y things, what color lights do you prefer on your Christmas tree?? Me, I love the colored lights – they're much happier and cheery looking. Oddly enough, this year we have a white-lighted tree….just not the same… Anyway, back to business. I went searching for a good 'ol drop cookie recipe and decided to check the King Arthur Flour site, which is quickly becoming my favorite online resource for baking recipes, and found this recipe.  It's totally simple, straight-forward and really, really tasty. The thing I loved most was that the cookie part wasn't too buttery and sweet; it was nicely balanced and let the M&M's be the star. These are just plain 'ol, simple M&M cookies, but just seeing a plate full of them makes you feel warm and fuzzy…and of course, jolly! If you have kids, these are perfect cookies to make for Santa – they're easy enough that the kids can help, and they end up looking very Christmas-y and fun! Enjoy!
M&M Christmas Cookies
–King Arthur Flour
1/2 cup butter
1/3 cup + 1 tablespoon granulated sugar
1/3 cup brown sugar, light or dark, packed
1/2 teaspoon salt
1 teaspoon vanilla
1/4 teaspoon baking soda
1/2 teaspoon baking powder
1 large egg
1 1/2 cups All-Purpose Flour
2 tablespoons milk, optional
2 cups Holiday M&M's
Preheat the oven to 375°F. Lightly grease two baking sheets, or line with parchment. Beat together the butter, sugars, salt, vanilla, baking soda, and baking powder until well combined. Add the egg, beating until smooth. Scrape the sides of the bowl, and beat again until smooth.
Add the flour, mixing it in completely.  Stir in the milk, then carefully stir in the M&M's.
Drop the cookies by rounded spoonfuls onto the prepared baking sheets, spacing them about 2″ apart. A cookie scoop works well here.
Bake the cookies for 14 to 16 minutes, until they're a light golden brown, and a bit darker around the edges.
Remove them from the oven, and cool right on the baking sheets.