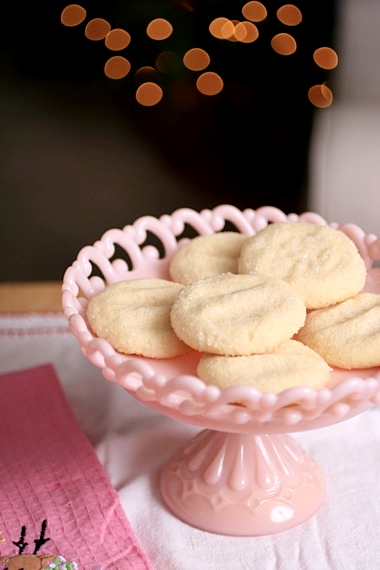 Ho, ho, ho! Santa Claus is coming soon- do you know which cookies you'll be baking for him? We sure do! Normally, I'd be baking these M&M Cookies, a Christmas tradition in our family, but this year, I've decided on a new favorite! These soft, chewy, sugary cookies with a gloriously subtle and delicate almond flavor, and sparkly, crunchy sugar all over the outside…..WHAT. A. COOKIE! We hosted a Christmas party this weekend and I transformed into a baking fiend. I baked these amazing almond cookies, my favorite M&M cookies mentioned above, and shortbreads with pistachios, cranberries, and white chocolate (can't wait to share those with you!). They were all amazing, but my hands-down favorite were these soft almond cookies.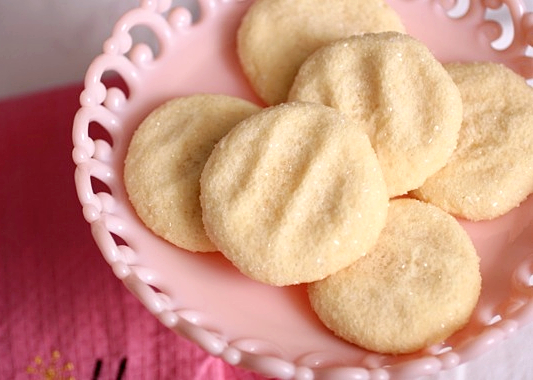 Normally, I'm not a huge fan of anything with almond extract, but I decided to make these anyway, because my big sis loves it. I'm so glad I took a chance! Not only are these beautiful, they're downright DE-licious! Try them this Christmas! Santa Claus will thank you! 🙂
Soft and Chewy Almond Sugar Cookies
1 1/2 cups sugar
1 1/2 cups (3 sticks) butter, at room temperature
2 eggs
2 teaspoon almond extract
1/2 teaspoon vanilla extract
2 1/2 cups cake flour**
1 cups all purpose flour
2 teaspoons cornstarch
2 teaspoons baking powder
1 teaspoon salt
coarse decorating sugar, for rolling the cookies
Preheat oven to 350 degrees.
Cream sugar and butter.  Stir in eggs, almond extract, and vanilla. Combine flour, cornstarch, baking powder, and salt and add to butter/egg mixture.
Form dough into walnut sized balls and roll in decorating sugar. Place on ungreased baking sheet and press down to flatten slightly. Chill for at least 30 minutes.
Bake for 8 minutes; cookies should not brown much at all- do not overbake.
**If you don't have cake flour, all purpose will work fine
Recipe source: adapted from Confections from the Cody Kitchen