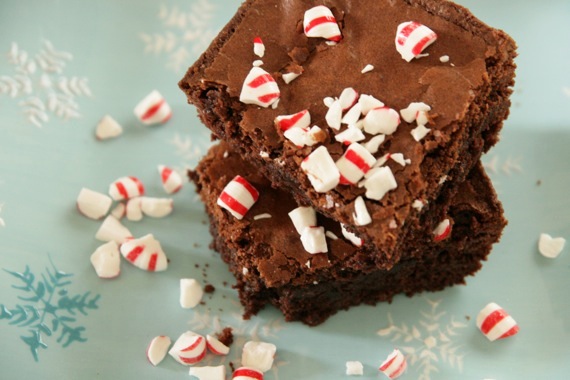 You may remember a different batch of minty brownies I did a while back, but I decided just one recipe wasn't enough! With Christmas being JUST around the corner, I've sure been seeing a good amount of peppermint brownie recipes floating around the blogosphere. Since I just can't resist the chocolate/peppermint combination, I decided I needed to make a batch. However, I was in a hurry and cheated by starting with a box mix (judge all you want to but personally, I think the boxed kind are some of the best; especially when you're in a hurry!), then added my beloved candy cane flour to the mix and sprinkled crushed peppermint over the top. Delicious. Christmasy. Just what we needed that night! And quick, to boot!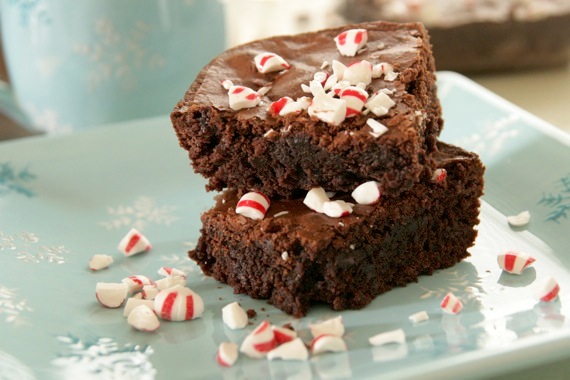 Peppermint Brownies
1 box brownie mix (or your favorite brownie recipe), prepared according to the box, but not yet baked
**1/3 cup candy cane flour
1/2 cup crushed peppermint, for topping
Preheat the oven to 350 degrees and grease a 9×9 pan. Stir in the candy cane flour. Pour into greased pan and sprinkle with the 1/2 cup crushed peppermint. Bake for 35-40 minutes, until a toothpick inserted comes out clean. Sprinkle with more crushed peppermint, if desired. Allow to cool for at least 20 minutes before cutting and serving.
**Basically, when you crush your peppermint, sift out the fine powder (or 'candy cane flour', as I call it), and you'll be left with enough to mix into the batter.