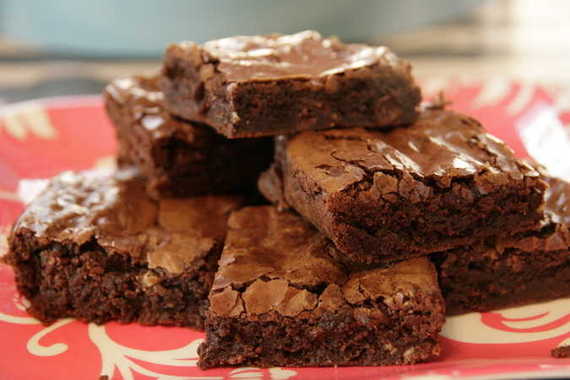 Ok, so you know how once I made that comment about how I have yet to find a brownie recipe as good as the boxed kind? Well, here it is. I'm thrilled. It seems like any "from scratch" brownie recipe I've made turns out with a thick, sugary crust on the top (yes, even Dorie's recipes have turned out that way for me) that I always end up picking off – and it makes for a rather unsightly brownie. This recipe is perfect because you melt the sugar and butter together, thus giving you a paper-thin crust on top – which is what you want with a brownie. Yay!!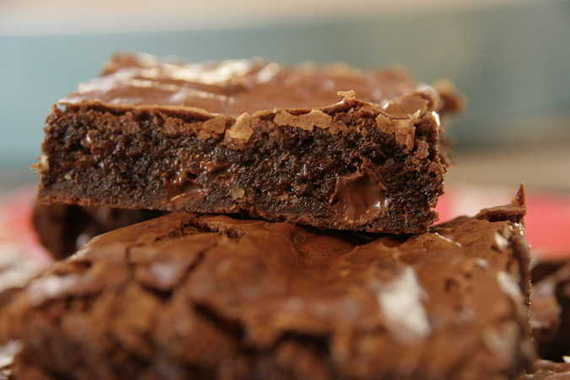 Let me just tell you – these brownies blew me away…rocked my socks off…made me wanna slap my mama (as Jess would say). They were GOOD. I took it a step further by adding a drop of peppermint extract and threw in some Andes mint chips along with the chocolate chips. Mmmm MMM! I have an undying love for all things mint/chocolate and these brownies are my new go-to "mint-chocolate-craving" recipe! I'll probably use this brownie recipe for the rest of my life, too!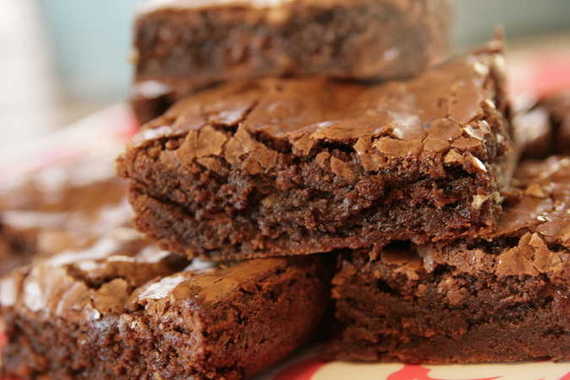 Fudgy. Chewy. Chocolatey. Minty. Need I go on? Do yourself a big favor and make these brownies TODAY!
Guaranteed Fudge Brownies
-King Arthur Flour (this is a great website with tons of recipes- check it out!)
1 cup (2 sticks) unsalted butter
2 1/4 cups sugar
4 large eggs
1 1/4 cups Dutch-process cocoa (regular cocoa is fine too)
1 teaspoon salt
1 teaspoon baking powder
1 teaspoon espresso powder, optional
1 tablespoon vanilla extract
1 1/2 cups All-Purpose Flour
2 cups chocolate chips
*I added about 1/4 teaspoon peppermint extract, 1/2 cup Andes mint chips and used half of the amount of chocolate chips called for

Directions
Preheat the oven to 350°F. Lightly grease a 9″ x 13″ pan
In a medium-sized microwave-safe bowl, or in a saucepan set over low heat, melt the butter, then add the sugar and stir to combine. Return the mixture to the heat (or microwave) briefly, just until it's hot (about 110°F to 120°F), but not bubbling; it'll become shiny looking as you stir it. Heating this mixture a second time will dissolve more of the sugar, which will yield a shiny top crust on your brownies.
While the sugar heats a second time, crack the 4 eggs into a bowl, and beat them with the cocoa, salt, baking powder, espresso powder, and vanilla till smooth. Add the hot butter/sugar mixture, stirring until smooth.
Add the flour and chips, again stirring until smooth. Note: If you want the chips to remain intact in the baked brownies, rather than melting in, let the batter cool in the bowl for about 20 minutes before stirring in the chips.
Spoon the batter into a lightly greased 9″ x 13″ pan. Bake the brownies for about 30 minutes, until a cake tester inserted into the center comes out clean, or with just a few moist crumbs clinging to it. The brownies should feel set on the edges, and the center should look very moist, but not uncooked. Remove them from the oven and cool on a rack before cutting and serving.
* I actually got the idea to make these from a fellow food blogger, but I don't remember who. If you see this, please let me know who you are so I can give you credit! 🙂