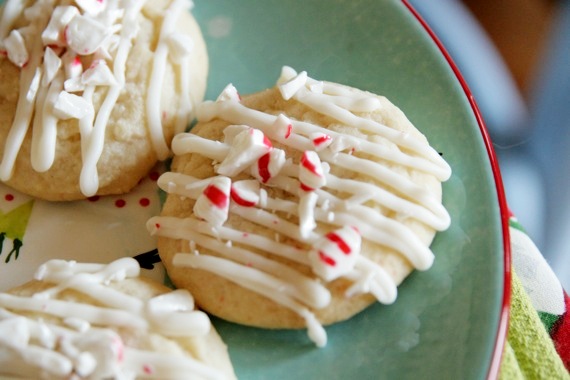 Well, after a nice long week off, I'm very well-rested and ready to get back to blogging! I hope everyone had a wonderful Thanksgiving with friends and family! We sure did! However, I'm feeling QUITE guilty about my pie-intake over the past few days…I'm not proud to admit I've pretty much single-handedly polished off two whole pies without help. SO, no more pie for me for awhile….I'll just switch to cookies! 😉
I'm thrilled to say, I think I've just found my new favorite Christmas cookie! These are soft and chewy with the tiniest bit of crunch, and they have a delicate kiss of peppermint flavor- thus their name. They're absolutely delicious and perfect for the holidays! But what makes these so special?? Why, the use of candy cane flour, of course! Never heard of candy cane flour? That's because I made it up! 😉 When I was finished crushing my peppermints for the topping, I sifted out the dust (it's a flour/powdered sugar consistency, which is why I deemed it 'candy cane flour') and stirred it into my flour/baking powder/salt mixture. It adds a delicate, subtle peppermint flavor without being overpowering- sometimes at Christmas, lots of "pepperminty" things tend to be a little too "pepperminty" for my taste. This was perfect. I even stirred a little of my leftover 'candy cane flour' in my coffee this morning! Delicious!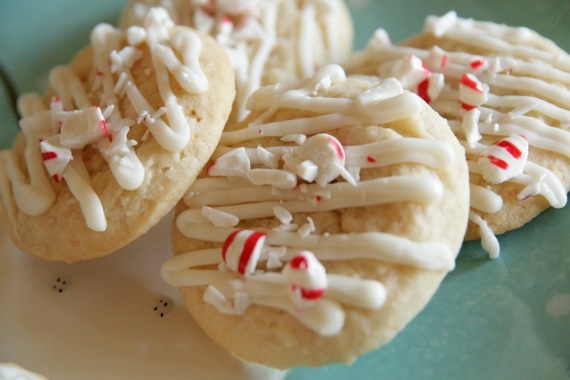 Peppermint Kisses
-basically just an embellished adaptation of Dorie Greenspan's "Grandma's All-Occasion Sugar Cookies"
2 cups all-purpose flour
1/2 teaspoon salt
1/2 teaspoon baking powder
1/3 cup candy cane flour**
1 stick plus 2 tablespoons (10 tablespoons) unsalted butter, at room temperature
1 cup sugar
1 large egg
1 large egg yolk
1 teaspoon pure vanilla extract
crushed peppermints, for garnish (about 1/2 cup)
6 ounces (3 squares) white chocolate flavored almond bark or candy coating
Center a rack in the oven and preheat the oven to 350 degrees. Line two baking sheets with parchment or silicone mats.
Whisk the flour, salt, baking powder and candy cane flour together.
Working with a stand mixer, preferably one fitted with a paddle attachment, or with a hand mixer in a large bowl, beat the butter at medium speed for a minute or so, until smooth. Beat in the sugar and continue to beat for about 2 minutes, until the mixture is light and pale. Add the egg and yolk and beat for another minute or two; beat in the vanilla. Reduce the mixer speed to low and steadily add the flour mixture, mixing only until it has been incorporated. When mixed, the dough will be soft, creamy, and malleable.
Drop the dough onto the baking sheets by rounded spoonfuls.
Bake the cookies for 9 to 11 minutes, rotating the sheets at the midpoint. The cookies should feel firm, but they should not color much, if at all. Cool completely.
Heat the almond bark in the microwave in 30-second intervals until melted and creamy. Drizzle over the cooled cookies (I used a ziploc bag with the tip snipped off, but you could also just drizzle with a spoon), then sprinkle with the crushed peppermints.
Makes about 40 cookies.
**Like I noted above, "candy cane flour" is just finely crushed candy canes- you can make it with your food processor or just use a hammer (or rolling pin) and a ziploc bag (which is what I did). Try it in your coffee,  stir it into cookie dough, sprinkle over cakes or even dip the rim of your martini glasses in it for a festive cocktail! So fun! 🙂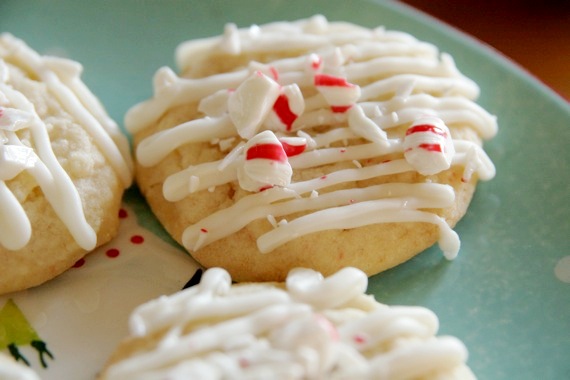 Thanks to Jana, Jeff, Carol and Albert for suggesting the name of these cookies! 😉