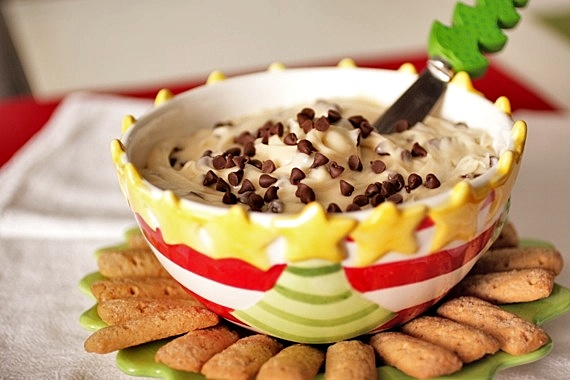 Going to a party soon? Need something quick, easy and delicious to bring along? I highly recommend this chocolate chip cookie dough dip! I mean, who doesn't love cookie dough? It's a big-time crowd pleaser, it's easy and it can be ready in no time! I took this to a friend's party this past weekend and it was a huge hit! I'm telling ya…you need to make this!
Chocolate Chip Cookie Dough Dip
1/2 cup butter
1/3 cup brown sugar
1 8-ounce block of cream cheese, softened
1 cup powdered sugar
1 teaspoon vanilla extract
1/2 teaspoon kosher salt
3/4 cup mini chocolate chips, plus extra for sprinkling
In a small saucepan, melt the butter over medium heat. Whisk in the brown sugar until it dissolves and the mixture starts to bubble. Stir in vanilla and set aside to cool.
In a separate bowl, cream the cream cheese and powdered sugar together for 60 seconds. With the mixer on low speed, add in brown sugar and butter mixture, then the salt. Mix until combined. Stir in the mini chocolate chips.
Garnish with additional mini chocolate chips. Serve with animal crackers, nilla wafers or graham crackers.
Recipe source: barely adapted from What Megan's Making; originally from How Sweet It Is