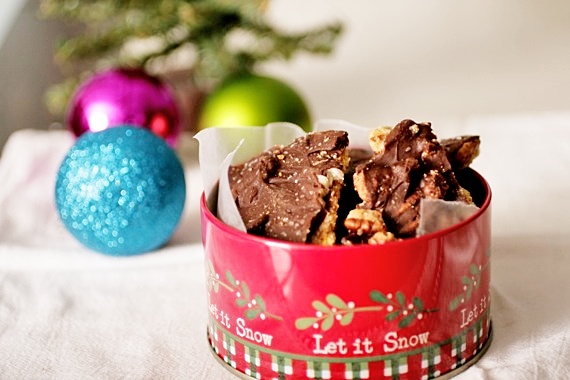 There's officially less than a week until Christmas! Where has the time gone?! I feel like I didn't get to take part in quite as much Christmas baking as I wanted to this year, but under the circumstances, I think I did pretty ok! I have about a month until Cassidy's due date and have officially reached the "beached whale" point of my pregnancy. Joel is really enjoying making jokes at my expense (at least he makes up for them in foot rubs!). I think the month is going to absolutely FLY by and she'll be here before we know it! We're pretty darn anxious to meet her, too! 🙂
We had a party this weekend and I wanted to make something really delicious to munch on besides my usual M&M cookies for dessert. By now, you're all well aware of my undying love for Pinterest, and naturally, that's where I went for Christmas goodie inspiration! I've had my eye on these salted caramel pecan bars for weeks now and couldn't wait to make them! I've made the famous Saltine Cracker Toffee, which we all loved and this is very similar. It's sugary sweet with a nice toastiness from the pecans and a subtle saltiness that I just LOVE! All in all, a big hit at the party! Oh, and super easy to throw together, too!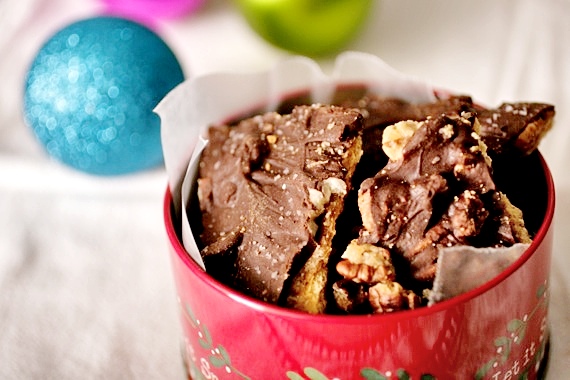 Salted Caramel Chocolate Pecan Bars
1 cup chopped pecans
12 whole graham crackers
1 cup firmly packed brown sugar
3/4 cup (1 1/2 sticks) butter
2 tablespoons whipping cream
1 teaspoon vanilla extract
1 cup semi-sweet chocolate chips
kosher salt
Preheat oven to 350°. Bake pecans in a single layer in a shallow pan 10 minutes or until toasted and fragrant, stirring halfway through.
Line a cookie sheet with aluminum foil and lightly grease. Arrange graham crackers in a single layer in prepared pan, slightly overlapping edges.
Combine sugar, butter, and cream in a medium-size heavy saucepan; bring to a boil over medium heat, stirring occasionally. Reduce heat and continue to cook until sugar is dissolved. Remove from heat, and stir in vanilla and pecans. Pour butter mixture over crackers, spreading to coat.
Bake at 350° for 8-10 minutes or until lightly browned and bubbly. Remove from oven and sprinkle with chocolate chips. Let sit for 5 minutes until chocolate is melted, then spread evenly over the caramel layer. Sprinkle with salt. Let cool. Chill for at least 30 minutes, then break or cut into pieces when ready to serve. Makes about 40 pieces.
Recipe source: Eat. Drink. Smile.