This is probably going to be a short post because I still have a tiny bit of shopping left to do today!
Here are just a couple of little things I wanted to share with you because they're simple, take practically no time to prepare, and they're darned TASTY! They are: my great-grandmother's gingerbread and quick and easy saltine toffees. So good!! So here we go!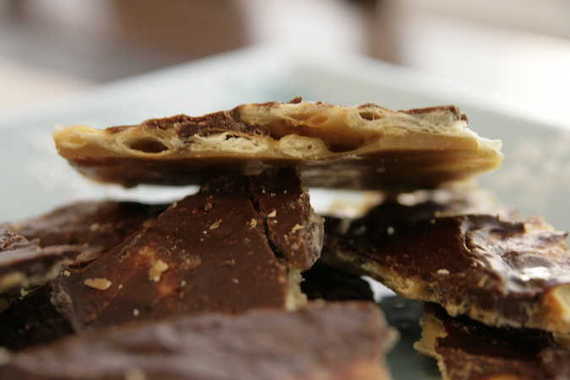 These toffee squares are just about the easiest snack/dessert to make and they're oh-my-gosh delicious to boot! Perfect for parties or homemade gifts! I had some unexpected company this weekend and decided to whip these up for a little snack and they were a huge hit! It took literally about 10 minutes to make. I know it sounds weird because you make it with saltine crackers, but I'm telling you, it works!
Saltine Toffees
1 cup unsalted butter
1 cup brown sugar
2 cups semi-sweet chocolate chips
40 saltine crackers
Preheat oven to 350 degrees. Line cookie sheet with foil and spray with non-stick spray. Lay a flat layer of crackers out on the foil. In a medium saucepan, melt the sugar and butter until it starts to boil. Reduce the heat and simmer until mixture is thickened and sugar is completely dissolved. Pour this mixture over the crackers and spread to coat evenly. Bake for 2-3 minutes, or until the toffee becomes bubbly. After removing the pan from the oven, let it sit for 3-5 minutes. Sprinkle on the chocolate chips, let them soften and melt, and then spread them into an even layer. Refrigerate to harden, then break into chunks for serving. (These are soooooooooo good!!)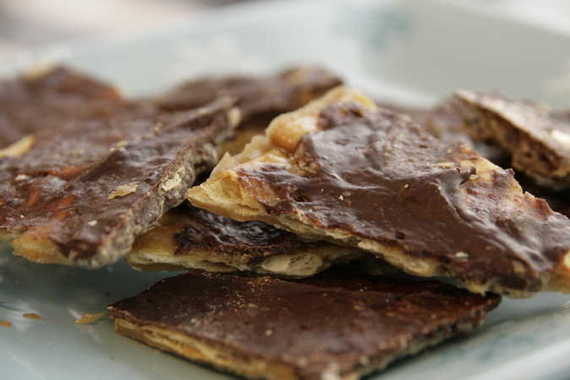 Ok, next up is my Baba's gingerbread – I had been searching everywhere for a good gingerbread recipe to make for hubby one night (and coming up sort of empty handed). I should've known that all it took was one phone call to my mother to fix everything! She gave me this recipe – my great-grandmother, Baba's recipe; and it's DELICIOUS!  It has just the right amount of spice and molassess….it was so good served warm with a (big 'ol) dollop of whipped cream on top! Hubby loved it! Thanks again Baba, for yet another perfect recipe!
(Unfortunately, I was in a big hurry and didn't have time to take very good pictures of this – I would've liked to top it with a little powdered sugar and some whipped cream so you could get the real effect of how good this is…but you'll just have to use your imagination!)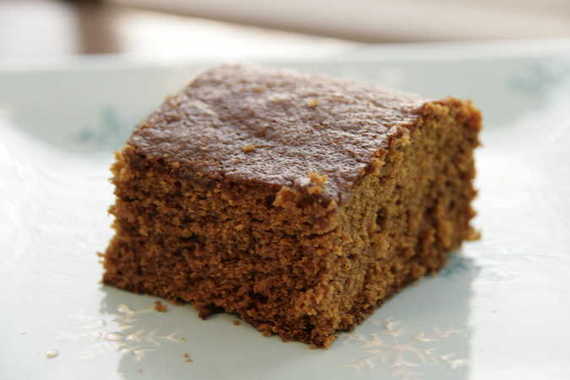 Baba's Gingerbread
1/2 cup sugar
1/2 cup butter, softened
1/2 cup molassess
1 egg
1 teaspoon ginger
1 teaspoon cinnamon
1 teaspoon baking soda
1/2 teaspoon salt
1 1/2 cup flour
1/2 cup boiling water
Mix together the butter and sugar, then add the egg and molassess, mixing well. In a separate bowl, combine the flour, spices, soda and salt, then add to wet mixture. Stir to combine, then add the boiling water and mix. Pour batter into a greased square pan and bake at 350 for 35-45 minutes or until springy.
I hope you enjoy these recipes….they're perfect for the holidays! Merry Christmas and happy baking!