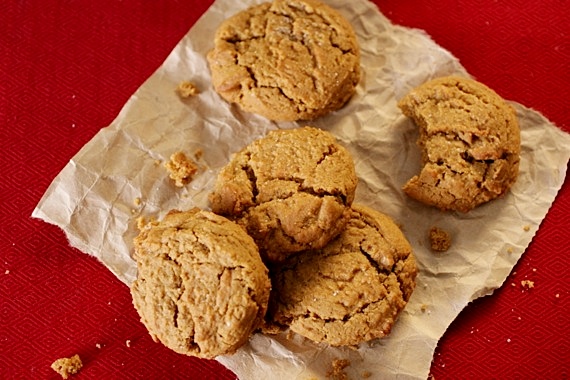 I hope everyone enjoyed a happy Thanksgiving with friends and family! We sure did! Although, I learned the hard way that being 8 months pregnant and eating one's weight in turkey and dressing (and cranberry sauce…and mashed potatoes…and green bean casserole…and 3 kinds of pie…) isn't the smartest idea (I literally thought I was going to pop!). Instead of being sociable with the rest of the women, I snoozed with the men folk in front of the TV. It was worth it, though- I LOVE Thanksgiving food!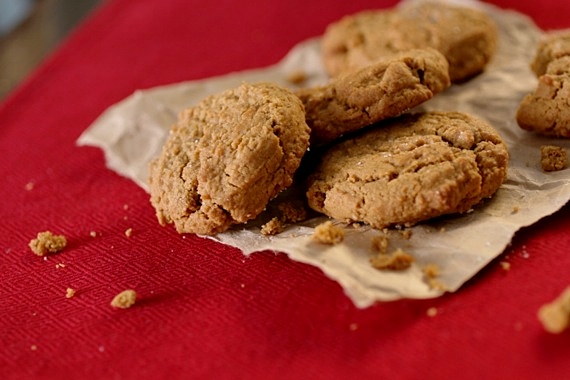 But now it's onto more important things, like baking Christmas goodies! I couldn't wait to get home, get in my kitchen and start baking! I made these gingerbread cookies a couple of years ago, but rolled them out into gingerbread men and decorated them. As fun as that was, I'm not a fan of having to wait for the dough to chill, then roll it out, then cut out the shapes…then repeat 10 times. This time, all I wanted was a chewy, spicy gingerbread cookie I could bake in minutes and enjoy right away! And these are sooooo good! Especially if you're a huge gingerbread cookie fan like I am! They're crispy around the edges but have a wonderful chewiness that's downright addicting! I think I polished off about 6 of these in one sitting! I have tons of leftover dough, so I know I'll be baking lots more of these in the coming weeks!
Soft and Spicy Gingerbread Cookies
1 cup butter (2 sticks), softened
1 cup sugar
1 cup molasses
1 egg
4 cups flour
1 teaspoon salt
1 1/2 teaspoons baking powder
1/2 teaspoon baking soda
1 teaspoon cinnamon
1 1/2 teaspoons ground cloves
2 teaspoons ground ginger
1 teaspoon nutmeg
Preheat oven to 350 degrees. In the bowl of a stand mixer fitted with the paddle attachment, cream together butter and sugar until light and fluffy; about 1 minute. Add the egg and molasses and combine.
In a separate bowl, combine flour, salt, baking powder, baking soda, cinnamon, cloves, ginger and nutmeg. Slowly and gradually blend into the butter mixture until smooth.
Using a cookie scoop or a spoon, scoop dough out into 1 1/2 inch rounds onto a cookie sheet lined with parchment paper. Space cookies about 2 inches apart. Bake for 10-11 minutes. Let cookies cool for 10 minutes on the cookie sheet, then remove to a cooling rack to cool completely. Makes approximately 4 dozen cookies.
Recipe source: adapted from allrecipes.com