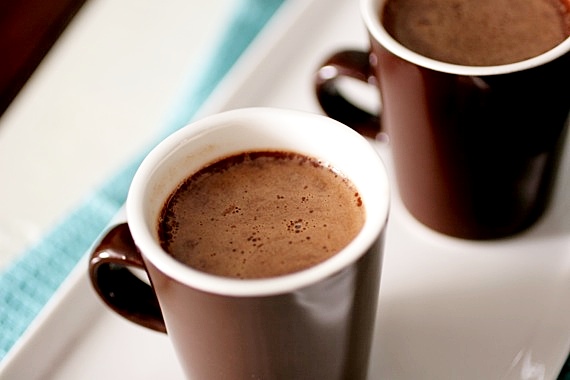 Can I just brag for a second? Because, um….I nailed it. I set out to make a rich, thick, chocolaty homemade hot cocoa and I. Freaking. Nailed. It. Ok, bragging done.
Joel and I are both huge fans of hot cocoa, but lately, I've found myself wanting more than just the powdery packet mixed with milk. Even though I normally add a candy cane and a giant marshmallow, I always end up wanting something more. I don't know why in the world I haven't made homemade hot cocoa before, but I can assure you, I will NOT be going back to the packets. Ever. This hot cocoa is velvety, thick, insanely rich and out-of-this-world chocolaty. I'm in love.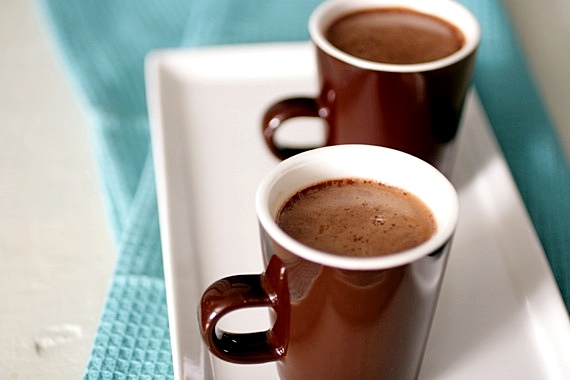 Thick and Rich Homemade Hot Cocoa
1 (12-ounce) can evaporated milk
4 ounces chopped bittersweet or semisweet chocolate (chocolate chips work fine too)
1/4 cup sugar
1/4 teaspoon salt
1 scant teaspoon instant coffee powder or espresso powder
1 teaspoon vanilla extract
Whisk the milk, chocolate, sugar, salt and coffee powder in a small saucepan over medium heat until the chocolate is completely melted and everything is combined. Stir in the vanilla. Cover and cook on low heat for 7-8 minutes more, stirring occasionally. Turn the heat off and let the hot cocoa sit (still covered) for 5 minutes before serving to allow it to thicken. Serve immediately. Serves 2.
**Some of you might want to thin it out with a little extra milk or water- it's VERY rich! 😉
Recipe source: Sing For Your Supper original