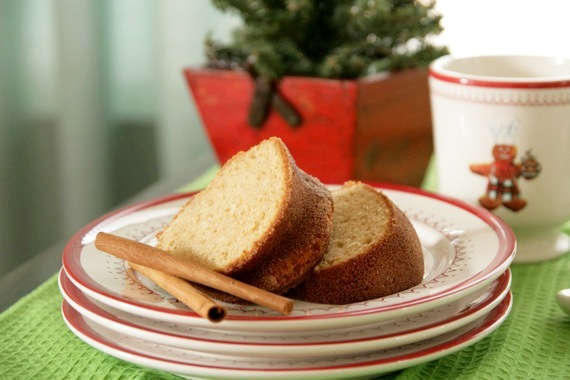 If you love cinnamon, be sure to bookmark this recipe because it's just bursting with it! This cake is one of my very favorite things around Christmas (and winter)- my mom used to make it every single Christmas and the whole family loved it. Now my sister and I both make it for our own families every Christmas. It's wonderful for parties if you don't want to take the same old cookies or candy, but still want something quick and easy (and of course impressive).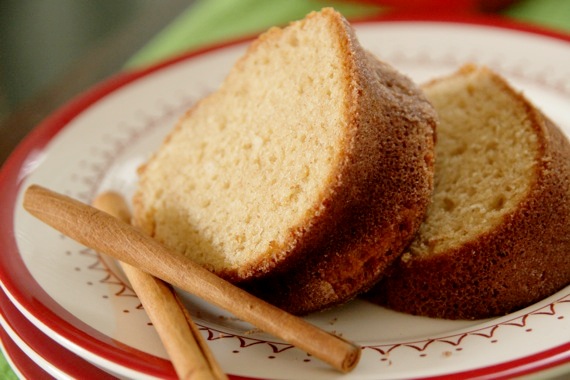 This cake is incredibly moist and just FULL of warm cinnamon flavor; a real treat during the holidays! Perfect after a delicious meal with a cup of hot coffee. If you're looking for that perfect Christmas morning breakfast treat, this would be delicious! And it keeps beautifully, so feel free to make it a day or two before! This cake is Christmas to me and I just love it. In fact, I've posted it before, but it was a looong time ago and the pictures were just awful. I decided to feature it again, so that it might get the attention it deserves! Thanks Mommy, for a delicious recipe! 🙂
Cinnamon Pound Cake
-my mom's recipe (I'm not sure where she got it from originally)
4 tablespoons sugar
2 tablespoons cinnamon
1 yellow butter cake mix (don't use white cake mix – it has to be butter)
1 package instant vanilla pudding
1/2 cup canola oil
1  8-ounce container sour cream
4 eggs
Preheat oven to 350 degrees and grease a bundt pan.
Mix the sugar and cinnamon together in a small bowl and sprinkle half of the mixture in the greased bundt pan – shake it all around to coat the entire pan. Mix cake mix with pudding, oil, sour cream, eggs and other half of cinnamon/sugar mixture. Pour into pan and bake for 45 – 50 minutes until springy. Cool for 20 minutes before taking out of pan.