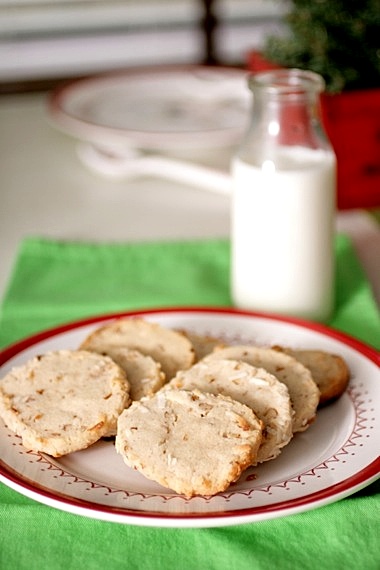 I know my posts have been a little more sparse lately and I apologize! Joel and I volunteered to sing with our hometown church choir's Christmas program over the weekend, so the past few weeks have been extremely hectic! It was pretty cool getting to hear my daddy sing a solo, though! 🙂
With all the craziness going on lately I haven't gotten much of a chance to do as much Christmas baking as I would've liked. However, I recently had a free afternoon and jumped on the chance to bake up something yummy and festive! These cookies are a version of my mom's favorite Christmas cookies, Santa's Whiskers, which normally have candied red and green cherries in them (so pretty!), but I didn't have any on hand, so those will have to wait for another time! We decided these were very reminiscent of pecan sandies – very crunchy and shortbread-like in texture – and I added a healthy dose of cinnamon to give them a little more flavor. The edges of the cookies are rolled in coconut before baking, so the coconut flavor isn't overpowering, but still very prominent. I think these would be awesome with a cup of hot cocoa– the perfect Christmastime treat!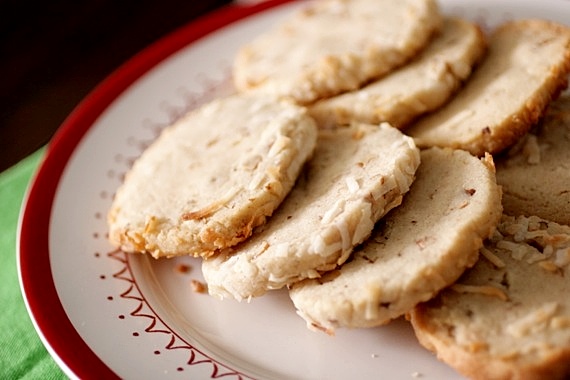 Coconut Pecan Sandies
1 cup (2 sticks) butter, softened
1 cup sugar
2 tablespoons milk
1 teaspoon vanilla extract
2 1/2 cups flour
1/2 teaspoon salt
1/2 teaspoon cinnamon
1/2 cup pecans, finely chopped
3/4 cup sweetened flaked coconut
In the bowl of an electric mixer fitted with a paddle attachment, beat butter and sugar together on medium speed until light and fluffy; about 2 minutes. Blend in milk and vanilla.
Slowly stir in flour, salt, cinnamon and pecans. Form dough into 2 8-inch rolls and roll in the flaked coconut. Wrap in plastic wrap and chill for at least 2 hours. Cut into 1/4 inch slices and place on an ungreased baking sheet. Bake at 375 for 11-12 minutes, until lightly browned. Makes approximately 40 cookies.
Recipe source: my mom (this is a very old family recipe, given to my mom just after she and my dad were married!)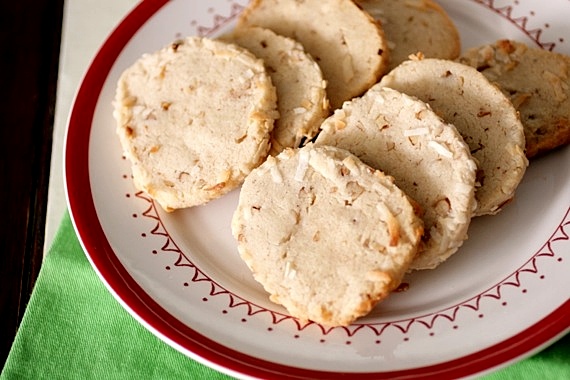 P.S. Here's a little tip- during all of your holiday baking this year, don't forget to use real butter! Margarine or butter "spread" just won't work as well as the real thing and you'll most likely end up with flat cookies that spread too much. Real butter gives you a tender, flaky, more flavorful cookie that just can't be equaled! Happy baking!