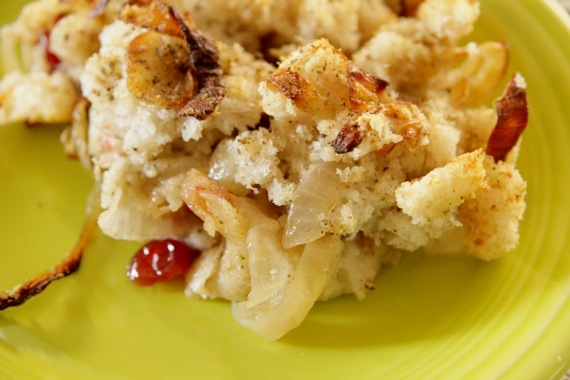 WOOO! It's Thanksgiving food time! Now is the time everyone is planning menus, gathering delicious new recipes to try and calling their grandmas for the old tried and true recipes they just HAVE to have. So in honor of all that, I've decided to share a couple of excellent, easy Thanksgiving recipes with you this week. Starting with stuffing. Now, let's get one thing straight- I am a Southerner. We don't do 'stuffing'; we do 'dressing'. Made with cornbread. And we don't put anything snooty in it, either. None of this Yankee-fied "chestnuts and sausage" business. Very straight-forward and very, very delicious. BUT, that doesn't mean I can't experiment with some delicious ideas before Thanksgiving! I do realize that the majority of my reader enjoy what my family calls "Yankee Stuffing", and I need to stretch my boundaries a little, SO I made you some Yankee stuffing. It's pretty good, too….for Yankee stuffing.

Sourdough Stuffing with Caramelized Onions, Apples and Cranberries
-by me
(this only makes one 9 inch pan- you may want to double or triple it for a large crowd)
1 loaf sourdough bread, crusts removed and cut into cubes
2 stalks celery, chopped
1 medium onion, sliced into thin rings
1 small green apple, peeled and chopped
1/3 cup dried cranberries
1 1/2 teaspoons dried, ground sage
1 teaspoon salt
1/2 teaspoon pepper
1 1/4 cups chicken broth
In a medium skillet over medium heat, cook the onions in a little olive oil for about 15-20 minutes, or until soft and caramelized. Stir in the apples and celery. Cook for about 5 minutes (you don't want the apples to get mushy- just fairly soft).
In a large bowl, combine the bread, onion/apple mixture, cranberries, sage and salt and pepper. Pour into a greased 9×9 baking dish then pour the chicken broth over the mixture. Bake in a 350 degree oven for 45-50 minutes.