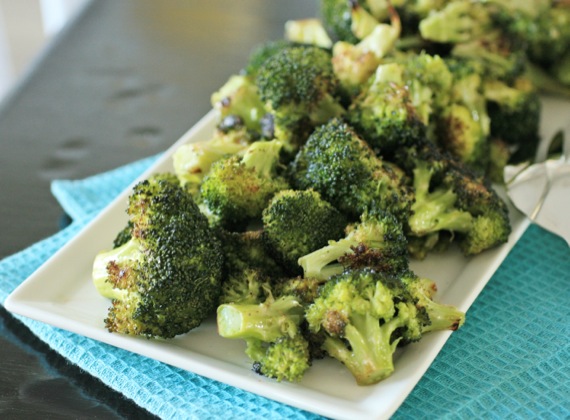 Moms: do you have trouble getting your little ones to eat their veggies? Well don't give up! Green vegetables like peas, spinach, green beans, broccoli, kale, etc are so, so good for our growing kiddos! I understand the struggle – up until I started cooking it like this, I could never get Cassidy to eat her broccoli. She loves peas and green beans, but it seemed like no matter what I did, she wouldn't touch broccoli. Probably because it tastes like flavorless mush by the time I finish steaming it. But broccoli fixed this way? She can't get enough and I'm thrilled!
It's SO simple- toss your broccoli florets with a little olive oil, salt, and pepper and roast it at 400 for about 15-20 minutes. That's it and it's WONDERFUL! The broccoli gets nice and soft, but it's still bursting with flavor. I'm a huge fan of roasting any vegetables since it brings out the flavor so beautifully, and I have to say, I think roasted broccoli is my new favorite.
…just make sure you burn a candle or open a window since we all know how stinky it is to cook broccoli. A small price to pay for a delicious, healthy side dish, right? 😉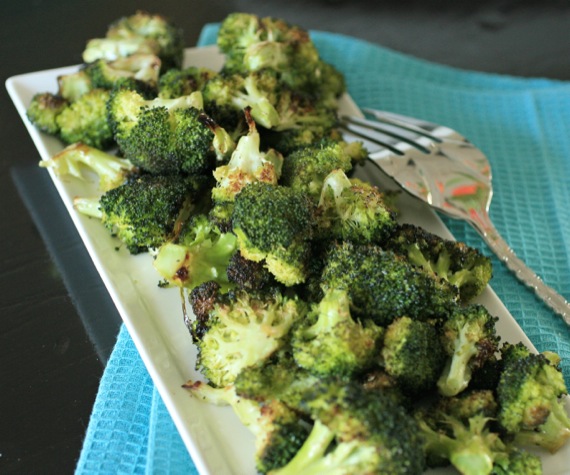 Roasted Broccoli
1 head fresh broccoli, cut up into bite-size pieces
olive oil
salt
pepper
Preheat oven to 400 degrees. Toss the broccoli with the olive oil, then spread onto a baking sheet lined with foil (this makes cleanup a snap!) and sprinkle with salt and pepper. Roast for about 15-20 minutes, turning the broccoli over halfway through cooking. Edges should be slightly dark and broccoli will be tender when done. Serves 2-3 as a side dish.
Recipe source: Sing For Your Supper original, although, this is not a new concept 😉